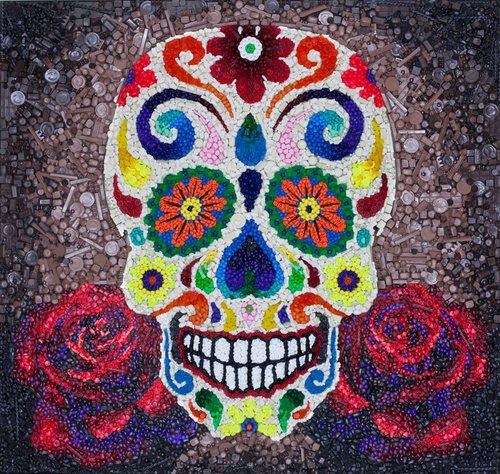 Mario Marsciano's designs raise eyebrows. "A lot of people who see my apartment get a strange look on their face," he says. "It's filled with toys."
"I started to have a couple rooms full of them, and instead of just putting them in the corner, I started to have glass cubes and other containers made and creating end tables and bookcases. Enough people asked if I could make them one that I said 'There might be something in this.'"
Once a source of pure pleasure, Marsciano's toy collection found new purpose when he left his job in advertising to start Jellio, a company that turns items of childhood nostalgia, like yo-yos, Rubik's Cubes and candy, into designed objects and furniture. "It's research," he explains. "I look around my apartment for inspiration."

Marsciano sells his smile-inducing designs online and through other retailers. He also creates custom orders for private collectors, hotels, restaurants and TV shows like Nickelodeon's iCarly (the hand-strung gummy bear chandelier on the show is his). After almost a decade in business, Marsciano and his partner, Chris Lenox, are opening their own space on Java Street next Monday, May 20, called Jellio Design Lab. It will be the first and only place to display Jellio objects en masse.
Housed inside SFDS Fabrication and Design Shop, Jellio's new digs will function as a store, showroom and gallery, which Marsciano envisions as a destination for people interested in an up-close look at his lighthearted creations. Prices range from $60-$6,500, though most items are under $1,000.
"It's going to be a product incubator," explains Marsciano while touring the space, a white-washed room within the larger warehouse, where some of Jellio's objects are now being produced. Off to one corner and still visibile through the plastic wrap protecting it from sawdust, a bench shaped like a banana split, complete with neapolitan-ice-cream-colored cushions, looks like an oversized dessert covered in cling film. Propped against the opposite wall are two framed works by Kevin Champeny, who oversees production at Jellio and whom Marsciano describes as having "the patience of a saint."
Once Marsciano pulls away the plastic, it's clear how Champeny earned this creative canonization. His works are assemblages made with enough pieces of hand-cast, urethane and acrylic candy to create a crater-sized cavity if they were edible. Up, Up and Away, a portrait of a floating balloon-animal dog anchored by a gummy bear, was created using 7,500 hand-cast, acrylic gummy bears and weighs 55 pounds. It leans near Sweet Death, a melange of artificial confections painstakingly patterened to look like a Calavera skull.
All three pieces are part of Jellio's first exhibit, Toy Chest, an ode to iconic elements from childhood, which will also include a chair designed to look like Lincoln Logs and an oversized Barrel of Monkeys–on view from May 20 to Aug. 16 at the lab and available for purchase should you decide your apartment could use an ice cream sundae-inspired seating option.
"'You don't want to fill your entire apartment with Jellio because that would be weird," says Marsciano. "But just one or two pieces will show someone what you really liked from your childhood and show your sense of humor."