Our fourth annual immersion series with Brooklyn Brewery begins this year on June 8, and we're kicking it off with one of last year's Immersion spots: Red Hook. We're returning because the neighborhood still needs our support, post-Sandy, and because Red Hook is awesome! It's basically built for an all-day adventure, and the complimentary Brooklyn brews on June 8 will just make it sweeter.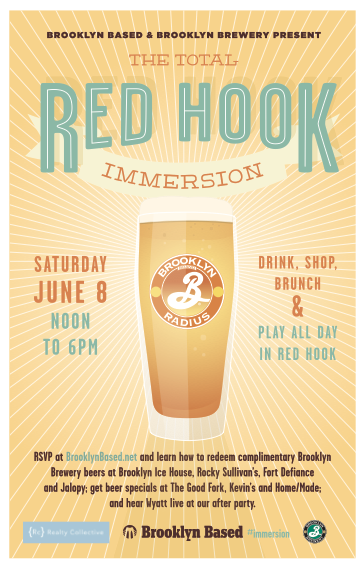 To take part in this neighborhood-wide celebration, you'll need to score one of our 500 FREE Immersion cards, a golden ticket that will get you complimentary brews at Brooklyn Ice House, Rocky Sullivan's, Fort Defiance and Jalopy Tavern; complimentary Local 1, Local 2, or Sorachi Ace over brunches at The Good Fork, Kevin's and Home/Made, plus 15% off at local shops like Foxy & Winston and Brooklyn Slate Company, $2 off lobster rolls from Red Hook Lobster Pound and more sweet deals. A full map of participants to date is here.
For the truly adventurous (and inveterate Instagrammers), we'll challenge you to five dares on the day of the immersion. Those who actually follow through, with pictures to prove it, will win great prizes like a private tour of Red Hook Winery and a class for two at Pioneer Works.
And for the first year ever, we'll also have live music at our after party, thanks to our supporting sponsor Realty Collective. Jalopy Theater is opening up early to host rising electro-folk-pop stars, Wyatt, who'll be playing a free show at 5pm before heading to BAM for a later gig.
To get in on all the deals, the beers, and the show, you'll need to pick up an immersion card, which we will be handing out at both Brooklyn Ice House and Rocky Sullivan's starting at noon. We suggest arriving early to snag one–last year we passed out all 500 cards in an hour. And be sure to follow @BrooklynBased and @BrooklynBrewery on Twitter for updates on how many cards are left, random giveaways, and other tomfoolery.
And save the date for our Total Long Island City Immersion July 13!
Supporting Sponsor: