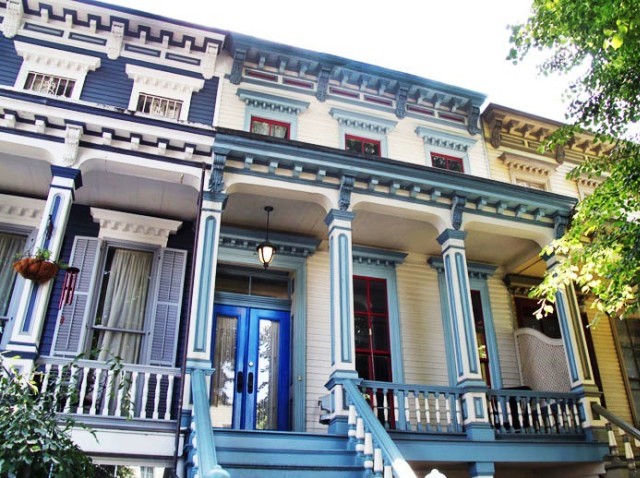 New construction of wood-frame houses was banned in most of New York City more than a century ago–a consequence of stricter fire codes–but examples of the ornate, sometimes intricately painted houses are still sprinkled throughout Brooklyn, often looking more like confections than actual homes. Their antiquated exteriors evoke a bygone era–in a way, they are the most prevalent (and precious) reminder of the city's architectural past.
"They're the kind of thing you stumble across on this row of brownstone houses," says Elizabeth Finkelstein, an urban historian. "You see this little cottage stuck there, and it's like 'How did that get here, and what is its history?'"
This Sunday, Finkelstein is offering her first Wooden House Walking Tour, which will explore frame row houses along some of her favorite streets in South Slope. Subsequent tours will take place in other Brooklyn neighborhoods where these endangered pieces of architecture are still prevalent, like Greenwood Heights, Greenpoint, Fort Greene and Williamsburg. "They're covered, most of them, in vinyl or aluminum siding," Finkelstein says. "But when you look at old pictures of them, they have this architectural vocabulary all their own."

Finkelstein became fascinated by wooden houses while attending graduate school at Pratt Institute, a passion that only deepened when she attempted to purchase a wooden house of her own with her husband in South Slope–one of the few areas of the city where entire blocks of wood-frame row houses still exist.
"It actually fell through," says Finkelstein of the failed purchase. "It was a very tiny house, and I'd done research on it because it was my background. I found out it was one of the oldest houses on the block. It was so wonderful and adorable. With these wooden houses, you go inside and you feel like you're not in New York."
In 2011, Finkelstein started The Wooden House Project, a blog devoted to Brooklyn's collection of wood-frame homes. "I googled it, and found one New York Times article, and that was it," she says. "I thought 'Everybody talks about everything in Brooklyn. Why is no one talking about this?' So I started it and got a huge response from people. I think it's a really exciting time for wooden houses and a time when we need to be talking about this because there's a restoration movement happening."
Finkelstein uploads old photos of the borough from the era of the wood-frame row house. She also documents the location and condition of these architectural time capsules–many of which have been restored to their original glory–and is now sharing her wealth of wood-frame knowledge with anyone willing to lace up their sneakers and take a walking tour of the some of the borough's oldest residential dwellings.
Part educational, part exercise, the tours will last approximately 90 minutes. Tickets cost $15, and  tours are capped at 20 people.
"This is the first time people can meet and actually share their love of this type of architecture that's actually all over Brooklyn but overlooked," Finkelstein says. "No one's every done this before, so we're very, very excited. They're really special and wonderful."