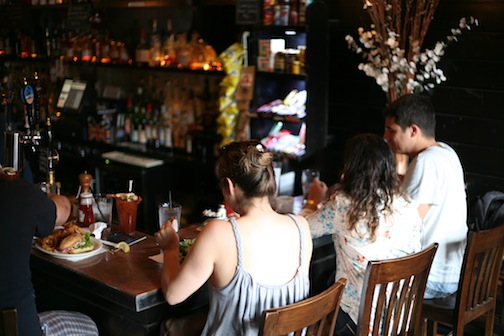 Last month we took a look at secret brunch spots–today it's all about the bar brunches. Whether you're looking to nurse that hangover somewhere dark and dingy; you're in the mood for a brunch spot that's bright and outdoorsy, but with lots of booze; or you just straight-up never left the pub last night, here are BB's favorite bars for brunch and booze.

Black Swan
Bed-Stuy, 1048 Bedford Ave. (between  Lafayette Ave. & Clifton Pl.), 718-783-4744
The Scene: The ambiguous border of Bed-Stuy and Clinton Hill where hipsters, yuppies and the neighborhood's long-time locals all commune over gastropub fare.
Food: New American brunch dishes like smoked trout hash ($14) and a salmon BLT ($18) are served up side-by-side with favorites from across the pond like the full English breakfast ($12). For our money, we'd go for the rum French toast ($10), which comes drizzled in caramel, topped with slices of banana and whipped cream, as well as a side of applewood bacon.


Brunch Booze: This pub serves a full bar menu, with the standout being the Bloody Swan ($10 with a beer chaser), a take on a traditional bloody mary that is a meal all its own–it's topped off with a chilled piece of bacon and a skewer holding a pearl onion, olive, cube of cheese, baby gherkin (it's an English pub after all), a cocktail shrimp and a lemon wedge–calling it a cocktail seems incomplete.
Extra, Extra: Large portions and affordable prices ensures your money goes the distance, and even better still, Black Swan serves brunch seven days a week.
Castello Plan
Ditmas Park, 1213 Cortelyou Road (between Westminster & Argyle roads), 718-856-8888
The Scene: Brunching Park Slope parents looking to escape the madding crowd head south to Ditmas Park's wine bar for a classy but laid-back meal.
Food: Simple but well-executed. Menu standouts include cinnamon-raisin French toast with fresh butter and honey ($8) and scrambled eggs with roasted aspagragus and ricotta on a baguette ($8).
Brunch Booze: Keepin' it classy. Tarragon-spiced prosecco, plus mimosas and bloody marys (and of course lots of wine).
Extra, Extra: Even if you order something veggie, don't miss a side of the house-cured bacon.
El Diablo taco truck
Williamsburg, backyard of Union Pool, 484 Union Ave. (at Meeker Ave.), 718-609-0484
The Scene: A hipster's paradise parked in the backyard of one of Williamsburg's most popular indie-music bars that is now serving weekend brunch starting at 1pm on Saturdays and Sundays.
Food: Tacos, the official wee-hour snack of night owls everywhere, get reinterpreted for early birds with eggs, chorizo, potatos and cheese ($5). Or try a variation on a tried and true brunch staple, steak and eggs, by having them in a breakfast burrito ($8).
Brunch Booze: Nothing goes better together than tacos and tequila, so grab a margarita or one of Union Pool's new brunch cocktails: micheladas, mimosas,  bloody marys and Sangringo (red wine & mandarin Jarritos) are all being served, as well as Brewhammer (Naragansett and OJ). Parlor Coffee is also offering an exclusive cold brew.
Extra, Extra: You can sleep in late and still snag breakfast because El Diablo doesn't stop serving brunch until 6pm.
Kettle Black Bar
Bay Ridge, 8622 Third Ave. (at 87th Street), 718-680-7862
The Scene: Bay Ridge neighborhood spot keeps the weekend party going with bottomless brunch drinks and basketball or hockey on TV.
Food: Classic. Large. Open-faced omelettes, pancakes and the Brooklyn Country Skillet–scrambled eggs, home fries, monterey jack, red pepper, onion, jalapeño, bacon, chili, sour cream and Texas toast.
Brunch Booze: Unlimited bloody marys and mimosas along with the ambitious option of unlimited domestic draft beers. Yep folks, that's as many Bud Lights as you can drink on a Saturday afternoon. $17.95 with any meal.
Extra, Extra: Grandma Nunzio's take on Buffalo wings, with garlic, butter and shaved paremsan subbed in for the hot sauce, are not to be missed. Maybe not quite brunch food, but let's be real: You just had five Bud Lights.
Tradesman
Bushwick, 222 Bushwick Ave. (between Meserole and Montrose), 718-386-5300
The Scene: Tradesman is the kind of place where you can get a great Manhattan or a glass of wine or beer and a shot–grown-up but unpretentious. So far it's an undiscovered brunch scene, with no fuss and no wait.
Food: Right at the intersection of hangover helper and healthy. Pulled pork sliders ($13) or challah french toast ($9) are great booze soakers, or go for the crispy polenta cake ($12) with roast eggplant, marinated beets and fennel. We're always skeptical of "improvements" on the BLT, but their version, with sprouts, shredded carrots, red pepper tapenade and sriracha mayo is a tomato-less wonder.
Brunch Booze: Brunch drinks include a super refreshing Arnold Palmer, a killer bloody mary with just the right kick and an Aperol spritz that pairs perfectly with a sunny day. 
Extra, Extra: A spacious and comfortable backyard guarantees that you'll come for brunch and stay for the day drinking.
Clover Club
Cobble HIll, 210 Smith St. (between Butler & Baltic sts.), 718-855-7939

The Scene: Cobble Hill's go-to date-night spot doubles as a popular option for girls-in-the-city brunch foursomes.
Food: Fancy eggs galore, from wild mushroom scramble ($10) to pork and grits topped by a sunnyside ($13) to baked eggs with truffles and leeks ($12). The lemon-scented buttermillk fried chicken ($12) will please yolkaphobes.
Brunch Booze: One of the most carefully curated daytime cocktail lists in Brooklyn, with several options each for bloody marys, collins, fizzes, cobblers, swizzles, punches and more. If you're really diving in, there's the $46 bowl of Champagne punch–rosé with cassis, elderflower and fresh berries.
Extra, Extra: Despite the always-happening bar scene here at night, there's often no wait for brunch.
Nights and Weekends
Greenpoint, 1 Bedford Ave. (at Manhattan Ave.), 718-383-5349
The Scene: Williamsburg and Greenpoint party animals soaking up last night's fiesta and getting ready to go again.
Food: Hearty, morning-after fare with a Latin twist, but a serious step up from your local Mexican spot. The most intense dish is the Croque Señora ($14), a pork shoulder-taso ham-mortadella pressed sandwich topped with mozz and a runny egg. Healthier brunchers (is that a thing?) can opt for avocado toast with chili and olive oil.
Brunch Booze: Strong. Horseradish-infused tequila subs for vodka in the bloody maria; the mint-lime-rum Sun Also Rises is spiked with absinthe.
Extra, Extra: The outdoor stools on Nassau Avenue are among Brooklyn's best people-watching spots on a Sunday morning–walks of shame galore!