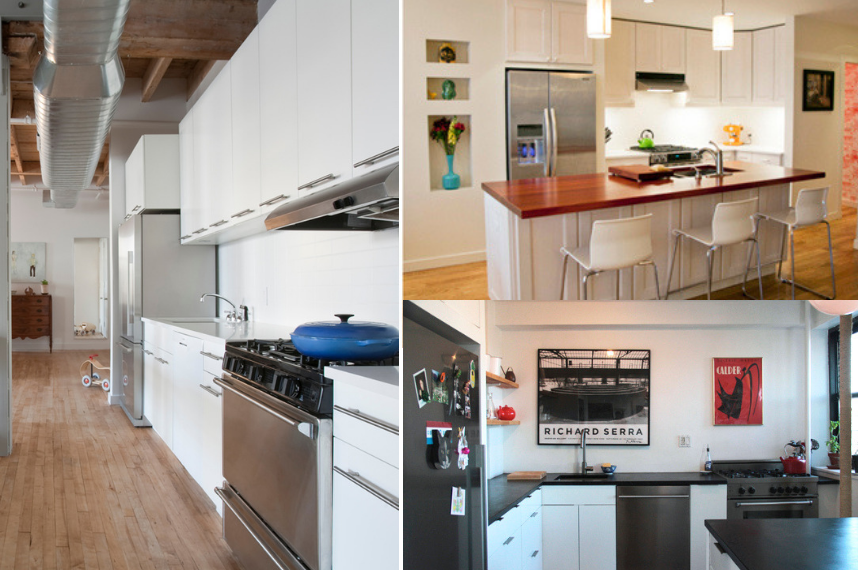 Everyone dreams of a fully custom kitchen, but for many of us, the price point of a one-off renovation may be out of reach. One of the most common ways to circumvent this hurdle is by opting for prefab or off-the-shelf cabinetry, which can save tens of thousands of dollars as compared to the bespoke alternative. Ikea cabinets are super popular for their affordability and flexibility to install them yourself, but we've learned that this money-saving solution doesn't have to be the death knell of a unique, custom kitchen design. Take some inspiration from these Brooklynites who have used Ikea cabinetry in creative ways to make standout kitchens that didn't drain their bank account.

1. Customize construction details for Ikea "built-ins"
The open kitchen in this Ditmas Park home features Ikea's simple, shaker-style Ramsjo cabinet. Construction details like the shadow reveal where the cabinets meet the ceiling, and a built-in cabinet above the refrigerator, give the space a unique character that leaves behind any immediate thoughts of prefab. The adjacent dining space features a built-in buffet, a la Ikea. The Ramsjo cabinets tie this space back to the kitchen, but the clever use of glass panels creates a more formal mood.
2. Install cabinets floor-to-ceiling and mix & match sizes and hardware
This kitchen in Boerum Hill was remodeled on a strict budget, but thanks to the designer's thoughtful use of Ikea's Nexus Brown cabinets, the space looks luxe and very modern. Takeaways from this design are the inventive layering of different cabinet sizes & hardware, and the built-in effect created by running the cabinets from floor to ceiling. Photo: Jennifer Levy.
3. Create continuous lines & surfaces
This new kitchen in an old S. Williamsburg factory uses Ikea to do more with less. The minimal, white cabinets create drama with their simplicity, consistency & repetition, which works especially well for an open, linear kitchen like this one. The designers even built the range hood into the cabinets in order to uphold the continuity. Photo: Lauren Coleman Photography.
4. Redirect the eye–splurge on appliances, finishes & accessories
Another new home in the same converted factory incorporates Ikea cabinetry into it's high/low kitchen design. This unique S. Williamsburg kitchen draws us in with high-end appliances, a bright blue Italian ceramic tile backsplash, and custom walnut built-ins to bookend the space. These investment pieces offset attention to the ikea cabinetry, and unlike most kitchens, there are no wall-mounted cabinets above the counter here, so that bright, oversized backsplash becomes the visual centerpiece. In this case, Ikea cabinets in muted grey are perfect choice for their modesty. Photo: Lauren Coleman Photography.
5. Outfit cabinets and kitchen with unique, well-curated accessories
This crafty couple in Fort Greene saved cash in more ways than one by DIYing their own Ikea. They also made all their own design decisions which really make the most of the new space. A great trick we here is that the homeowners customized their Ikea cabinets by adding their own hardware that they purchased from a local shop. Also, like the previous kitchen, this one appears larger and less cluttered without an upper tier of cabinets. Instead, at eye level, the walls are used for display of framed art and objects on the open shelving. From the custom pulls, to the artwork, to the appliances & countertops, this budget-friendly kitchen's strength is in its careful curation.