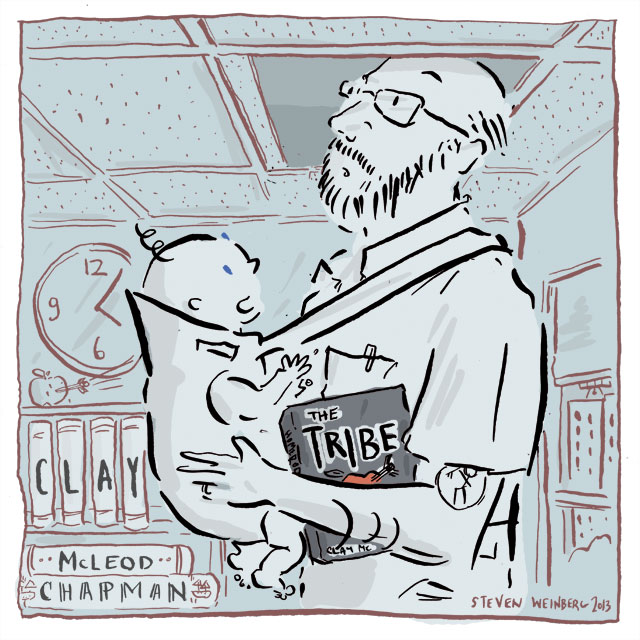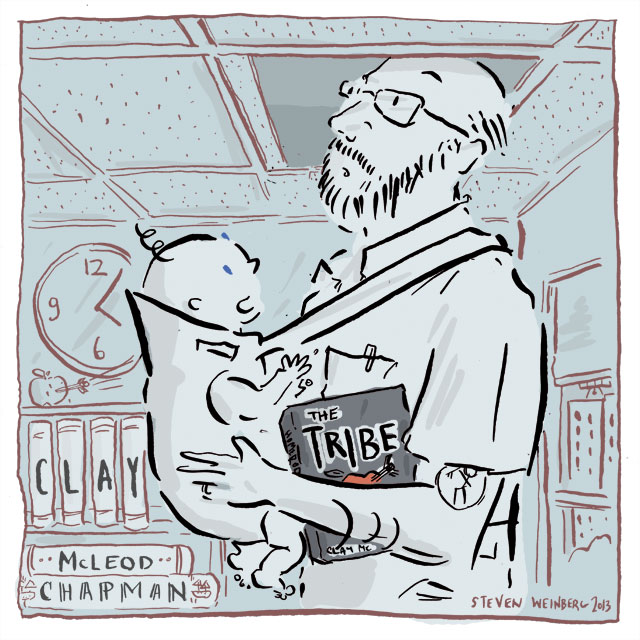 In our series, Five Five Questions, One Drawing, artist Steven Weinberg interviews and draws a well known Brooklynite each month. Today, it's Clay McLeod Chapman, author of The Tribe, a trio of children's books about a band of runaway middleschoolers squatting in their old school. The first installment of which, Homeroom Headhunters, was released last month. He is also the creator of  The Pumpkin Pie Show, a storytelling series he describes as a "literary fist in the face."  McLeod Chapman moved to Brooklyn in 2000, and currently lives in Ditmas Park. He describes his occupation as a writer/daddy and intertwines the two to great comedic effect. See for yourself tonight when he performs as part at  Funny Story, our monthly storytelling series with Brooklyn Brewery.

When you leave Brooklyn and come back what's the first thing you do?
I'm pretty OCD when it comes to returning home. The trip isn't officially over until I've unpacked and put everything back in its proper place. We're awfully close to Brooklyn College, which has an amazing pool, so if I can, I'll rush off for a quick swim to wash the jaunt away. Or just raid the pantry.
You commute by train/bike/car/walk/other? Why?
We're a couple blocks away from Newkirk Plaza, which has officially become my favorite subway station ever. It's above ground—and from what little I know about Paris, which is absolutely nothing, in my mind it kind of feels like one of those Parisian open air subway stations. Plus it has the best Jamaican jerk chicken restaurant in the whole wide world: Fisherman's Cove. Simply the best. Better than all the rest.
How many different places have you lived in Brooklyn? Which is your favorite?
Four-ish. I spent a summer couching it in the Downtown Brooklyn/Fort Greene area while I was still in college. Does that count? That's my -ish. For six years, I slept in my childhood bunk-bed in Park Slope, and it totally wrecked whatever love life I had. Which wasn't much to begin with. But still. Bunk-beds: Romance-killer. It took my wife-to-be to lure me out to Williamsburg. We lived at the base of the Williamsburg bridge for six years—and then, as of last year, we moved to Ditmas Park. No more bunk-beds for me, baby!
What's your ideal Brooklyn date?
In Park Slope, I'd pick up Vietnamese sandwiches from Hanco's on 7th Avenue and take them up to Prospect Park for a little afternoon picnic. In Williamsburg, I'd say start at the Nitehawk and then walk down to Milk [Bar] for a slice of crack pie. In Ditmas Park, it's get the baby to bed by six or seven; pick up an order of extra-sauced jerk chicken; and fall asleep halfway through an episode of Law and Order: SVU.
You have a new book out, Homeroom Headhunters, all about bunch of runaway middle schoolers secretly living in their former middle school. Are there other Brooklyn locations you could imagine secret societies secretly living?
BAM is the first place that comes to mind. If I was a member of the Tribe, looking for a home-away-from-home to call my own, I'd totally hide inside BAM. But that's just me. The Brooklyn Public Library at Grand Army Plaza would be pretty amazing. I'd try to take over Pies N' Thighs if I could, but that might get a little too crowded. I know it's cheating a little because it's in Manhattan, but the secret City Hall subway station below the Brooklyn Bridge would be cool too. Why stop there? I say the Tribe should take over the entire subway system! We can hop from train to train, station to station! We own the rails! We own the trains! The underground is ours!