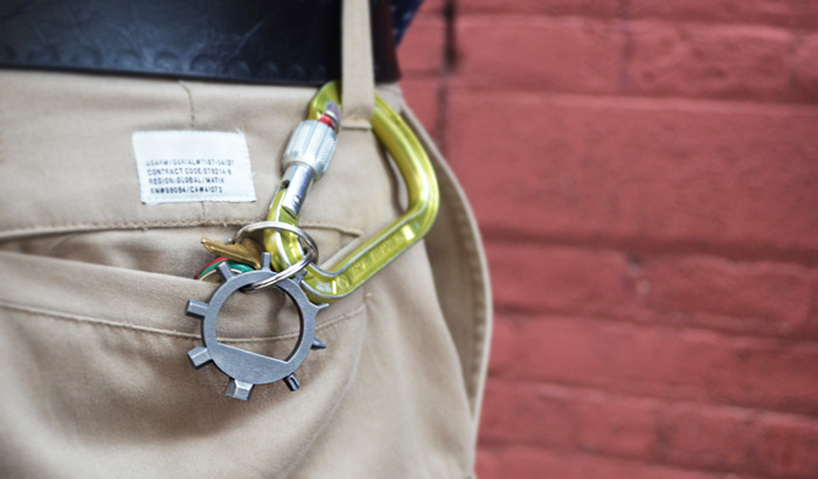 Given the popularity of the platform and the direct access it affords inventors to investors, it's no wonder Kickstarter, and its contemporaries like Indiegogo, are the first place creative people turn when they're trying to get a project (or object) off the ground. Jonathan Sabutis is one such designer. The 26-year-old Greenpoint resident is the inventor or Ringtool, which has the potential to be the most practical addition to your key chain since the Swiss Army Knife was invented in 1891.
Originally, Sabutis designed the circular tool, made of hardened and tempered stainless steel, for cyclists, but the functionality of it goes way beyond bikes. Each of its eight appendages–3mm, 4mm, 5mm, 6mm and 8 mm hex heads, as well as a flathead driver, a Phillips driver and a torx head T25–is intended to make life, and jobs like bike adjustments and furniture assembly, easier. At the center of it all is what Sabutis considers to be the handiest of all Ringtool's many design elements: a beer bottle opener.
"I  started working on the Ringtool about a year ago," Sabutis says. "The design process was brutal as cyclists are often very harsh critics, but this is what you want when you are trying to make a product good. It took around a dozen iterations based on feedback from other cyclists, designers and material experts before getting to the final optimized form."
While its conceptual roots are in the borough, Ringtool is actually manufactured upstate, so it doesn't get a Made in Brooklyn seal of approval, but Sabutis says he's already had interest in his invention from local bike shops, who are considering selling the final product when it becomes available in the fall.