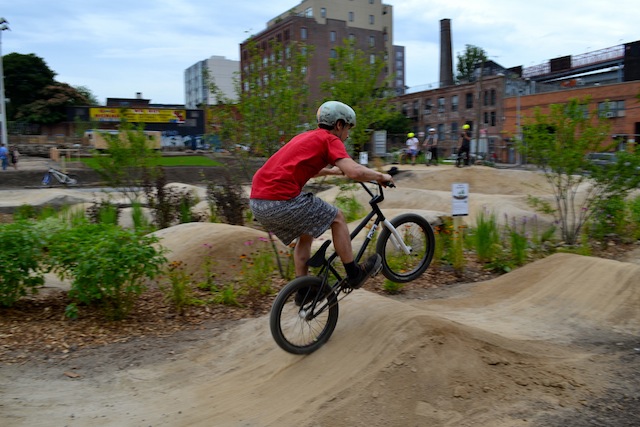 If the idea of taking your child mountain biking conjures images of the deep woods, expensive gear, and the emergency room, there is an easier option to consider. Last week Brooklyn became the city's first borough to open a private park where beginning riders, BMXers and mountain bikers can hone their skills alongside each other on dirt.
"This is mountain biking for the masses," said Christopher Trombley, president of the New York City Mountain Biking Association, which helps oversee Ride Brooklyn's Brooklyn Bike Park at 329 Kent Avenue between South 3rd and 4th Streets in Williamsburg. The fact that the park is accessible and visible by cars whirring past, not hidden deep inside the Colorado Rockies or the Canyonlands of Utah is the point. It's an open invitation for anyone to learn a sport that's typically required six wheels–four to drive to a distant trailhead, and two to ride it.
The park takes up half of Havemeyer Park, a 55,000-square-foot lot that is currently leased by three groups including the new, non-profit arm of Ride Brooklyn bike shop until the Domino development breaks ground next year. As you enter on Kent, a shipping container filled with dirt bikes, mountain bikes, and kids bikes with training wheels greets you. All can be rented to ride a few different tracks designed by Jim Dellavalle Jr., who has created bike trails and parks throughout the East Coast. There's a flat, dirt track for beginning cyclists or even strollers, four short stretches of mountain bike terrain like log roll overs and rock crawl trails to experiment on, and a beginner's and advanced "pump track"–a series of 3-foot-high rolling hills and big, banked turns that operate like a manual version of motocross. (In other words, it's tailor made for BMX biking, as a commenter points out below.) Once you gain momentum while circuiting the track, you can propel yourself forward just by shifting your weight around, a workout and a spectacle in one.
Said Peter Kocher, co-owner of Ride Brooklyn with his wife Jessica, all the skills you learn at the park can be applied to city streets. "In New York, just riding on the street is a lot like mountain biking, with all the quick decisions you have to make. Now when you encounter a giant pothole you're going to have a much better chance of coming out unscathed."
The flat, open track also provides plenty of room for young riders to get comfortable on two wheels, with or without training wheels. The Kocher's own girl is too young for the park–at 15 months, her experience is limited to being pushed on a tricycle–but as soon as she's old enough, said Kocher, "She'll be out there."
The NYC Mountain Bike Association, which advocates for mountain biking throughout the city, helps to maintain the course and provides volunteers during park hours. Historically they've pushed for mountain bike trails in parks, like Cunningham Park in Queens and Highbridge Park in Manhattan, but Brooklyn Bike Park, built on private land, is a new, exciting model that can be duplicated elsewhere. "There are no shortage of empty lots in New York," points out NYCMTB co-founder, Dawson Smith, who is particularly excited about the park's promise for young cyclists. "As someone who grew up in Manhattan, it's a dream to have a safe, open space for kids to learn to ride a bike."
The goal is to relocate the park to a permanent home once their lease at Havemeyer Park ends at some point next year. Based on the response opening weekend–where roughly 200 turned out, from three-year-olds on balance bikes to cyclists in theirs 50s and 60s–Kocher thinks this is likely. Another portion of Two Tree's Domino development or the East River State Park are two possible options.
"Right now the…community and politicians and Parks [Dept.] are really excited about it," said Kocher. Based on "the range of people and riders that came through, it's proven to be so valuable to the community. We shouldn't have too much trouble finding a permanent home."
To help ensure the transition from pop-up to permanent park status, Brooklyn Bike Park is accepting donations and volunteers, "so we have the funding and manpower to make it happen as we get closer," said Kocher.
In the meantime, the park is open from 1pm to dusk on Thursday and Friday and 11am to 6pm Saturdays and Sundays, with plans to extend the hours all week long and later on weekdays. The park provides bikes and helmets for anyone under 16 free of charge, and rents a bike and a helmet to anyone over 16 for $15 an hour. They currently have about 20 bikes for riders three to six feet tall, and plan to increase it to 35 by next week. Renting out the park for birthday parties is also an option–just get in touch.