Albert "Prodigy" Johnson has been writing gritty portrayals of urban landscapes, street tussles and violent ends as one half of the legendary hip-hop duo Mobb Deep since the 1990s, and now the Queens rapper has found a new voice as a writer of fiction.

I was just trying to read to escape and free my mind out of that prison cell. –Prodigy

 Prodigy's Infamous brand—which includes a record label and a clothing line sold through the members-only site PLNDR—adds a book imprint to its lineup through a partnership with Akashic Books, an independent publishing house in Brooklyn. Prodigy, whose memoir, My Infamous Life, was published in 2011, released his debut novella, H.N.I.C, on July 16 as the inaugural title for Infamous Books, which will specialize in urban and crime lit, genres that Akashic publisher Johnny Temple says he wants to release with greater frequency.

The push for Infamous Books begins at 7pm this evening, July 25, when hip-hop journalist Sacha Jenkins from Mass Appeal magazine leads a conversation with Prodigy at powerHouse Arena in Dumbo. But H.N.I.C is only the beginning. Future releases on the Infamous Books imprint from national bestsellers Miasha, K'wan and New York Times best-selling author JaQuavis Coleman should hit bookshelves in early 2014.

Prodigy says that developing narrative plots and fictional characters was a new experience.

"A lot of our music deals with a lot of drama and beef in the street, and just like jealousy we go through being artists and still dealing with having ties in the neighborhoods that we're from," he says. "Most of it comes from my real life. So writing a fictional book is different because I'm just able to use my imagination more and just create scenarios. I really don't do that too much with the music."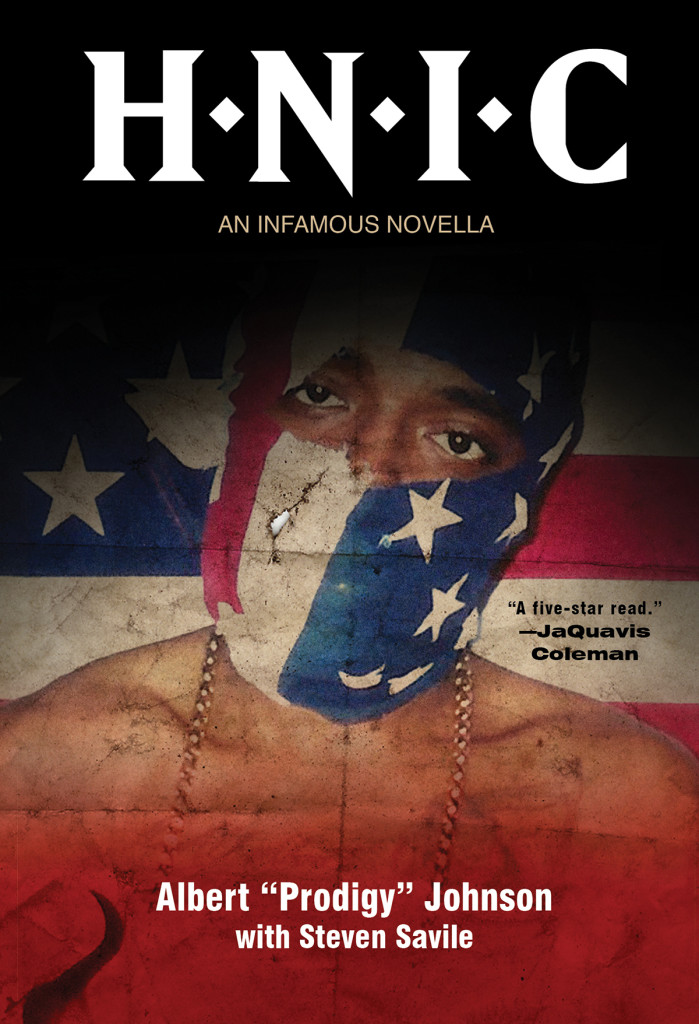 H.N.I.C, which Prodigy wrote with British fantasy and thriller writer Steven Savile, follows protagonist Pappy, who wants out of a life of high stakes heists, but not before one last job with his childhood friends, which, of course, doesn't go as planned.  While the events in H.N.I.C are fictional, Prodigy says he drew on personal experiences for the streetwise story.
"I definitely pulled a lot of inspiration from my real life, like dealing with people growing up in the neighborhood that I grew up in and just seeing certain things about friendship and loyalty and trust and betrayal," he says.
Marvis Johnson, Prodigy's manager, believes that the authors on the Infamous imprint will appeal to established hip-hop fans, and that Akashic, which published the 2011 runaway hit Go the Fuck to Sleep, can connect with this broad followng. Urban literature is largely marketed only to an African-American audience, which, Johnson says, misses a large portion of the hip-hop fan base.
"The fan base or consumer base for urban music is about 10 percent, or maybe even less, African-American," says Johnson, who also runs the day-to-day operations for Infamous Books. "There are some really amazing authors that are telling some really great stories, but not everybody is aware of this, and we really wanted to raise awareness of these titles and these authors. And Johnny got it. I'm not sure that someone in the major publishing world would get it."
Temple too, sees the expanded roster as an opportunity to reach new readers.
"The publishing business is neglecting huge swaths of the population," says Temple, bass player for the punk outfit Girls Against Boys and a self-proclaimed hip-hop fan. "There's a lot of young people who are really into hip-hop music and who like to read, but maybe they're reading magazines more, blogs, et cetera more than books. But it doesn't mean that there aren't books that they would like."
Temple isn't surprised by Prodigy's turn as a fiction writer; he thinks that musicians have a strong affinity for literature.
"I bet you if you did a study of reading habits of musicians in all cultures, versus non-musicians in all cultures, you will find that musicians are better lovers of literature," Temple says.
Though he's not sure this theory applies to all musicians, Prodigy is an avid reader who favored non-fiction until he served a prison sentence for gun possession from 2008 to 2011. Which author turned him on to fiction? Fellow hip-hop artist turned novelist Sister Souljah.
"Her books got me kind of interested in reading fiction because it helped me escape," Prodigy says. "I was just trying to read to escape and free my mind out of that prison cell."