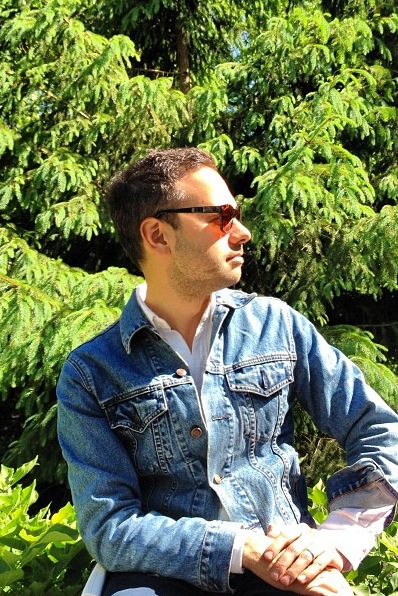 We've been working at The Yard on the Williamsburg-Greenpoint border this summer and have found that that having an office in a co-working space makes us more organized and more professional. We also love being able to have face-to-face meetings daily, and, well, the amazing air conditioning. We wanted to get to know some of our co-workers in the space, so we started this series Who Works at The Yard? This week we're talking to David Michael Perez of Kindling Quarterly.
Tell me about your business, what do you do?
I am the publisher and editor of Kindling Quarterly, a print magazine that explores fatherhood. Issue 1 launched in January of this year and Issue 3 will be out in September (Issues 1 and 2 are currently sold out).
How did you get into that–what did you do before?
Honestly I was professionally (and personally) lost before starting the magazine, and for that matter becoming a dad.

I spent most of my twenties working in visual art; galleries, non-profits, and as a freelance writer here and there. I was a founding organizer of FEAST (funding emerging art with sustainable tactics), a public dinner/artist grant program in Greenpoint from 2009 to 2012.
When I had the idea for Kindling and recognized that nothing like it existed, I got to work right away despite not having worked at a magazine or having much editorial experience. I'm still learning on the spot and making plenty of mistakes along the way.
How long have you been working at The Yard?
Since November of 2012, about nine months.
As a small business owner/independent worker, how does working at a co-working space help you or change your work life?
Working at The Yard has been really beneficial for me personally. From reading our press, people often think we're a big company with a huge budget, when in fact it is just the two of us (my business partner/creative director August Heffner being the other half of KQ) and more specifically just me at The Yard (at least up until now). Owning a small business can feel pretty lonely as you navigate all these new opportunities and pressures. I have several friends who also work at the space which is great, but more than anything it's really helpful to be surrounded by so many other entrepreneurs.
Any words of advice for people out there who are starting businesses or trying to go freelance from their job?
While income inequality is at an all time high and so many of us are overworked and underpaid, I can't help feel that it's an incredible time to be a small business owner. There are practically unlimited resources available to you in terms of connecting with a community. Similarly there is no shortage of people willing to share their talents in one way or another. My biggest challenge is eliminating all the personal excuses I make to avoid creating something and putting myself out there. That is the hard part.
What's the best thing you've done so far this summer and what are you still looking forward to doing?
The best thing was the week we spent in Tenant's Harbor, ME.
Otherwise, the summer has been a busy one and it already feels over in some ways. One thing I look forward to is a few more trips to Rockaway Beach. I've barely spent any time there this year.
Photo: Jeffrey Gray Brandsted