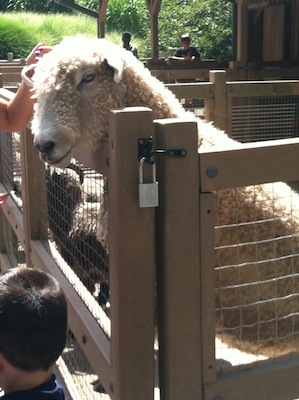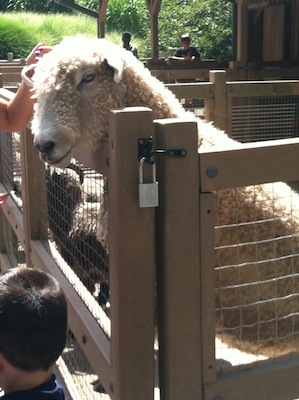 With just a few weeks left in August, I realized I hadn't taken my son to The Prospect Park Zoo all summer. The Brooklyn branch is great for its manageability (it's much smaller than the behemoth in the Bronx) and its uncrowded exhibits (you'll find way less tourists than the Central Park Zoo.)
On this particular afternoon, we decided to drive our car to the park instead of taking the subway. Finding street parking on Flatbush is surprisingly easy during the week, but it's important to double check the signs. I strapped my son into his stroller and wondered aloud why I didn't drive places more often. At that moment, a truly soulless traffic cop approached my car and proceeded to write me a ticket while we pleaded, yelled, cursed and finally snapped photos to show the lack of parking signage.  After pocketing a $120 ticket, we fumed our way into the zoo.   
After a few hundred deep breaths, I was able to regain some composure, and we started at the Discovery Trail. Perfect for the younger set, the pathways wind through duck ponds, gardens and interactive exhibits like turtle shells kids can climb in and life sized prairie dog burrows. Our favorite animals were the red pandas and the dingos, which look like a cross between a fox and a dog.
I asked my son what kind of animal he'd like to see next. The baboons, the sea lion and the dart poison frogs were all pretty amazing and tough to beat.  "I'd like to pet a cow," he concluded.  At this animal mecca, it's not necessary to explain that farm animals don't belong at the zoo. Just follow the signs to the Barn exhibit, where tiny hands can pet delightful babydoll sheep, alpacas and goats. And yes, two large mooing cows.
In the Animals in Art exhibit, kids can see odd and colorful creatures like Mawali fish and playful meercats, and then learn how to draw them.  On the day we were there, a zookeeper was leading an easy yet satisfying turtle craft. By this point, overtired children in camp t-shirts limped by us, crying over skinned knees and stepped-on toes.  My son became more interested in the action in front rather than the animals behind the cages.  "Why is that girl pushing that boy down those steps?  Why is that boy yelling and lying on the floor?  Is that adult weeping?"  The strain of long summer days take their toll, but soon enough the leaves will fall and we'll have the structure of school bells, sweaters and subway rides back in our lives.
Lunch options at the zoo are little more than a few vending machines. But the lawn space is ample, and Wholesome Gourmet Market in Prospect Lefferts is a good place to stock up on picnic supplies. Ultimately we decided to leave the zoo grounds, and venture two blocks to Tip of The Tongue, a coffee shop on Lincoln Road. I had a cold-brewed iced coffee, grilled veggie croissant and shot of gazpacho soup. My son ordered a refreshing cherry lemonade, yogurt parfait and slice of phenomenal red velvet cake with two forks…all the better to forget our difficult day.
Prospect Park Zoo, 450 Flatbush Avenue., Hours: (March 23rd through November 3rd) Monday- Friday 10:00- 5:00pm; Weekends and Holidays 10:00- 5:30pm. Admission: Adult $8; Children 3-12 $5; Children under 3 free
Tip of the Tongue, 43 Lincoln Road,  Monday- Friday 7:00- 7:00pm; Saturday- Sunday 8:00- 7:00pm
Wholesome Gourmet Market, 534 Flatbush Avenue between Lincoln Rd and Lefferts Ave.