Summer may be juuuuust about to end, but that doesn't mean we can't get a few last solid beach reads in. From vodka-makers to war reenactors and waxers, enjoy Brooklyn Based and Narratively's top 10 favorite longform reads from Summer 2013.
1. The Hair Down There
Summer may be over, but waxing season never ends. One writer wonders why she's so quick to pull off her pants and expose herself to a stranger in the hedonistic and masochistic ritual that is the bikini wax.
2. Afropunk Everywhere
Miss the Afropunk festival last month? Check out our sweet slideshow of the weekend.

3. Is Poetry the New Burlesque?
At the New York City Poetry Brothel, where candlelit readings come complete with lingerie-clad bards, it sure seems like it.
4. A Priest Walks Into a Coffee Shop…
…and says it's good for the soul! Check out Fast Company's profile of Bed-Stuy's most latte-loving man of the cloth.
5. A Summer Surf Story
We hit the waves with surfers who ride small, wooden boards based on a traditional Hawaiian ride called a paipo.

6. Super Beer!
We can't wait to taste Brooklyn Brewery's latest concoction, an amazingly nerdy collaboration with none other than Comic Con.
 7. Join, Or Die
Meet the Brooklyn-based Civil War reenactors who leave everything on the battlefield.
8. Keep Coney Weird!
Brooklyn Based takes you inside director Amy Nicholson's latest documentary, about Coney Island's last wild ride.
9. Eulogy for the Ultimate Dive Bar
Did you ever get to drink at the VFW bar under the subway tracks in Gowanus? If not, you may have already missed your chance.
10.  The Great Brooklyn Vodka Experiment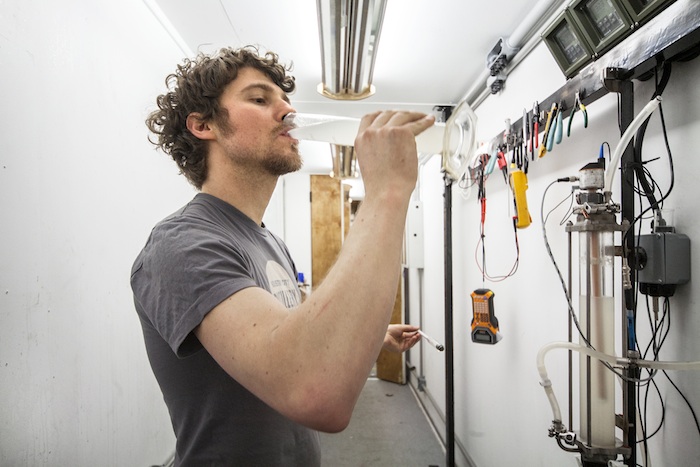 In a Sunset Park warehouse that looks more like a science fair than a distillery, a fisherman, a yoga teacher, two art school grads and a machinist set out to invent the perfect vodka—just because they can.