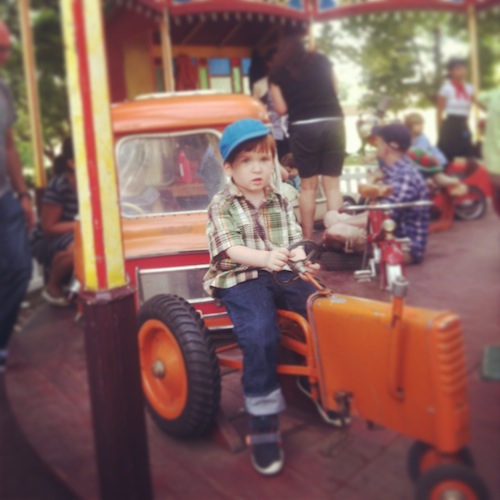 In Greek mythology, patience is probably a virtue when crossing the river Styx. Take this advice when waiting to shuttle across the East River to Governors Island. We arrived at the dock at Pier 6, just as the hour's free ferry was chugging away, which meant a 55-minute wait before the next one. Instead of crying, this was an opportunity to load up on picnic supplies at a neighborhood fave, Iris Cafe Willowtown Store. Avocado sandwiches, breakfast baguettes, and homemade pastries all ended up being eaten before we even got on the ship. Twenty minutes later and the line of strollers, bikers, and hipsters already looped back around the pier. Seriously though, this is part of the charm—passing through Purgatory has never been so rewarding with a preschooler. Once onboard, the ride is quick, smooth, and full of sights (The Statue of Liberty!  The Freedom Tower! The Staten Island Ferry!) and here we are.
Governors Island is known for having great green spaces, lovely bike paths, and car free roaming. But this month there are countless other reasons to make the trip. In fact, there are so many, it would be impossible to see and do everything in just one afternoon. We started our odyssey at Fête Paradiso: A Festival of Vintage Carousels and Carnival Rides, a magical area of jaw-dropping beautiful rides of yesteryear ($3 a ride), many of which are suitable for very young children. My son chose first, a little carousel full of miniature VW buses, swans, and sportscars. He sat on a tiny orange tractor with a spinning steering wheel. (Keep in mind these truly are vintage rides, and most do not have seat belts, but parents are encouraged to stay with their child if needed.) Next up was an antique boat swing. All this was set to the soundtrack of an accordion player, who blended into the dream of the 1900s in his suspenders and hat.
Although we could have spent many more hours in the haze of last century, we continued on to the Governors Island Art Fair, a yearly event viewed in the island's abandoned army barracks. The fun of this event is in exploring these old, narrow buildings and seeing art inside every nook and cranny.  A word of caution though, the tight quarters and many stairs are not stroller friendly. Each of the 100 or so rooms are a collection of paintings, performances, photography, or videos.  Many things delighted—my son was particularly taken by a sculpture of a splashing drop of water.
Before we had a chance to get through even half of the art fair, we discovered the Parade Ground. This futuristic vision, put on by Figment NYC, is aptly named the City of Dreams Pavilion, and includes an urban tree house/ play structure and a full miniature golf course (each hole designed by a different artist). Brooklyn may have constructed it's own heaven with "Head in the Clouds," an ethereal giant cloud made entirely of recycled water bottles and milk jugs. Skipping towards this cumulus with my son, I almost expected to hear angels singing. But, just as all good dreams must come to an end, we realized the last ferry was just about to leave. It was time to literally run back to reality, though we are already plotting our plans to return.
Governor's Island is open every Saturday and Sunday from 10am to 7pm. From Brooklyn, a free ferry leaves from Brooklyn Bridge Park's Pier 6 at the foot of Atlantic Avenue. Boats leave approximately every 60 minutes. Check the schedule for times.
Iris Cafe Willowtown Store, 20 Columbia Place (between State St and Joralemon St), Open 8am- 10pm.
Fête Paradiso, on Governors Island every Saturday and Sunday in September, 10:30-6:30pm 
Governors Island Art Fair, on Governors Island every Saturday and Sunday in September, 11am- 6pm  
City of Dreams Pavilion, on Governors Island through September