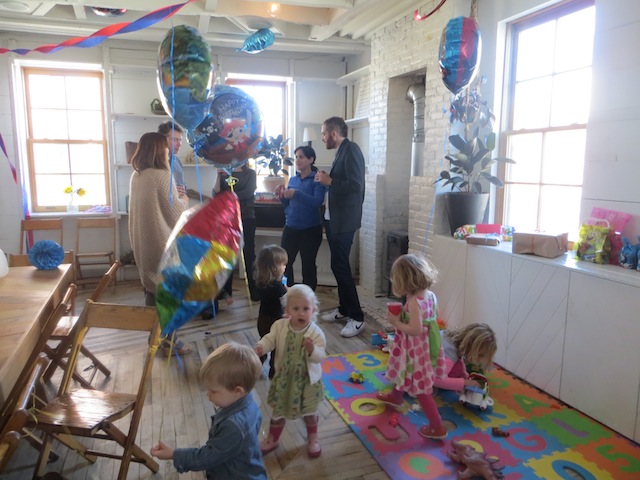 Now that the weather is getting cooler, kids' birthday parties in parks—the cheapest party venue in Brooklyn, aside from your cramped apartment!—are no longer a viable option for your fall and winter babes. So where to go, besides playspaces? These three restaurants and cafes will satisfy your need for a room and delicious food.
Brooklyn Farmacy & Soda Fountain, Carroll Gardens
Take your child back in time for their birthday with an old-fashioned soda fountain party at Brooklyn Farmacy. The restored 1920's pharmacy is the perfect setting for a party, with soda "jerks" mixing U-Bet chocolate egg creams at the polished counter. Renting the back room will accommodate 16 friends (plus the host family) and will set you back $200 on weekends; $150 during the week. Included in the price is one and a half hours of nostalgia, a dedicated server, and each guest will get their own soda fountain hat to take home. The only thing not included in the price is the food, which runs roughly $10-$12 per child, and $10-$20 per adult. Work with the restaurant on a menu ranging from Adirondack Creamery ice cream sundaes, artisanal soda floats or more substantial lunch options like macaroni and cheese. Additionally, guests are encouraged to bring decorations and their own playlists. If you were planning more of an intimate gathering, you can also choose to just rent the nine-seat fountain counter for $100 plus the menu bill. Just don't be surprised when the birthday babe insists on being called the "Fonz." To reserve your party and for ideas on entertainment, email brooklynfarmacy@gmail.com with the subject PARTY!—Meredith Craig de Pietro
ISA, Williamsburg
If you've ever been to an installment of ISA's brunchCRAFT, their semi-regular events programming for kids, you've been to their upstairs room with the funky bathroom and small rooftop garden. The space accommodates roughly 30-35 kids and adults, yours for three hours so long as meet a minimum food and bar tab of $1,000. Why go to the expense? Because a pan of their focaccia pizza, whether classic Margherita or topped with sauteed seasonal vegetables, puts every other pizza party to shame, it's that delicious. They are happy to help you arrange entertainment too, drawing upon the talents that take part in brunchCRAFT. For an idea of how it would all add up, a Sunday afternoon party for 20 children and 15 adults could run $1,200 including salad and pizza, house-made sodas like ginger-lime and a summer berry spritzer, and an age-appropriate crafting activity. For more information and to book a party, email David Landgraf.—Nicole Davis
Lark, Ditmas Park
Run by two local moms, sunny, family friendly Lark has a side room perfect for parties up to 20, and you can book many of the same entertainers and craft instructors that appear regularly at the cafe. It rents for $65 an hour with a three-hour minimum, and guests are required to purchase drinks, including beer and wine, from Lark, but you can bring your own food. Given the yummy options here, you may not want to. For $8-$12 a person, you can get a full catered meal from one or more of their preferred vendors, such as Ovenly, Dough, Terrace Bagels, Bread Alone, and Four and Twenty Blackbirds. Brunch party spreads include pastries, bagels, doughnuts, yogurt, fruit salad, quiche, tea and Stumptown coffee, while an afternoon party could be catered by Brancacchio's, which serves "amazing lemon-garlic rotisserie chickens" says co-owner Kari Browne, along with delicious homemade pastas. If you have even more guests, renting out the entire cafe and side room is an option too, at $200 an hour for three hours minimum, with baristas standing by to help and serve up to 85 people.—N.D.