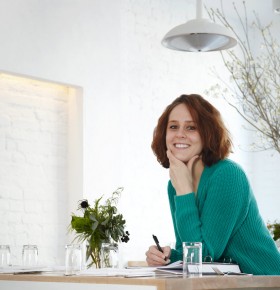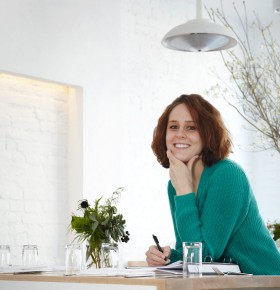 Dear Holly,
Recently, I completed all of my yoga teacher training and certifications. I know that opening my own studio is in my future; I just feel totally lost about how to make it happen. I haven't even begun planning because the entire process feels insurmountable. I have tried to sit down and write a business plan, but I end up feeling more frustrated than inspired so it just never happens. I've purchased books and programs to help me write the plan, but I still can't seem to make it happen.
I'm tempted to skip this step, though I've read that you don't recommend that. Do you have any advice on how to get the ball rolling without completely overwhelming myself? I'm eager to start using my skills, but frustrated when it comes to the next steps.
Thanks for your help,
Business in the Balance
Dear Balance,
I love how honest you are. I can completely relate to your desire to skip this step and to dive right in to opening your studio. In fact, it's a choice a lot of entrepreneurs make without realizing that it will catch up to them a few years down the road. We like to think that starting a business is all about using our passion, but it's not. Your business is way bigger than the product you produce. And, if you can't tell me why people are really buying your product, then it's likely your business will never see its full potential.
The business planning process forces you to dig deep and really understand why you're doing what you're doing. It takes you out of your skill set and asks you the tough questions like what's unique about you, why should anyone come to your studio, and how is the whole project going to make money. Those types of questions can often be stressful and that's why people avoid the process. They assume that if their product is good, they will succeed. What they don't realize is that without a clear plan, the business will likely never grow out of the infancy stage.
First and foremost, create balance in the process. What about teaching private yoga sessions on the side, or becoming an instructor at an established studio, so you can maintain your practice and skill while you work on flushing out the logistics of your plan? It often helps if we keep a sense of balance rather than going all or nothing. I bet if you secured just a few private clients, the joy and fulfillment you get from teaching will keep you motivated to write your plan. Keep this in mind moving forward.
Second, be patient with the process. We live in a world where everything is supposed to happen yesterday. We think that success comes overnight, and that the fast track is the best track. This is so not true. Give yourself a realistic timeline. We often get so excited about our ideas that we think we can write our plan in a month. The honest truth is that a good plan takes about six months to a year to flush out if you're doing it while you're working another job. Even if you focused all of your time on this, it will likely be no less than six months before you complete it. Remember, this is your future, take the time to put the thought and energy into the plan.
Finally, remember this, small steps and big rewards. What I mean by this is taking small steps every day is far better than trying to sit down and bite off large chunks of the process. Create a schedule for yourself that allows you to tackle small pieces of the plan on a daily basis. If you stick to this schedule, give yourself a big reward. It's important to acknowledge and reward ourselves when we meet a goal; it helps us to stay motivated and inspired to finish the process. Don't think that you have to sit down and do it all at once.
Good luck with your process! I'm sure so many people will benefit from you opening a studio. Take the time now to plan for it and you will be far more likely to build a business that succeeds!
Holly
Holly Howard runs Ask Holly How, a small business consulting company based out of Williamsburg, Brooklyn that works with a wide variety of businesses from restaurants to retail to art studios and pretty much everything in between. Her clients report increased income and profit, decreased expenses and a significantly better quality of life. Holly heads up the Small Business Book Club at McNally Jackson Books.
Want valuable insight into how to grow your business? Holly hosts free 30 minute strategy sessions at The Yard in Williamsburg. Email her to set up a time hhoward@askhollyhow.com or to ask a question for the next Ask Holly How.
Starting Oct. 30, Holly is teaching a special, four-part program, "How to Open a Restaurant," at The Yard, with special guest lecturers from local Brooklyn restaurants offering advice on everything from business planning to finance, operations, customer experience and marketing . Tickets are $70 per session or $205 for the entire program if you sign up between now and Oct. 10.