Hear that deep reverberation and those dreamy vocals? It almost sounds like the ocean, doesn't it? It's not the Atlantic. Those are the sounds of California's sun-soaked rock 'n' roll coming to New York's Bowery Ballroom on Oct. 5, compliments of one Fullerton based label called Burger Records.

This is the Burgerama Caravan of Stars Tour, inspired by a California festival of the same name. The New York line up features seven bands: Colleen Green, White Fang, Together Pangea, Habibi, Gap Dream, Cosmonauts and The Growlers. The majority of these acts have been roving the country since mid-September, spreading the Burger word.

'Every night it can still easily turn into a shit show, a fiasco.'

Sean Bohrman, co-founder of the label, says it's the biggest venture Burger has done to date. Picking the bands to play was the hardest part, because every band on Burger's diverse roster wanted in. "When you hear the music you can hear something that is real behind it," says Bohrman. "I think there is a realness behind all of our bands and that is what links them all—even if their styles might be different."

When Bohrman founded the label in 2007 with his friend Lee Rickard, he didn't expect to be planning tours. The pair launched Burger to put out records from their band, The Make Out Party, because no one else would. They approached their friends in the music scene, released vinyl and CDs and eventually moved to cassette tapes—because the major and independent labels weren't bothering with the format.

"No one was making cassettes of any of the records we liked that were coming out," Bohrman says. The eighth release Burger put out was a tape of Ty Segall's band Traditional Fools, from there things just started growing bigger and moving faster. Burger was responsible for No Bunny's "Raw Romance"—a cassette-only release—and sold all 500 copies in a week-and-a-half. In 2009 Bohrman quit his full-time job as an art director for a boating magazine, cashed out his 401K, found a space and opened the Burger Records storefront on Oct. 3, 2009. They've been open every single day since.

"Even Thanksgiving and Christmas. We've got nothing better to do," he says. To date, the label has released debut LPs and cassettes from more than 200 bands.

Bohrman says the label's success comes from playing shows tirelessly and countless nights out, seeing new bands and keeping up with old friends. "Rock 'n' roll is such a small world when you think about it," says Bohrman. "You'd be surprised who knows who and really how close everyone is within the community of music, whether it be garage or punk or anything."

Rahill Jamalifard, of Habibi was blown away by that closeness when her band first got involved with Burger two years ago.

"I realized all of these bands who have been my friends for years—they're all on Burger," she says. The label has already released a tape from her group, and will release their debut self-titled full-length at the end of October.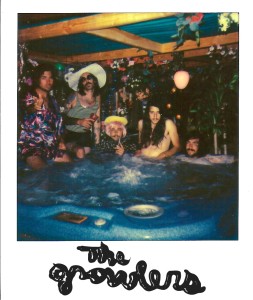 It isn't just up-and-comers that get love from Burger, though. The label is also home to some of the biggest names in the genre: Black Lips, Ty Segall, Thee Oh Sees and The Growlers—who are headlining the Caravan tour.
Brooks Nielsen, lead singer of The Growlers, knew Bohrman and Rickard from The Make Out Party, but didn't start working with the label until he decided he wanted to release a tape.
"I'm close to Burger, they're right next door. I'm going to their shows. I'm friends with all the bands who are on their label," Nielsen says. "I wanted to collaborate with them for that reason. I have a lot of respect for them."
The Growlers didn't use the label as a launching pad, but Nielsen says he sees the label's promotion of unknown bands and admires it. "They're giving an opportunity to these bands that aren't going to get it anywhere else," says Nielsen. "A lot of these bands would get overlooked, [Burger] has given them an opportunity to be seen."
Gap Dream, fronted by Gabe Fulvimar, is one of the bands that Burger has nurtured from the beginning. "They took in Gabe," says Nielsen. "He couldn't really afford to come [to California]. They brought him over, got him a place to live and have taken care of him really well."
Bohrman and Rickard met Fulvimar in Cleveland while on tour. He started ordering Burger releases and in 2011 he sent them a demo. They released his tape in 2012 and helped him move to California last December. He lives in the Burger warehouse and the label will release his new album on Nov. 11.
"We watched him grow and helped him grow. That's one of my favorite memories, just watching the bands grow and get bigger," says Bohrman. Another band on the tour, Together Pangea, is the first Burger Records band to get signed to a major label, Universal Music Group.
"You don't need to have money or a big label behind you to do big things and be recognized and be successful," says Bohrman.
The show on Oct. 5 will be a chance to catch some of these Burger bands before they blow up big. "Most music listeners wish they saw the bands early on when it was still kind of chaotic," says Nielsen. "Every night it can still easily turn into a shit show, a fiasco."
Tickets for the New York show are selling fast; show is 16+ and doors open at 7 p.m.