Although we wish that the 80 degree-weather would stay for good, fall is inevitably approaching. By now, you've purchased the bulk of  your back-to-school clothes, but everyone can use some trendy options that will keep your kids looking cool in the transitional months, and keep them warm in the process.
Flap Hats
Whether or not they like to wear them, kids need hats to protect against the sun and the cold. As a parent, your job is to find something your child will want to keep on their head! We've found just the thing with the Aviator Flap Hat ($26) or the Heart Flap Hat ($26) by Peppercorn Kids, which fit babes ranging from 1-10 years old. The heart hat comes in your choice of pinks, solid or sequin, and the aviator hat comes in either blue or brown. These embroidered hats are made of super soft cotton, and with the ear flap coverage, they are warm enough for any upcoming cold front. Calling all Lindberghs and Earharts!—Meredith Craig de Pietro
Available at Picnic, 192 Amity Street at Court St. Cobble Hill  
Puffy Coats and Vests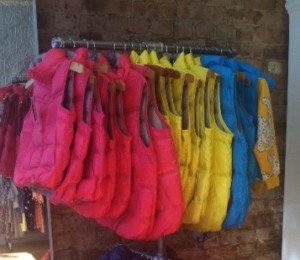 The Jordon by One Kid puffys are a must-have for inclement weather. These 680-fill down bubble coats ($120) and vests are amazingly warm and yet super lightweight and machine washable. The nylon shell keeps the coat wind- and water- resistant, so your little one can wear it no matter how big the storm surge. And the best part is when your child finally makes it to your toasty destination, the jacket can be squashed into the accompanying pouch. There's only one problem: these unisex coats come in an array of bright color options (teal, orange, pink, yellow or navy), so it may be impossible for your child to choose.
For those looking to make a bigger statement with their outerwear, there's also the adorably ferocious Snow Leopard Jacket by Mini Rodini ($120). It's made in breathable and water resistant fabric and stuffed with a poly blend with down padding, and sure to make your little fashionistas roar.—M.C.
Available at Junior Lowe, 89 Atlantic Avenue at Hicks Street (just two blocks from Pier 6), Brooklyn Heights
Colorful Tights
If your daughter lives in leggings, either solo or beneath skirts, then it's time to add some funky tights into the mix. Both the footed and footless varieties are perfect for extending her summer wardrobe into fall, and there are a number of brands that outdo each other with colorful patterns. Le Big ($18-$26; infant sizes all the way up to 7/8) is Dutch brand that uses a lot of sparkle; many of their tights are woven with glittery thread that instantly dresses up an outfit. Just make sure it feels good on your girl's legs—my daughter refused to wear the beautiful starry tights I bought her last fall because they were "too scratchy." Softer options include Miniature tights ($25-$28; infant sizes to 10/11), which come in more muted patterns and colors, and wool MP tights ($30-$32; sizes 2/3 to 10/11). The Danish brand use a little sparkle, too, but they line the insides with cotton to ensure a soft feel.—Nicole Davis
Available at Lolli, 169 7th Avenue at 1st Street, Park Slope