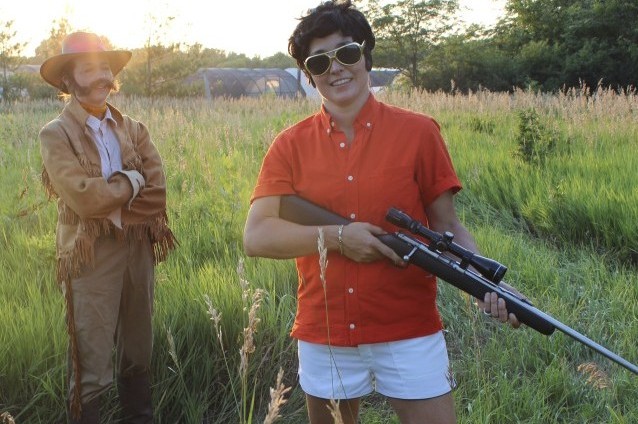 Two weeks from its opening at the Bushwick Starr, rehearsals for RoosevElvis were getting off to a slow start. It was to the point where the play's director Rachel Chavkin was telling her A.D. Jake Margolin, "We can either choose to rewrite substantially or cut the shit out of it." Not exactly where you want to be so close to opening night. However, by previews on Oct. 8, RooseElvis was ready for an audience—transforming into a funny, strange and moving piece of theater.
Chavkin and Margolin are two members of the TEAM, a theater company that was founded by six NYU alumni in 2004 and produces original, award-winning works about the American experience, often for an international audience. The company is prone to impersonation (well-known historical figures from Robert Kennedy to Margaret Mitchell have featured prominently in their work over the years), and their larger subject is always the American myth. They are seemingly more secure in their producing ethos than ever—grown up, a bit more slick, and at the same time more ready to experiment.
RoosevElvis (pronounced Rose-of-Elvis) is one of those experiments, with a much smaller cast than the TEAM norm. The two-person play is about one woman whose spirit guides take the shapes of Elvis Presley and Theodore Roosevelt during a road trip across the Great Plains to Graceland. The woman in question is Ann (Libby King), a scared and stalled Grand Rapids meatpacker headed to Graceland to find her larger self. TEAM member and fellow RoosevElvis actor Kristen Sieh describes Ann's arc as "a week of existential journey—a road trip with her invisible friends, Teddy and Elvis." Sieh plays Teddy Roosevelt with great gusto as a self-satisfied, slightly effete, manic charmer—dorky and wide-eyed, with a knowing nasal delivery. Elvis, ironically played by King, is more understated, an intense but peaceful rumpled charmer who exhibits more self-knowledge than anyone else around.
The play was collaboratively written by the TEAM's members and originally conceived as a show about gender, and all of the fluidity, performance and confusion bound up in it. Although there are a great many whiskers, some heavy-duty masculine icons, and a good bit of gender questioning, RoosevElvis is more interestingly understood as a show NOT about gender—as a play about courage that simply happens to play fast and loose and complicated with gender in many forms.
Video is integral to the production as well, with multiple screens displaying supplemental storytelling—much of it shot on location in the Badlands and in Memphis during a summer road trip—that includes some of the most poignant moments of the night. RoosevElvis may be Ann's story, but Teddy and Elvis are going places too, toward their new and beautiful friendship and toward wider spaces.
"Graceland," in the words of King's Elvis, "is a residence of the heart…more than just a place of physical needs." RoosevElvis aims to be of the heart as well—funny, but with a spirit of generous charity toward country, heroes and ourselves as Americans.
RoosevElvis runs from Oct. 11 – Nov. 3 at the Bushwick Starr.