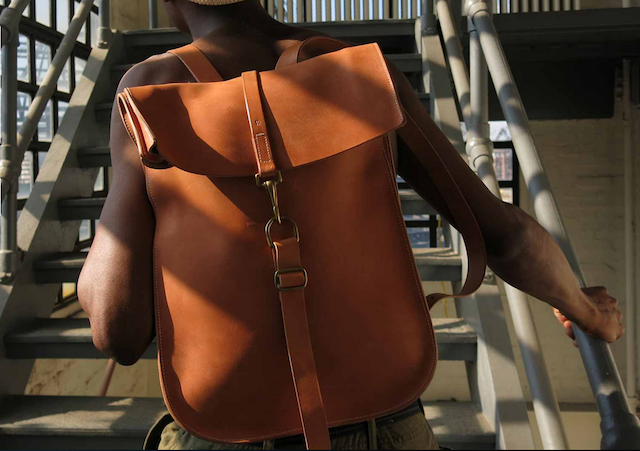 When Kika Vliegenthart and her partner Sabine Spanjer started their own leather goods company a few years ago, they were hand-cutting and stitching bags together in their Clinton Hill kitchen. Today, the couple, who designs under the label Kika NY, are about to outgrow their third studio in the Brooklyn Navy Yard as their collection of handmade leather and canvas bags, small leather goods, shoes and accessories has finally hit its growth spurt.
"We started out at the beginning of the hall in a very, very, tiny, tiny space, but we keep on growing. Work keeps getting bigger and bigger," says Spanjer.
Partners in life and in work, both women moved to New York from the Netherlands–Spanjer arrived in the city just five years ago, but Vliegenthart has been here for over 20 years. A former documentary filmmaker, Vliegenthart got her start making leather goods by apprenticing for Barbara Shaum, whose East Village leather goods shop is the stuff of legend. How does a Dutch documentary filmmaker convince a master craftsman like Shaum, an industry icon with over 50 years experience, to show them the tricks of her trade?
With a lot of chutzpah apparently.
As Spanjer tells it, "Barbara Shaum is in her eighties now; she's 86 and has a little leather store still on Second Avenue and 4th Street. Kika was totally fascinated by it, and she  wanted to work there, so she walked in and she said 'Can I work here? Can I work with you while I'm not making movies?' Barbara said no, but Kika stayed in the store and just sat there. After a couple of hours Shaum said, 'Well while you're sitting there, you might as well help me out then.'"
Shaum's influence is apparent in Vliegenthart designs, a collection of classic, minimal totes, top handles, portfolios and back packs, as well as wallets, suspenders, bracelets, iPad cases and sandals, made out of Italian leather and sewn together on an old Singer sewing machine she operates with a foot pedal. They're the kind of items created with the same "made to last" sensibility and craftsmanship you saw in bygone eras like the '40s and '50s–practical enough to use everyday, yet well-crafted enough to last a lifetime.
A single bag takes half a day to create from start to finish, though the two typically work in tandem on several pieces at once. Divvying up the work between themselves in the workshop where rolls of uncut leather are lofted above work benches–tucked below exposed steam pipes they've painstakingly insulated to prevent the tanned hides from drying out. Every inch of the studio is covered with leather working tools, except for a spot on a second shelf reserved for the couple's two dotsons.
Kika's pieces, which are custom made to order and range in price from $45-$756, are really best experienced in person–you can find Vliengenthart and Spanjer, and their samples, at the Brooklyn Flea in Fort Greene on Saturdays–though they also take orders online and sell their wares in a handful of high end stores, including Freemans Sporting Club, Teich and Project No. 8  in Manhattan.
"Everybody has ideas of what they want–we're all always looking for the right shoes or the right bag or the right jacket," says Spanjer over a cup of tea, while Vliengenthart, across the studio, puts the finishing stitches on a stack of wallets. "And then, if you're able to make it yourself, it starts to become a different world. We didn't have a plan, but we knew, because we're partners in life as well, that we had a similar taste somewhere. And this it what comes out of it."