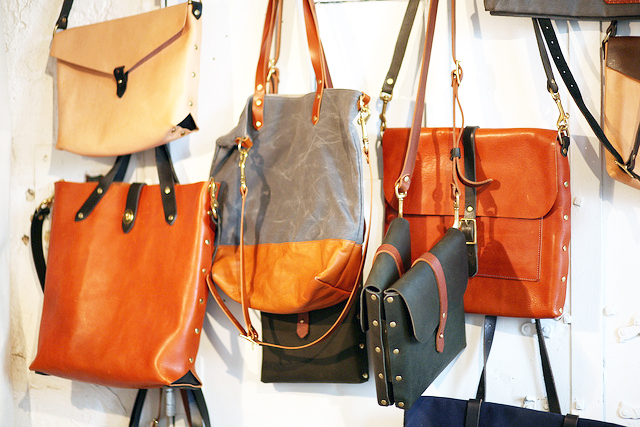 With their riveted side closures and structured shapes, Flux Productions' bags are easy to recognize amongst the offerings at the Brooklyn Flea in Fort Greene–though their designer, Ryan Greer, says spotting one on the street sometimes requires a double take.
"I don't really recognize them at first," he says. "There's this moment when somebody's had it for a couple of years and the colors have changed and what they carry has changed the shape and you feel like you're part of this collaborative process."
Recently Greer started replacing those recognizable rivets with stitches—a new skill he picked up in part thanks to help from his girlfriend, a costume designer, who taught him how to use a sewing machine. His is an industrial version of the kind you might have used in Home Ec class. It now occupies a corner of his Clinton Hill studio, which is housed in an old warehouse on Washington Avenue that was built at the turn of the 20th century and still has the scuffed wood floors and tin walls in the hallway to show for it.
"It's much more a kin to using a power tool," he explains. "It does like 2,000 stitches a minute, maybe three."
All that power serves a purpose, as the new machine allows Greer to work with new materials like a butter-soft black lambskin. He sources all his leather locally and hand cuts it himself.
"There's a place in midtown called Global Leather that I like a lot," he says. "There's actually a couple of places in Queens that I've just discovered. They're far out there and you have to trek out and then you're in a factory and your searching through piles. It's an interesting experience. They have some beautiful stuff–they really do. But I don't drive; I bike everywhere. Biking to way the fuck out in Queens is really a nightmare."
Despite the distance, Greer says it's worth it to work with the unique materials he's found there, like an olive green leather he's been working into his collection as of late. Color is quite possibly the most identifiable element of his designs aside from the industrial hardware he uses. He's known to take vegetable-tanned hides in deep orange hues and color block them with black leather pockets flaps and straps; combine industrial-weight felt (the material he used to make all his bags at first) in a heather grey with chocolate-brown leather straps for contrast; or accentuate black twill travel bags with pockets made a cork (one of his favorite materials to work with). A bucket bag made of a green army blanket body set off by a sea-foam green, neoprene bottom was a new design he was working on when I stopped by his studio last week.
"I'm still finding new materials and finding new hardware and experimenting with different things," Greer says. "I love coming to the studio and putting things together and being surprised by what happens."
One thing you won't find in Greer's studio is a sketching table.
"All of the sketching and all of the work is not done at a table," he says. "It's done walking around and seeing how it feels. I'll make a basic bag and I'll carry it around for a week and be like, 'What works? What feels right? What doesn't work? What's functional?' I really like designing by making, looking at the placement of things."
Designing off the cuff instead of from patterns means many of Greer's designs—bike messenger bags, briefcases, backpacks, totes and carryalls that range from approximately $160-$390—wind up being one-offs.
"I make new bags every week, different bags every week, which is a little crazy," he says. "There's always something that I've never tried before. A lot of the bags, I just make one and it sells. I document it, but it'll never happen again. I think that's what keeps it fun."