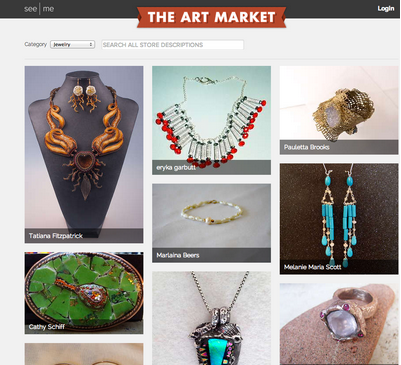 [sponsored_by name="See.Me" url="https://www.see.me/?f=smam13_bb1″ logo="http://blog.blankslate.com/wp-content/uploads/sites/2/2013/11/see.me-logo.png" byline="The Art Market. Show, share and now sell your work online." attribution_name="BlankSlate" attribution_url="http://blankslate.com/advertisers/"]
You're an artist and you want to sell your work online. Which platforms give you exposure but won't take a big chunk out of your bottom line? Which platforms are designed specifically for artists? With The Art Market, a new online marketplace from See.Me, vendors keep 100% of the proceeds from sales–unlike the 25%-50% cut most shopping sites or galleries take.
See.Me is an online community that makes it possible for artists to share their passion projects with an international audience, gain exposure for their work and fundraise. Creating a shop on The Art Market gives you access to an instant audience of hundreds of thousands through the See.Me community. When you sign up to sell your work (up to 20 pieces), you'll get shopkeeper tools, a shop page feature on the public browsing site, a messaging system to speak straight to buyers and a free one-year membership to See.me.
The Art Market is also transforming the impersonal digital experience for shoppers, who will be able to have a more direct relationship with artists. When you shop The Art Market you'll be able to message artists directly, ask about a piece and coordinate the sale. The homepage will randomly refresh with different artists, allowing shoppers to discover a wide variety of new work including jewelry, fashion, sculpture, painting, photography, illustration, digital media, crafts and home decor.
Shoppers don't have to be a member of See.me to shop–the marketplace is open to everyone.
As part of the launch of the The Art Market, See.Me has partnered with the Brooklyn Night Bazaar, which takes place at 165 Banker Street in Brooklyn on Fridays and Saturdays from 6pm-midnight. Each artist in The Art Market will have one of their works featured in a digital slideshow at the Bazaar every weekend. Though you can't buy the items at the Night Bazaar directly, the images will have links to sellers so shoppers can easily take a digital look. With tens of thousands scoping out the work of local artisans at the Night Bazaar, the exposure for creatives comes just in time for the holiday season.
At its root, The Art Market is really an international search for creatives of all types. Artists can apply now, and the applicant with the most popular store page will be awarded a $10,000 cash grant and an online feature promoting their work internationally. Join the rapidly growing community of artists, musicians, photographers, designers and creative enthusiasts that are already part of See.Me, or start browsing on The Art Market here.