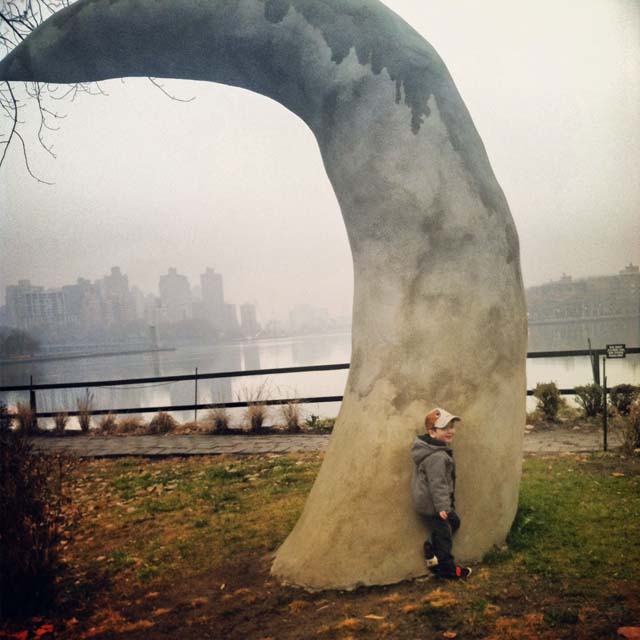 Visiting museums all across the city with a preschooler is often times hilarious, informative, depressing, and mind-opening, but never is it meditative. This unseasonably warm weekend, we accomplished the impossible, when my family found zen on an industrial block in Queens.
We started our day in a classic silver diner, aptly called Bel Aire Diner, which looked right out of a Hollywood studio lot. After admiring the lobster tank ("treasures from the sea") in one corner, and the dessert counter in the other, we were seated in a cozy, exceptionally kid-friendly booth. My husband and I both had egg and cheese sandwiches, that literally brought me back to my college days before gluten-free flour, Manchego and pasture-raised chickens annihilated this delicious menu option from Brownstone Brooklyn. My son merrily ate a fruit bowl and cinnamon toast (made with confectioners sugar) and an enormous orange juice. After bottomless coffee and an unbelievably reasonable check, we were in a great moods.
We drove the few blocks to the Socrates Sculpture Park. This free city park was once an abandoned landfill, but in 1986 it was transformed into the only grounds dedicated to large-scale sculpture and multi-media projects. The current exhibit runs through March, and according to my son, is definitely not to be missed. As soon as we opened the car door, my son jumped out and like a released puppy ran free through the gardens. An enormous stone horn, a pickup truck full of musical speakers, and a glass chandelier hanging from a tree were all note-worthy. Favorites included a real obstacle course where my husband unsmoothly scaled a wall and my son carefully ran through tires, a downed lighthouse that you could actually text to light up, and finally a colossal megaphone that you climb a ladder to yell into. All of this is set right on the river with a backdrop of midtown Manhattan.
After a few laps of the park, our sugar and caffeine highs subsided, and we walked a block further down the street to the exquisite Noguchi Museum. Entering the modernist stone building is attune to taking a very deep breath. Although strollers are not allowed, the museum is great for kids. Behind the counter there are baby carriers to borrow, and as we approached the counter they gave my son his own Family Walking Guide and pencil. There are many nooks for studying the art and the guide gave my son many ideas for looking at the sculptures. My preschooler thought the abstract sculptures looked like letters and spent his time decoding the stone messages. Isamu Noguchi was a Japanese American artist, probably best known for his furniture contributions to modern design. The instantly recognizable "Noguchi coffee table" (and countless knock offs) litter tasteful living rooms all across the country. But many, including myself, aren't aware of his organic stone sculptures and lovely ink drawings, that really show he was a master of form. Although there were tons of children while we were there, the feng shui of the environment seemed to have a calming influence. A comfortable cafe and gift shop lured us in to hang out and read a story about Noguchi's childhood. And finally, the outdoor rock garden was a formidable spot to sit under a big tree, listen to the dripping of a water fountain, and contemplate the meaning of our day.
Bel Aire Diner, 31-91 21st Street (at Broadway), Astoria Queens
Socrates Sculpture Park, 32-01 Vernon Blvd (at Broadway), Long Island City, Queens. Open 365 days a year from 10am-sunset, admission is free.
Noguchi Museum, 9-01 33rd Rd. (at Vernon Boulevard) Long Island City, Queens. Hours: Wednesday- Friday 10-5pm; Saturday & Sunday 11-6pm; closed Monday and Tuesday. Admission is $10 for adults, $5 for students and seniors, free for children 12 and under and all NYC public school students. On the first Friday of each month the museum has extended hours (until 8pm) and is pay-as-you-wish.