For music fans, the spate of popular music books that came out in 2013 is an opportunity to soak in some dishy and revealing stories, (many of which give credence to the cliché of "sex, drugs and rock and roll"), though there are also some very thoughtful and original titles in the mix. Here are a few books from this past year that I've found worth seeking out–whether for some escapist holiday reading or as gifts.
Unknown Pleasures: Inside Joy Division by Peter Hook
Much has been written about the legendary and influential British post-punk group Joy Division, whose compelling lead singer, Ian Curtis, committed suicide in 1980 at the age of 23 (the surviving members later went on to form New Order). But this book by the band's former bassist, Peter Hook, is the first to offer more of a first-hand perspective on Joy Division's brief but memorable lifespan. While the ending is as bleak as Joy Division's doom-laden songs, Hook's anecdotes humanize the band with humor and poignancy.
Simple Dreams: A Musical Memoir by Linda Ronstadt
You're not going to find any stories of sex and drugs from one of the greatest singers in pop music history. Rather, Simple Dreams is a thoughtful account of the singer's eclectic career, one that has seen her embrace a variety of musical styles such as rock, pop, Mexican folk and old standards. This Rock and Roll Hall of Fame nominee's story is all the more heartfelt with her recent revelation that she has Parkinson's disease.
The Soundtrack of My Life by Clive Davis with Anthony DeCurtis
For someone who started out as a lawyer, Brooklyn-born Clive Davis surely knew how to spot and sign musical talent. The career of this music impresario with the midas touch covers the last 50 years of pop and rock. Davis' recent memoir charts the many successes he had, first at Columbia Records and then later at Arista Records. Some of the artists he molded include Barry Manilow, Patti Smith, Janis Joplin, Carlos Santana, Aretha Franklin, and perhaps his most famous of proteges, the late Whitney Houston.
VJ: The Unplugged Adventures of MTV's First Wave by Nina Blackwood, Mark Goodman, Alan Hunter, JJ Jackson and Martha Quinn with Gavin Edwards
Today's kids probably don't know this, but MTV used to play music videos 24/7 back in the day. And the five original VJs who introduced those clips on the channel in the early '80s–Nina Blackwood, Mark Goodman, Alan Hunter, the late JJ Jackson and Martha Quinn–became as famous as the musical acts featured. VJ captures the era of the music video age (big hair and all) as the pioneering VJs tell some outrageous and hilarious stories about their time at MTV.


Queens of Noise: The Real Story of the Runaways by Evelyn McDonnell
Perhaps the Runaways weren't the first all-female rock band in history, but their musical attack was much fiercer and harder edged than some of the other musical acts of the '70s. The history of the Los Angeles-based group is told in exhaustive and definitive detail by longtime music writer Evelyn McDonnell. It presents a balanced story of five wild yet brave women from different backgrounds who for a brief moment shook up the male-dominated rock establishment.
Ministry: The Lost Gospels According to Al Jourgensen by Al Jourgensen with Jon Wiederhorn
Other than maybe Keith Richards, industrial metal god Al Jourgensen could claim the title of the ultimate rock and roll survivor. As he details in his entertaining, no-holds-barred memoir, the driving force behind Ministry went through periods of drugs, health ailments and misadventures that might have killed any other mere mortal. And yet through all his trials and tribulations, Jourgensen could still probably kick someone's ass if he wanted to.
Autobiography by Morrissey
Admittedly, I–a fan of Morrissey and his former the band, the Smiths–have not yet read this book as was it was just published in the States. But then again we're talking about Morrissey here, and anything that comes out from the curmudgeonly modern rock icon is sure to garner attention. Having gleaned the highlights from some of the reviews and articles that came out around the time of its initial publication in Britain, I'll be sure to have this book under the tree for some bitchy and enlightening reading.
I Would Die 4 U: Why Prince Became an Icon by Toure
Undoubtedly the Purple One is an enigma–but then again, isn't that usually the case with geniuses? Toure's insightful and analytical book takes a stab at cracking the puzzle of Prince and makes a convincing case for the artist as a spokesman for Generation X and examines how his religious beliefs play a considerable factor into his music.
Willin': The Story of Little Feat by Ben Fong-Torres
This '70s Southern California band, guided by the late Lowell George, didn't score numerous hits like their peers the Eagles and Fleetwood Mac. But Little Feat made very eclectic, roots-oriented music and the group still continues to draw respect from the critics and its loyal fans. Former Rolling Stone editor Ben Fong-Torres documents the history of the band whose under-appreciated career deserves a second look.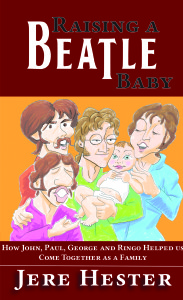 Raising a Beatle Baby: How John, Paul, George and Ringo Helped Us Come Together as a Family by Jere Hester
There are gazillions of books about the Beatles. But what makes this particular title from former newsman Jere Hester unique is how his family of three share a common love for the music of the Fab Four. Told with a streetwise sensibility that could only come from a Brooklynite, the author/Beatles fanatic offers up his own personal involvement the Liverpool lads, including a charming tale of how his daughter actually met Paul McCartney face to face.
Temperature's Rising: Galaxie 500: An Oral and Visual History
Edited by Mike McGonigal
Galaxie 500 only recorded three albums between 1987 and 1990 and broke up soon afterward, but the legend of this indie post-punk band from Massachusetts continues on through this stunning book. Temperature's Rising contains recent interviews with the former members as well photographs and ephemera during their short but outstanding career.