According to Apple, 74% of iOS devices are now running iOS 7. According to conversations I've been eavesdropping on, at least 50% of you haven't turned off all the superfluous, battery-draining features that came along with the update. So, here's how to get more battery life out of your new gizmo.
Turn these off now:
Parallax
This feature is not to be confused with the 1974 thriller The Parallax View starring Warren Beatty (Where are you Warren!?). Not only is Parallax draining your battery, it may be, if you're the kind of person who has to avoid merry-go-rounds, making you sick. The feature, though it makes your phone kind of trippy in the way it brings depth to objects, is utilizing gyroscopes, accelerometers and helicopters to make you "ooh" and "ah." Truth is most see battery life as a far more important feature. So, you'll need to make sure "Reduce Motion" is "On" to turn off Parallax.
Settings > General > Accessibility > Reduce Motion
Background App Refresh
Background App Refresh allows apps to refresh their content in the background. So, even if the app isn't open, it's using some juice. There are some apps that I like working in the background. However, some are just data-hungry, battery-draining apps. I turn Google Maps off, for instance, knowing that I only use the app when I'm using the app. As for Evernote and Flickr, I like that my notes sync and photos upload in the background. That's worth the juice for me. Your mileage may vary.
Settings > General > Background App Refresh
Bluetooth
My favorite thing about iOS 7 is the Control Center. Just swipe up from the bottom of the screen and you have access to the flashlight, timer, calculator, camera and, of course, Wi-Fi and Bluetooth. Bluetooth is a battery suck. Turn it off. Chances are you don't use Bluetooth anyway. However, I do find that the swipe needed to open Control Center sometimes leads to an accidental tap of the Bluetooth icon. So, be careful you don't turn it on by accident.
Location Services
All the apps want to know where you are! If you're not using this feature for directions, geo tagging or your photos, turn it off. Shazam does not need to know what bar I'm in when I'm making an ass out of myself and holding my phone next to the nearest speaker.
Settings > Privacy > Location Services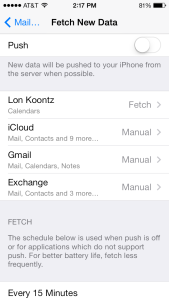 You can be stingier
I don't mind turning Wi-Fi on and off. Quick access to Control Center makes that easy, and Wi-Fi, when on, is constantly working to find a place to connect. You can also disable auto-brightness and adjust manually via Control Center. I also turned off Push in the Mail app. I hate the dread that comes when I hear the chime of new email, so I check it manually. You can ask your Mail app to check for new mail every 15 or 30 minutes, hourly or manually. This will save you a ton of battery life if you're the kind of person who happens to land on annoying email threads; is bombarded by holiday sales promising 90% of designer goods; or you just want to avoid work for as long as possible after you leave the office.
There are a host of other things you can do, but make sure you're not going overboard. Turning your phone off, I suppose, is the best way to save battery life, but that feels like arguing for abstinence.
Desperate times call for…
If you're looking down the barrel of your battery and watching the remaining 10% tick away like seconds on a clock, turn off 4G.
Settings > Cellular > Enable LTE/Enable 4G