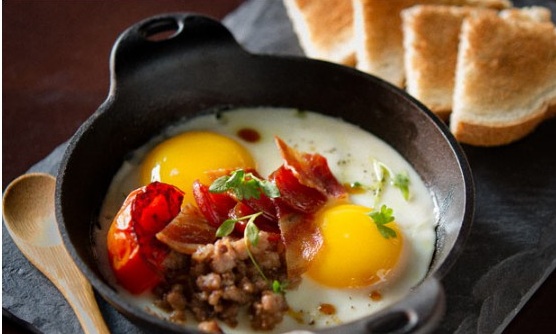 In an effort to find a consensus amongst food critics' picks for the best new Brooklyn restaurants of the year, I combed through top 10 and roundup lists from some two dozen food critics and bloggers to assemble this definitive lineup. My very (OK, not-so) scientific method combined ratings from local papers like the Village Voice, Daily News and New York Times with blogs like Eater and Gothamist, plus national mags such as Esquire and Bon Appetit that called out BK restaurants as among the best in the country. Now presenting: the cumulative list of Brooklyn's best new restaurants.
10. Baoburg
This new Williamsburg spot has flown relatively under the radar since opening in the fall, but has received excellent word-of-mouth praise and popped up on several critics' end-of-year lists. Thai chef Suchanan Aksornnan, who has worked under Daniel Boulud and Jean Gorges, brings Asian and Spanish twists to a high-end French menu, featuring dishes like roasted octopus legs with spiced pecan and chipotle bernaise, plus a hangover-busting brunch lineup of eggy skillet dishes they call "baos," along with Sriracha-topped chicken and waffles.
9. Nightingale 9
The No. 9 spot goes to this Carroll Gardens restaurant from the husband-and-wife team behind Seersucker. Nightingale 9 serves Vietnamese street food standards amped up with Southern American twists. When I visited back on opening night in February, I found it a little underwhelming  and overpriced for rice bowl fare. More than a few friends and writers, however, have said Nightingale 9 deserves a second look.
8. Falansai
I simply can't get the hyper-flavorful wok-sauteed ginger chicken from this Bushwick newcomer out of my mind, and neither can The L critic Kara Zuaro, who put Falansai on the very top of her list of the borough's best new eateries. While few others noted Falansai on their lists, I have to agree with The L that this outstanding Vietnamese spot deserves to be much higher up than No. 8.
7. Whiskey Soda Lounge
If you thought Andy Ricker's new Columbia Waterfront spot was just a place to sip cocktails while waiting for your table at Pok Pok, you'll want to try the grub here too. Inspired by Thai drinking food, this Portland import has reeled in foodies with adventurous bites such as five-spice stewed pork ears and sour-hot soup with pork and offal.
6. Fritzl's Lunch Box
This unassuming Bushwick spot nabbed best burger in the city honors from the Village Voice this year. On the less meaty side, I loved the gooey simplicity of their avocado-marmalade-brie sandwich, and The L adds that dinner options like lamb ribs and beer-battered cauliflower prove Fritzl's ain't just for lunch.
5. Marco's
I lamented the Manhattan-size pricing at this Prospect Heights Italian eatery from the Franny's team back when it first debuted. Perhaps predictably, the Manhattan crowds poured in, earning Marco's mentions on best-of lists from Eater, Village Voice, CBS Local, and more.
4. Aska
While this Scandinavian spot technically debuted in Williamsburg in late 2012, Aska continued to be an attention hog throughout 2013. It was the only new Brooklyn spot to earn a Michelin star, and Bon Appetit even called it one of the hottest restaurants in the country.
3. Luksus
The borough's other new Nordic eatery, a secret tasting-menu-extravaganza hidden behind Greenpoint's Danish beer bar Tørst, earned rave reviews from near and far. In addition to nods from local critics, Thrillist called it one of the best new restaurants in the nation, while Saveur editor Helen Rosner says eight great courses aside, Luksus' bread and butter alone was among the tastiest things she sampled this year.
2. Glasserie
In case you had any doubt that Greenpoint is the year's most happening dining 'hood, every one of our top four restaurants are either in GP or practically there, on the northern end of Williamsburg. The veggie-centric, Middle Eastern-tinged menu at Glasserie wowed our tasting team earlier this year, and plenty of others piled on the praise.
1. The Elm
While there was no shortage of well-received BK restaurant openings this year, the competition for the top spot here wasn't even close. It may be aimed more at out-of-towners than Brooklynites, but Paul Liebrandt's Williamsburg hotel eatery showed up on nearly every list we read this year, from Esquire's best in the country lineup to the New York Times top 10 in the city–the only BK resto to make the NYT cut this year.
Five That Deserve More Hype:
These five Brooklyn newcomers didn't get much blog love or glossy magazine space, but IMHO, each deserves to be on any best-of-2013 list:
1. Take Root in Carroll Gardens was absolutely the most charming–and tastiest—take on the eat-with-strangers-in-someone-else's-living-room trend I've seen yet. Take Root recently renovated their space, doing away with the communal dining setup, but keeping the delectable Thursday through Sunday tasting menu.
2. French-Senegalese spot Cafe Rue Dix stands out from the crowd in foodie-booming Crown Heights.
3. To keep the Greenpoint love coming, the deep, spicy flavors from Balinese restaurant Selamat Pagi, which opened there in December 2012, are still seared in my mind one year later.
4. Morgan's Brooklyn BBQ in Prospect Heights via Austin, is the best of Brooklyn's many new BBQ options that landed this year.
5. C'mon people: Jamaican jerk mac and cheese exists. So does POUTINE MAC AND CHEESE. Why are we talking about anything else? Elbow Room, located in Barclays Center, and now with a second outpost adjacent to Mogran's BBQ, is far and away the comfort food spot of the year.