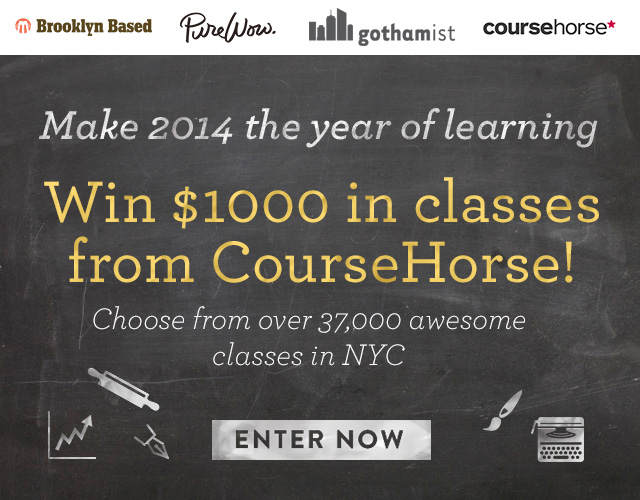 Wanna learn how to fence? Cook an authentic Indian curry? Throw a pot? Use Photoshop? Build a website? There are classes teaching all these skills, and thousands more, for the taking in New York City. This January, we say ditch the resolutions and instead spend your quiet winter months learning to do something new. To that end, we've teamed up with PureWow, Gothamist and CourseHorse to give one lucky reader $1,000 to spend on classes–that could mean one master class or a bunch of cool new experiences for you and a friend. It's up to you.
The $1,000 is good for any of the 37,000 classes listed on CourseHorse, one of the best resources in the city for people who like to learn new things. There's such a wide range of classes available, including workouts like spinning and yoga; professional and personal development like storytelling, meditation and public speaking; cooking classes spanning the cuisines of the globe, plus cheese and wine courses; languages classes galore; and art and craft classes ranging from architectural theory to digital design tools to introductory knitting and crocheting. In short, unless you already know how to do everything, there's a class, or three, for you on CourseHorse.
When you enter to win, you'll have the chance to sign up for two of our absolute favorite emails. Gothamist sends out a daily rundown of all the top news around New York City, and PureWow is always turning us on to some new service or strategy that makes life better. Pretty much every app we actually use was downloaded at PureWow's suggestion, and we're pretty sure that their new weekly money email is going to change our financial lives. So enter now and get ready to add underwater basket weaver to your already impressive resume.