The temperature has plummeted and the last thing any of us want to do is trudge through the farmer's markets, butcher shops and favorite fish stores in the snow and cold–especially those of us lucky enough to have kids in tow. But with a fresh batch of curated grocery delivery services to choose from, we can finally snuggle up in sweats and slippers and wait for the organic kimchi to be delivered to us. Local farmers and small batch producers supply much of the food for these services, and two of these options will even tell you what to whip up for dinner, so you can serve something new without pulling out a cookbook or looking up a recipe.
For the Farmer's Market Junkie Who Likes to Shop Online: Good Eggs
Similar to a CSA, Good Eggs supports local farmers, but lets you select exactly the kind of produce and specialty items you like a la Fresh Direct. It doesn't sell items like toilet paper, cheddar bunnies, or string cheese–which are all necessities in our house–but it is a good, seasonal way to supplement Fresh Direct (though prices can sometimes be higher at Good Egg on some items). From the website, you just order what you want from a wide selection of produce, dairy, dried goods, meats or even prepared meals. A special baby and toddler section even provides pureed veggies and ready-to-eat finger food trays, like rosemary scented organic chicken breast cubes over sweet pea barley risotto. Facebook-worthy profile pics identify the farmers and producers and make for a cheerful shopping experience. I opted for a bag of baby kale, creme fraiche, ronnybrook milk in a glass bottle, a bag of apples, garlic, green onions, parsnips, a kale souffle, Free Bread gluten-free bread and a dozen (adorably mis-matched) eggs. On delivery day, I realized that I actually wouldn't be home until the later part of the timeslot. Frantically, I emailed the company to see if I could change delivery days, and unperturbed, they just swung by during the hour I would be home. The adorable delivery person looked right out of central casting for a film called "Brooklyn!", and the sunny demeanor only frowned when I tried (unsuccessfully) to push a tip into his hand.  As I unpacked my bags of deliciousness, I discovered a "gift" of a snickerdoodle cookie, which was enough to make me a repeat customer.–Meredith Craig de Pietro
Price: Dependent on what you order
Get it: Your choice of free pick up or $3.99 delivery in Brooklyn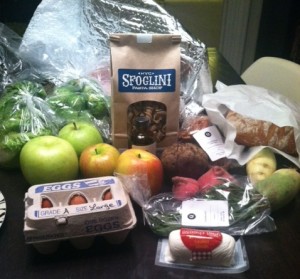 For the Food Lover Who Loves a Surprise: Quinciple
Quinciple combines the selection of a farmer's market with the surprise of the subscription box. After signing up for the service, you'll get a weekly box of curated groceries including meat, fish, dairy, bread, produce and pantry staples. The company selects between 11-15 items a week from their favorite farms and producers nationwide, and beautifully packages them with little product information cards that literally tell the story of your food. The first week my box came (via cargo tricycle, to ensure it arrived with zero fuel emissions) it was stocked with Brussels sprouts, a loaf of bread, beets, porcini pasta, rosemary, apples, green radishes, chèvre, lettuce, eggs, monkfish, pretzels and apple cider vinegar. Each week since then has brought new, unusual goodies like wild hedgehog mushrooms and Weybridge cheese. Also included are a few recipe cards that correlate with what's in the box, emphasizing simple preparations to highlight the ingredients. Oatmeal with candied kumquats, potato pancakes with buttered apples, and creamy black bean soup with roasted carrots and crème fraîche are a few of the kid-approved, Quinciple meals we've served so far–a far different experience than my CSA membership, which I often spent watching miserably as my Jerusalem artichokes or Burpee radishes wilted before I could find a use for them. The food quality is superb and the price (for what amounts to three full meals for two people) is economical. Plus, the surprise of opening the weekly box is priceless! Needless to say, I immediately became a subscriber and am awaiting my fourth box.–M.C.P.
Price: $49.90/ week for delivery; $37.90/ week for pick up
Get It: Your choice of pick up locations (and a slightly smaller box) or home delivery in some parts of Brooklyn and much of Manhattan.
For Dinner on the Table Inspiration: Blue Apron
Blue Apron delivers recipes and all the ingredients you need to make three new dinners a week, which can either sound like a chore, or total freedom from having to plot out a new menu each week. It was the latter for me. In the months that I was a Blue Apron customer (I'm now on hiatus), I made dishes I wouldn't dare attempt on a weeknight, like Chicken Yakitori, Pan-Seared Trout, and Pork Tonkatsu. It's not because these meals are too difficult–often they take just 30 minutes–but like many home cooks I have a set repertoire of things I feel confident making, and don't like to veer off my predictable course for a family dinner. Blue Apron helps you get over this hump. If I didn't have young kids, I might've used it more. But you need very adventurous palettes to relish each meal, and while my two-year-old and five-year-old will try almost anything involving noodles and rice, and eat nearly every meat, including fish and shellfish, they typically enjoyed just one of the three meals sent each week. Since I often make two dinners–one for the kids, and one for the grownups–this wasn't too big of a deal. The hidden value in Blue Apron, though, aside from the cost (roughly $30 a head for 3 meals) and providing a standing answer to the what's-for-dinner question, is that it offers a ton of cooking tips and lessons. I now have a much deeper appreciation for fennel–especially in chicken noodle soup–and can successfully sear a fish fillet. I've even saved a few Blue Apron recipe cards so that I can recreate some sides (they do particularly well with unusual grains like faro and slaws, like a miso green cabbage slaw that's to die for). Ultimately though, two things made me want to take a break: I hate throwing away the insulation and freezer packs necessary to keep each box cold–I wish I could just send it back to them–and I grew tired of cooking so many new things each week, not all of which were home runs. I've since restored to my old, family pleasing standbys, like roast chicken, and while it's boring, it's also comforting in the dead of winter. If I plan to shake things up again, I'll go back to Blue Apron.–Nicole Davis
Price: Starts at $60/week for 3 meals for 2 people (the plan I used for two adults and two kids).
Get it: Blue Apron delivers to most of the country.