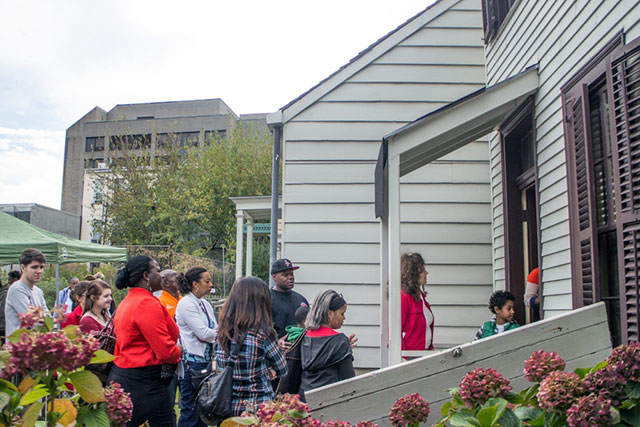 Almost 200 years before DIY became the most overused abbreviation in Brooklyn and the borough saw its first influx of startups and freelancers, there was a community of African-American artisans, entrepreneurs and free thinkers who carved a place out for themselves in an area between present-day Bed-Stuy and Crown Heights.
Weeksville, one of New York's first free black communities, was established in 1838. Its residents were farmers, craftsman, artists and musicians (kind of like current-day Brooklyn). They were described as being "nattily attired," by the New York Times, and played an integral part in Brooklyn's abolitionist movement. The village became a destination for free blacks trying to escape more oppressive areas of the country (mainly in the South and surrounding slave states like New Jersey) in lieu of emigrating to Africa, Canada or the Caribbean. Weekville's efforts to end slavery are being recognized as part of Brooklyn Abolitionist/In Pursuit of Freedom, a new exhibit at Brooklyn Historical Society that opened yesterday.

Timothy Simons, chairman of Weeksville Heritage Center, is working hard to preserve the once-forgotten colony's legacy. "It's a hidden gem," he says. "Many of the people in Weeksville were entrepreneurs, were self-sufficient individuals and were African Americans, which is critical given the historical context of the African-American community that has developed in the media today. There's a lot more for people to learn about Weeksville. It's critically important that it is not forgotten because of the history that it tells."
Weeksville was rediscovered in 1968 when students in a community survey class at Pratt Institute uncovered the village's existence while studying old city maps and directories. Their professor, Jim Hurley, confirmed their findings when he spotted a handful of 19th-century structures still intact during a fly over of the area.
Archeological excavations over the past 50 years have unearthed thousands of artifacts dating back to Weeksville's founding. In 1838 John Weeks bought land–a prerequisite to becoming a voter in New York at the time–and established the settlement that at one point swelled to some 700 families. The newly built, 19,000-square-foot Education and Cultural Arts Center will allow WHC to share the history of the neighborhood's early inhabitants through exhibitions, community events and talks on a much larger scale than ever before when it opens to the public this spring. (An opening date has not been set at this time.)
Simons says the building has been in the works for about seven years and construction was finally completed with funds from the city's Department of Cultural Affairs. The new addition to WHC's campus joins the Hunterfly Road Houses, three original Weeksville residences, located on Bergen Street between Buffalo and Rochester Avenues, that are filled with furniture and architecturally represent different periods in the village's history up to 1883, around the time it was absorbed into its surrounding neighborhoods as New York's urban population expanded.
"We have approximately 10,000 pieces of artifacts, not all catalogued at this point, but in storage throughout the campus," Simons says. "One of the big industries at the time was shoemaking. We were able to find various shoes and things through the archaeological digs. We have some glasses. We have some paintings that were identified from that period. Those are some of the things that we have in our collection."
History does have a way of repeating itself, and despite nearly two centuries separating us from them, parallels between Weeksville and Brooklyn's current crop of cobblers, creatives and entrepreneurs show connections to the neighborhood now and then, which is why, Simons says, we still stand to learn a lot from our fashionable forebears.
"Weeksville's story talks about the importance of making your own way and supporting your way," Simon says. "And that's where Brooklyn is today."