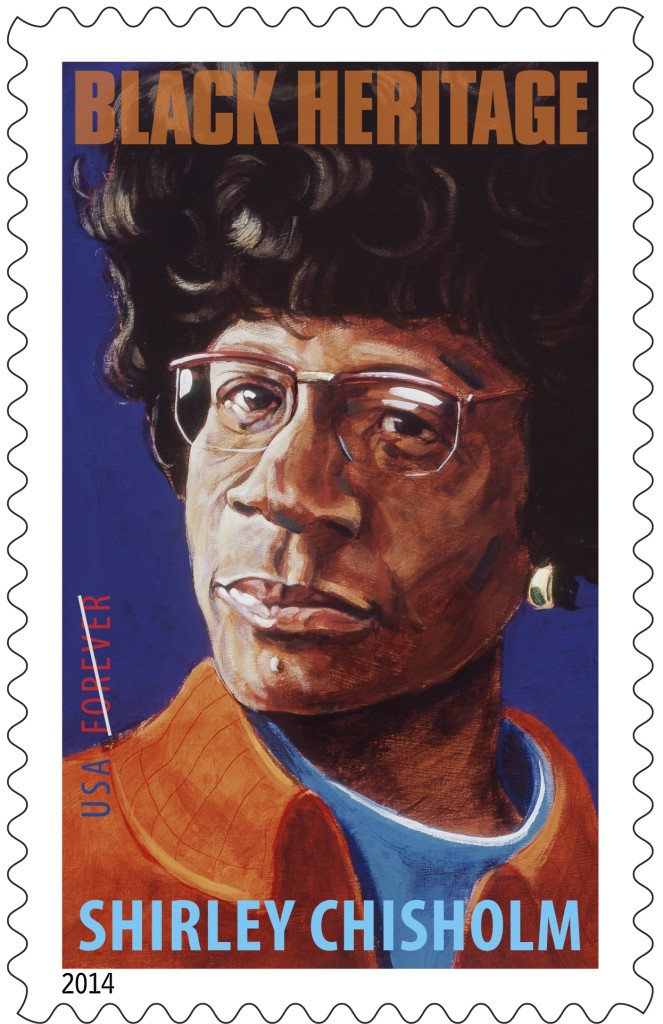 "I'd like them to say that Shirley Chisholm had guts. That's how I'd like to be remembered," the late Democratic Rep. Shirley Chisholm once said. And it's somewhat of an understatement given her historical importance as the first African-American woman to be elected to Congress in 1968, and the first African-American woman to seek the Democratic nomination for president in 1972. Known for her campaign motto, "unbought and unbossed," Chisholm was an independent, anti-establishment-minded politician as well as an advocate for her community.
On Friday, Chisholm's native Brooklyn and the country will be paying tribute to her with the release of a new commemorative postage stamp depicting the congresswoman, as part of the United States Postal Service ongoing Black Heritage series. A ceremony for the stamp's first day issue will be be held Friday at Brooklyn Borough Hall at 11 a.m. with scheduled guests the Rev. Al Sharpton, actress Anika Noni Rose,  Brooklyn Borough President Eric Adams, former United Nations Ambassador Andrew Young, and Deputy Postmaster General Ronald Stroman. The stamp's artwork is by Robert Shetterly and the design is by Ethel Kessler.
Chisholm was born in 1924 in Bedford-Stuyvesant. At Brooklyn College, she was prompted to consider a political career due to her debating abilities. An educator, she was elected to the New York State Legislature in 1964; four years later, she ran and won a seat for the 12th Congressional district. As part of her uncompromising spirit, Chisholm demanded to be reassigned from the Agriculture Committee (given that she is from the city) and challenged the system within the House; she got her wish and served on the Veterans Committee and then later the Education and Labor Committee. Chisholm was also a founder of the Congressional Black Caucus.


She made history again when she ran for the Democratic presidential nomination in 1972, which eventually went to George McGovern. "I am not the candidate of black America, although I am black and proud," Chisholm said when she announced her candidacy. "I am not the candidate of the women's movement of this country, although I am a woman and I am equally proud of that. I am the candidate of the people, and my presence before you now symbolizes a new era in American political history." Thirty-six years later, Barack Obama became the first African-American to be elected president, but Chisholm undoubtedly helped to pave the way.
"Chisholm told me, no matter what I did in life, use your power judiciously, use it with humility, but use it," California Democratic Rep. Barbara Lee–who met Chisholm back in 1972 when she was as a single mother on public assistance–told NPR.
Chisholm retired from Congress in 1982 and later moved to Florida, where she died in 2005 at the age of 80. "When I die, I want to be remembered as a woman who lived in the 20th century and who dared to be a catalyst of change," she once said. "I want to be remembered as a woman who fought for change in the 20th century.  That's what I want."
 A ceremony for the unveiling of the Shirley Chisholm stamp will be held on Friday at Brooklyn Borough Hall, 209 Joralemon Street. Brooklyn, 11 a.m. Free, but seating is limited. For information, visit usps.com/stamps.