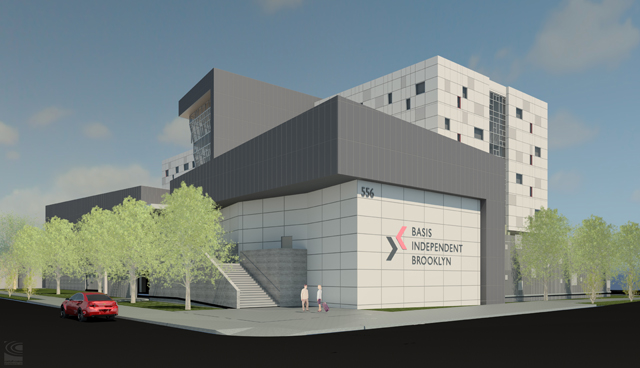 [sponsored_by name="BASIS Independent Brooklyn" url="http://www.basisindependentbrooklyn.com/" logo="http://brooklynbased.com/wp-content/uploads/2014/02/new-basis-logo.jpg" byline="BASIS Independent Brooklyn, a brand new private K-12 school with a program of study ranked among the best in the world." attribution_name="BlankSlate" attribution_url="http://www.blankslate.com/"]
Waiting out school admissions–whether it's a kindergarten or middle school spot at a coveted public school, or your child's first-choice private school–can be maddening.
That's what makes the admissions process at BASIS Independent Brooklyn so refreshing. The new private K-12 school, opening in Red Hook this fall, stands out among other education options in New York for its rigorous, STEM-focused curriculum, unique teaching style, and accountability. So, as part of their mission to raise American education to the highest international levels, they're taking a different tack toward admissions.
You'll notice a few glaring omissions in their simple process, namely that admissions are rolling, and no standardized tests are required.
"We have 15 years of experience with open enrollment," said BASIS Independent Schools communications director David Schulz, "and that experience demonstrates that a student's level of success is not based upon hand-picking students who test well. It's based on our program of study, and bringing students to a much higher level than even they expect when they enter."
To get started, you submit an application, along with transcripts and teacher recommendations. The school then schedules a family meeting that will introduce you and your child to the BASIS Independent School method and allow the staff to get to know your family. Candidates are then asked to complete a writing sample and a math diagnostic test. The admissions committee, which meets frequently, reviews this entire snapshot of your child, and delivers its decision to your family as quickly as possible.
There's another surprise in store if you decide to enroll your child at BASIS Independent Brooklyn–tuition is very reasonable by New York City private school standards, and will be even more so for its "Founding Families."
Given that BASIS.ed is building both a new school and a new community of students, they have a special tuition program for families of students enrolling in 2014, particularly for those who refer new families. Among their guarantees: Tuition will not rise by more than the Cost-of-Living Adjustment throughout the educational lifetime of your child at BASIS Independent Brooklyn. By helping to grow the student body, you'll also freeze your own child's tuition for two years upon referring one family that enrolls; the second enrolling family you refer will freeze your child's tuition for an additional year. (The referred family benefits too, with a one-year tuition freeze of their own for their first child.) Early enrollment comes with its own perk–once you commit your deposit by April 1, it will freeze your first child's tuition for the following year.
Most importantly, your child will receive a program of study ranked among the best in the world. Learn more about how BASIS Independent Brooklyn stands apart from other New York City schools by attending one of the their information sessions this month, or reading about their methods here.