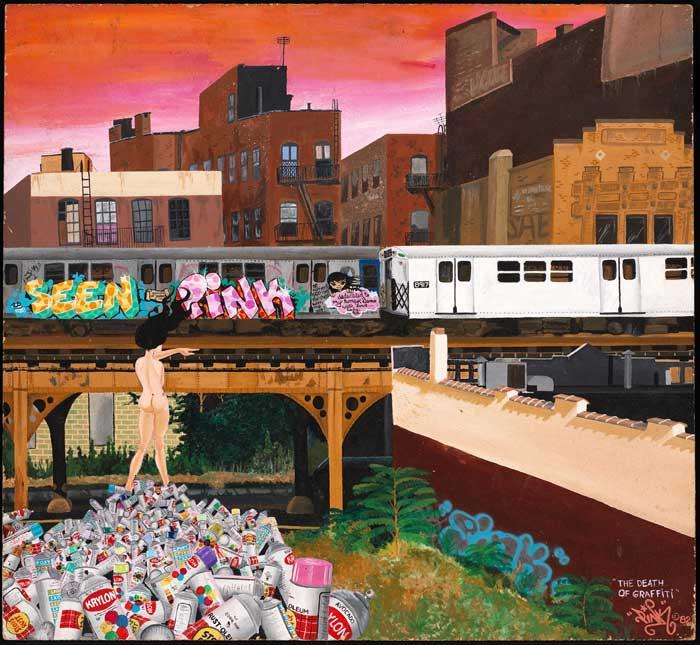 Street artists like Banksy, Space Invader and Mr. Brainwash don't just mount their playful work in public places, they're also courted by gallerists and the art world elite. But graffiti and other street art forms weren't always considered gallery-worthy. Graffiti started to spring up around New York in the 1960s and gained massive popularity in the 1970s, when it was often seen as vandalism. It wasn't until the 1980s that galleries began to recognize its value and local artists like Jean-Michel Basquiat began placing their works on canvas as well as on buildings.

The fact that it's not always legal, and the sometimes risky act of completing a piece in a forbidden or difficult to access spot is all part of the work. Even though you could argue that it's no longer street art when you bring it indoors, galleries have begun to specialize in the form, collecting and selling works made from spray paint, wheat paste, stencils and stickers. Prices range from single digits to the millions.

Here are six spots–five of which will keep you out of the elements–to see some spectacular street art.

Gallery 69, 69 Leonard St., Storefront 1, Tribeca
This art space has shown and sold work from some of the biggest names in the game including LA II, Taki 183 and Lava II. Steve Cornell, Gallery 69's owner, decided to focus on the form after observing a growing market for it. He says that large companies are frequent customers these days. "Even though it isn't mainstream, it is horribly mainstream," Cornell explains. "Every corporation is interested in having a graffiti artist do work for them."

Cornell still finds the art to be innovative and exciting. "This is something fresh and different," he says. "It isn't pretentious or stuck-up or over-educated. It's unusual and unique." There's an opening  night reception at Gallery 69 tonight, Feb. 13 (weather permitting) for a new exhibit called "On the Wall," which includes work by Phetus, Jerkface, Jamie Hef and Demi.

Bushwick Collective, Troutman St. and St. Nicholas Ave., Bushwick
With the loss of Long Island City's famed 5 Pointz, the Bushwick Collective has taken its place as the top destination for scoping extraordinary street art in its natural state. Joseph Ficalora serves as the curator for the walls, roofs and fences that surround the Collective's epicenter at Troutman and St. Nicholas, just off the Jefferson stop on the L train. Pieces generally rotate every few months so there's always something new to see.

Wannabe artists have to send Ficalora photos of their recent work before putting anything up. "My demographic is young, but we are welcoming them," Ficalora says about the artists he works with. The surrounding area has seen a variety of bars, restaurants and venues open in recent years. "Everyone is grateful," Ficalora says. "No one wanted Bushwick to turn into Detroit where you can buy houses for two to three thousand dollars. These people filled that void."

It's free, of course, to walk around, and the art is available for viewing at all hours. Artists have included the well-known graffiti fixture Cost, as well as Gaia, Hansky, Hellbent and Jim Avignon. Opening night receptions are whenever you see fit–stop in for a drink at Pearl's Billy Club or dinner at Northeast Kingdom when you've had your visual fill.

Pandemic Gallery, 22 Waverly Ave., Clinton Hill
An artist-run space that regularly shows urban-inspired work, including street art-style pieces, Pandemic focuses on up-and-comers and emerging talent. "We focus on street art and graffiti mainly because that is the community that we are involved in, and the majority of artists we have become acquainted with over the years display their work on the streets, mostly un-commissioned and without permission," says Pandemic (the gallery is run as a collective and they asked, via email, to be referred to by their collective's name). "But we are in no way strictly confined to any particular genre…we work with artists whose work we genuinely enjoy."

The gallery also shows fine art as well as paintings, sculptures and printmakers. In general, Pandemic seeks out artists whose work is not commercial in nature. "We respect artists who act in opposition to those who have surrendered integrity for instantaneous fame and hollow attention therefore creating work that is diluted and has tainted the perception of street art as a whole," Pandemic says. Cassius Fouler's work is up in the gallery now.



Exit Room NY, 270 Meserole St., Bushwick
"We are really interested in street art," says Daniela Zoe, co-founder of Exit Room. "Our background is related to it, but we also want to do more." Exit Room also showcases other forms of art including projections and photography, focusing on up-and-coming artists who need a platform for their work. "For our current exhibit we are working with people who do street photography," Zoe says. "Many we know also use wheat paste and stencil, they print a photo and make a stencil and then they do a piece of street art with the stencil, or a giant frame and wheat paste."

Exit Room also serves as a venue for local musicians. "We want underground artists and musicians from everywhere to know that this space is here for them," she says. Recent art events have included a celebration of murals, group shows featuring painted domino tables, and art by Nepo, Cern, and RIMX.

Mecka Gallery, 65 Meadow St., Bushwick
Mecka is a newly opened gallery, the second project from the owners of Bottleneck Gallery, a contemporary pop-culture-based art space in South Williamsburg. "I think the future of urban art is very strong," says Joe Bouganim, co-owner. "It has taken decades to evolve from graffiti on the street to what it is now. You have artists like Os Gemeos who have made the leap to the contemporary market. You have Kaws who is not only showing in major galleries like Mary Boone and Galerie Perrotin, but has also created a huge market for toys and apparel. You also have Bast who is designing images being used by Marc Jacobs for all parts of his clothing line. Urban art is everywhere."

Mecka focuses on street art and artists from around the world, showcasing them in solo shows set in a large, raw factory space. "Our goal was to build a more anti-white-wall type gallery where the artist is free to do whatever he or she wants without the typical constraints in a regular gallery setting," says Bouganim. "For our first show Rene Gagnon incorporated the wall into a few of his pieces and it came out beautifully." Upcoming exhibits include works by Judith Supine, Martha Cooper, ELLE, and Roamcouch, and Priest, a street artist from New Orleans, has a show at the gallery now.

Museum of the City of New York, 1220 5th Ave., Manhattan
The city's largest street art exhibition, "City as Canvas: Graffiti Art from the Martin Wong Collection," just opened at the Museum of the City of New York. Wong, a painter who collected and displayed street art and graffiti throughout the 1980s and 1990s, donated more than 300 pieces to the museum before his death in 1999. The exhibit presents more than 100 canvases and more than 150 works on paper, including work by Basquiat, Keith Haring and Christopher "Daze" Ellis.

"Graffiti art is now widely admired, but many questioned its merits during the movement's development in the 1970's," Susan Henshaw Jones, MCNY director said in a statement. "Martin Wong had the foresight to collect graffiti art and advocate for young 'writers,' just as New York City's street art scene was on the cusp of gaining international prominence." The exhibit runs through Aug. 24, 2014 and the collection is part of the museum's permanent collection.