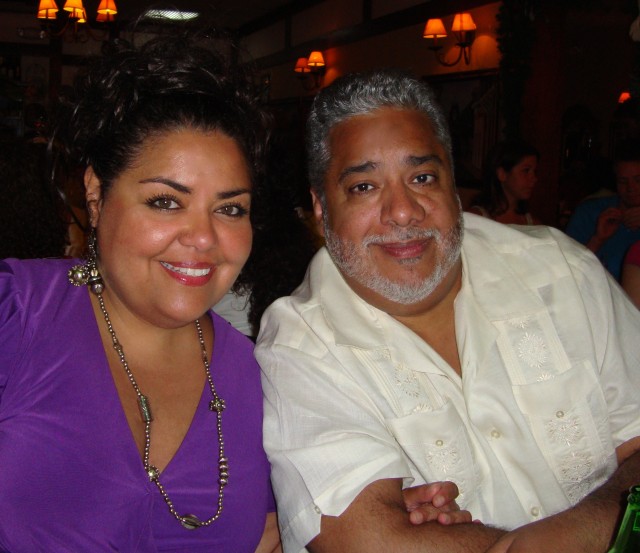 This week, as scores of couples celebrate their love over chocolate and oysters, in satin sheeted beds covered with rose petals, we are celebrating sweethearts whose work, together and separately, is a love letter to our fair borough. You could call them Brooklyn Power Couples–two people pursuing a shared dream of say, their own bake shop or feature film, as well as couples who are complementary visionaries in two different, but related fields. Whatever their callings, these pairs rock their professional lives by day and their love lives by night. We should all be so lucky.
Larry Smith and Piper Kerman are both, among many, many other things, memoirists. After founding SMITH Magazine, he created a formula for distilling a life or experience into its essential elements: the six-word memoir. She wrote Orange is the New Black, a memoir about the year she spent in federal prison, and works as a communications consultant and with advocates for criminal justice reform. They met over breakfast, at Kate's Kitchen in San Francisco, where they were both meeting up with a mutual friend who was visiting from out of town. Smith and Kerman have been together for 17 years now, have a three-year-old boy, and they each offered us six words of advice about staying in love for the long term.
Smith: Fascination. Adventure. Resilience. Compassion. Child care.
Kerman: Practice your virtues; enjoy your vices.
Over 25 years ago, Elizabeth Yeampierre and Eddie Bautista crossed paths in nearly the same way they do today. "We first seriously met organizing around racial violence and police misconduct in the late 80's and went out after a protest for coffee to strategize," Yeampierre explained over email, adding, "Nothing says romance like organizing for racial justice." Today, the two activists, who have a 24-year-old son, Rico, work at separate organizations that share the same goal of guaranteeing all New Yorkers a safe and just environment. Yeampierre, a former civil rights lawyer, is executive director of UPROSE, the oldest Latino, community-based organization in Brooklyn. She helped pass New York State's first brownfield legislation and blocked the building of a power plant in Sunset Park. Bautista is executive director of NYC Environmental Justice Alliance (of which Yeampierre is also a co-chair) and in the course of his career, he's helped pass legislation to retrofit New York City's diesel-powered school buses to reduce air pollution inside the buses, a waste management plan that is environmentally equitable across boroughs, and convened the Sandy Regional Assembly to propose rebuilding priorities after the superstorm. While they have no tolerance for injustice, "not taking ourselves seriously" is part of their relationship's secret sauce.
Put Anne Saxelby, the founder of Saxelby Cheesemongers, and Patrick Martins, founder of Heritage Foods USA and Heritage Radio Network, together and you've got dinner for two. (Saxelby actually offered a Valentine's dinner in a box with Waygu steaks from Heritage and two cheeses this year.) "Our first date (though kinda unofficial) was at this bar in Dumbo after I finished a day of grueling grilled cheese sandwiching at the Brooklyn Flea," Saxelby told us via email. "Neither one of us knows the name of the place to this day, but we just said, hey, let's meet at that bar in Dumbo and somehow were both talking about the same place." While two business owners with a young son might seem too busy to kick up their heels very often, Saxelby says that planning weekend adventures, whether in the city or somewhere else, is key to keeping their romance alive. She also offered up an eminently practical piece of advice to go with all that meat and cheese magic: "Try not to be stubborn when there's a disagreement."
Over the course of eight 10-hour days, Brian Seibert and Ricardo Valdez starred together in a film they co-wrote called Turtle Hill, Brooklyn, a love story about a couple that takes place during a 30th birthday party, all shot in their apartment in South Slope/Greenwood Heights (a neighborhood they call Turtle Hill–"we're hoping it catches on," says Seibert). The relationship on screen bears no resemblance to theirs in real life, but many festival audiences last year assumed they were portraying themselves, and were surprised to learn they're still together. In fact, they just celebrated their seventh anniversary. "A willingness to compromise, and having similar goals in life" are some of the reasons the two remain close, says Valdez. "Working like this and the connection we kept during the shoot made our relationship stronger in a lot of ways," said Seibert. "It was as much work as it was fun and we'd work in this way again in a heartbeat." (You can download the film on iTunes.)
By now, Allison and Matt Robicelli, who recently opened a bakery in Bay Ridge and penned a cookbook/memoir together, Robicelli's: A Love Story with Cupcakes, are well known for their elaborate confections, like their Valentine's-themed combo of chocolate Chambord cake, vanilla buttercream, raspberry Chambord drizzle, and ganache called L'Amour. Their love story began in the spring of 2005, when "a romantic afternoon in Brighton Beach" morphed into a tragicomedy. Allison broke down upon learning by phone that her cats "might be dead" and had to introduce Matt to her father way sooner than she would have liked. Six hours into their date, they finally went out to dinner; by the end of June, they were engaged. Now they have two boys, Atticus, 6, and Toby, 5, on top of managing their cupcake empire, and dates are still hard to come by. "We're really best friends above all else, so we can be anywhere and be happy…We've had dates at Staples," says Allison. "The secret to staying together," Matt echoes, "is that I married my best friend." The two realize it's not all peaches and buttercream. "Marriage is a JOB," Allison notes. "Not only that, it's your first, most important job. And if you're failing at it, you better get your shit together and work fixing it, because there will never be anything as valuable in your life than the people you love."
Fourteen years after Sheila Frayne's family flew over from Ireland to help her open a Park Slope bar and convinced her to name it after her hair color, Ginger's still ranks among Brooklyn's best-known gay bars. And since Frayne met Margarette Adams 11 years ago, Adams has helped Ginger's evolve, managing its events and social media, and providing food—she's a well-known food stylist–whenever the bar calls for it. Frayne is not very forthcoming over email when it comes to the details of their courtship, responding simply to how they met ("Ginger's!") and what keeps them together ("Always be honest!"). In an Irish paper, though, she once remarked that the beauty of their relationship is that "we don't stop each other from being who we are." Adams provides even more details. After catering a dinner on the Upper West Side one night, Frayne helped her pack up and invited her back to Ginger's for a nightcap, where they shared a clumsy kiss, and fell down laughing. "Sheila still keeps me laughing and reminds me to make merry and laugh more, especially at myself," says Adams. The bar, of course, is still one of their date spots. "We consider ourselves very fortunate for Brooklyn is where it's at," says Adams, and being able to call it home, for themselves and their landmark establishment, feels like a gift. "We honestly love Brooklyn!"