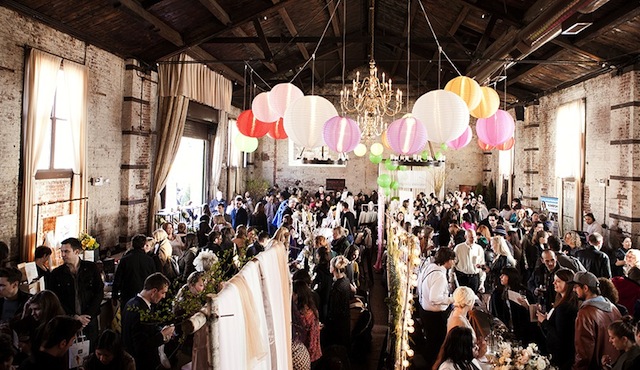 Spring, believe it or not, is almost here, and that means one thing to engaged couples all over New York: it's wedding fair season. Our own fair, Wedding Crashers, returns March 9 to the Green Building and its new gallery next door, SHOW ROOM Gowanus, with nearly 70 fabulous wedding pros who will help you create the wedding you have your heart set on. We like to think it's the best wedding fair in New York because we handpick incredible vendors, and we make it fun for couples to come together. We know the formula works, because over the years we've heard from many men and women who've told us they found their amazing photographer/florist/wedding band through Wedding Crashers. Nothing makes us happier than to hear we've helped you plan a terrific wedding.
If a killer wedding band is part of your vision, check out Rock the Wedding Bells at The Bell House next Wednesday, February 26. Tickets are $10 in advance for the eight-band showcase, with marriage officiant Matt Levy of The Levys' Unique New York emceeing and Delaney Barbecue serving up the delicious 'cue you can now cater your wedding with. Be prepared to be blown away–the same musicians who could play your wedding have also performed with David Byrne, Jay-Z, Steve Earle and more.
For the memorable wedding you're dreaming of, join us March 9, when creative designers, photographers, planners, DJs, and caterers will fill the Green Building and SHOW ROOM Gowanus from noon to 3pm, with special early entrance for VIPs, and an after party at 501 Union for all.
We curate Wedding Crashers with every couple in mind. You'll find tailors for your suit, designers for your gown, photographers you'll both click with, feast on food and sweets from over a dozen caterers, bakeries and food trucks, and toast each other with Mionetto Prosecco from Heights Chateau, Brooklyn Brewery ales, and Prym cocktails for our VIP guests. We know you'll have a blast here together, which is why we price tickets more affordably if you're coming as a pair. We're also offering every couple 10% off their first purchase of Squarespace, wedding website builders and sponsors of this year's fair. Just use the code CRASHERS14.
So snag your tickets, check out our vendors' links below, and get ready to have a ton of fun planning your wedding.
2014 Wedding Crashers Spring Fair Vendors:
Bridal & Engagement Jewelry: Liloveve Jewelry
Bridal Gowns and Accessories: Anna Mains Designs, The Cotton Bride, Gabriella New York Bridal Salon, Rebecca Schoneveld Bridal Design
Cakes and Confections: Coolhaus, Ovenly
Caterers and Food Trucks: Dish Food and Events, Fig and Pig, Landhaus, Naturally Delicious, Marcey Brownstein Catering & Events, Pies 'n' Thighs, Red Hook Lobster Truck, Red Table Catering, Wafels and Dinges
DJs and Bands: Because the Night, Lucy Music, Scratch Weddings  [hear live bands The Affections, Baby Soda Jazz Band, Colin McGrath,  The Loyales, MIXTAPE: a cover band for hipsters,  The Prenups , Red Hook Orchestra, and Tribute String Quartet, at Rock the Wedding Bells on February 26!]
Drinks: Brooklyn Brewery, Heights Chateau, Ludlows Cocktail Co., Mionetto Prosecco, Pyrm rum
Favors: By Brooklyn
Floral Designers: Foxglove Floral Design Studio, Mimosa Floral Design Studio, Paper Portrayals, Rose Red & Lavender, Quatre Coeur
Grooms' Fashion: A Suit That Fits, Renegado
Guest Lists and Seating Arrangements: AllSeated
Hair and Makeup: Soon Beauty Lab, The Parlour Brooklyn
Invitations: Inspired Goodness, Lion in the Sun, Postable, PostScript Brooklyn
Lighting: Stortz Lighting
Makeup: NYC Faces
Officiants: A More Perfect Union-Hope Mirlis, Love's Witness
Photographers, Photobooths and Videographers: Amber Gress Photography, Dutton + James, Heather Phelps-Lipton:WEDDINGS, JBM Wedding Photography, Josh Strauss Studios, Love + Brain Films, Magnolia Photo Booth Company, Moss + Isaac, Phillip Van Nostrand, Photomuse, Readyluck, Shootbooth
Registries: CityBird Registry, La Terrine
Rentals: Broadway Party Rentals, Octavia & Brown
Staffing: Superlative Staff Events
Venues: The Green Building, 501 Union
Wedding Planners: Events by Melissa McNeeley, Jove Meyer Events, Julia Lake Parties!, Viva Max Weddings
Wedding Website Builder: Squarespace
Wedding Crashers is sponsored by Squarespace (Receive 10% off your first purchase of Squarespace with code CRASHERS14), Brooklyn Brewery, Heights Chateau, Mionetto Prosecco, and Pyrm rum