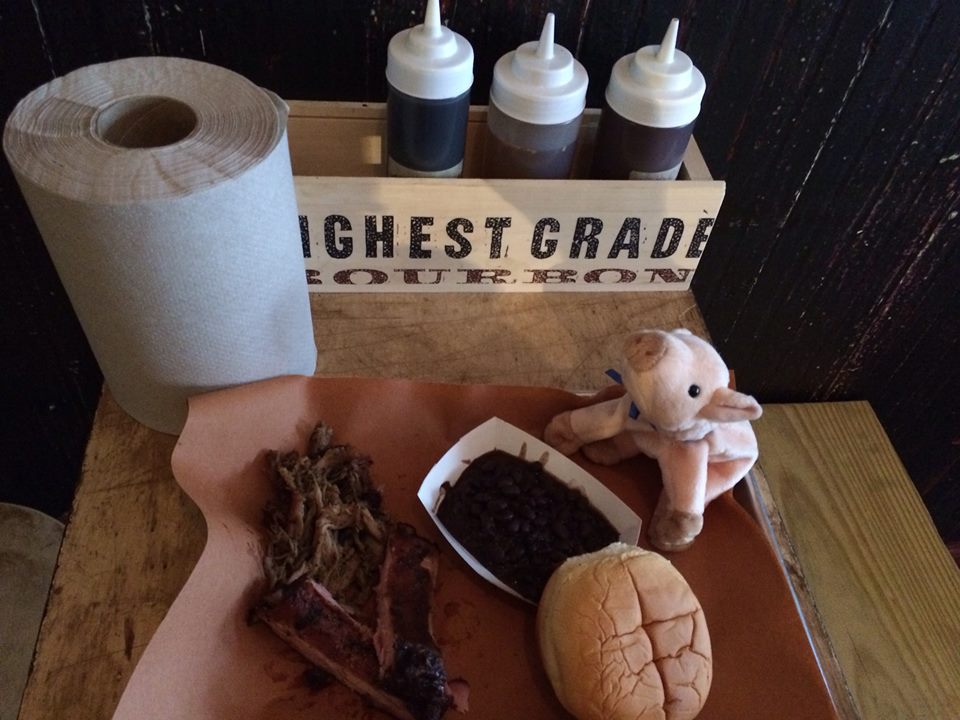 Fort Greene has seen a lot of change over the past few years, with the pace of gentrification moving particularly rapidly here, even by brownstone Brooklyn standards. On the dining side of things, we've seen a host of new upscale eateries like the always excellent Prospect, the improving Martha and even uber-hip Williamsburg import Walter's, while neighborhood faves like Tillie's, abistro, and Kif have all been replaced, and Brooklyn Public House has now shuttered. Here's a look at Fort Greene's most recent spate of development, with analysis from a tastebud's point of view.

1. Colonia Verde
 219 DeKalb Avenue

What it Was: A neighborhood liquor store whose vintage sign made it through iterations as southern comfort food restaurant called Liquors, then cozy Moroccan spot Kif.
What it Is: Pan-Latin eatery from the team behind Soho's popular Comodo restaurant, with influences ranging from Mexico to Colombia (plus plenty of  New American touches) and a farmhouse-inspired decor featuring rafted ceilings and an open wood-fired kitchen.

Our Take: As some of us hoped and others feared given that it's a Soho spinoff, the decor here is beautiful, the cocktails perfect, and the food tasty, tiny and pricey. Appetizers like shredded beef arepas, sole ceviche, and their take on the ubiquitous Scotch egg trend (topped with Mexican esquite corn) are delicious but at $11 to $16, not quite share size. Mains like chili-spiced buttermilk fried chicken and coffee-rubbed slow-cooked cochinita pork (each $18)  are solid but not exciting enough to stand on their own, especially considering vegetable sides are $6 – $8.

Net Loss/Gain: Everything's pretty good, although with a full meal running about $60 a person, it should be great. Colonia Verde just opened, so we'll give them the benefit of the doubt, but might actually prefer a neighborhood liquor store.

2. Great Georgiana
248 Dekalb Avenue

What it Was: Tillie's, every Pratt student and freelancer's favorite latte and laptop hangout.
What it Is: Dominic Tracy, James Gragg and Chris Connor's long-anticipated pub, a posher equivalent to its Irish cousin across the street, the recently shuttered Brooklyn Public House.

Our Take: After anticipating its opening for almost two years, the Great Georgiana's debut last year wasn't as grand as its name might imply, but it has quietly gained a following amongst Fort Greeners as a more upscale pub experience. Locals looking for a new watering hole will find the Great Georgiana's zinc bar stocked with a solid selection of wine, beer and cocktails in the $7-$12 range. Small plates and entrees are internationally inspired and decidedly more refined than the onion-ring-topped burgers and battered fish that Brooklyn Public House was known for. Here you can expect menu items like cheese and meat plates ($12) and braised pork shoulder ($15) to savor at one of its candlelit, dark-wood tables listening to soul and jazz.

Net Loss/Gain: The neighborhood is no longer in need of coffee shops since Tillie's closed, with new cafes like Baguettaboutit, The Hungry Ghost and The Annex joining long-time faves like Bittersweet, Smooch and WTF to fill that void. Now that Brooklyn Public House has closed, however, the Great Georgiana's presence is even more appreciated as a local spot to grab a good drink and decompress.
3. Black Forest
733 Fulton Street

What it Was: A longstanding medical services center and gentrification holdout wedged between a gourmet grocery and a fro-yo spot.
What it Is: Indoor biergarten helmed by a Fort Greene couple who are both originally from the Black Forest region of southwestern Germany, but didn't meet until moving to Brooklyn.

Our Take: We weren't sure Fulton needed another beer garden to supplement Der Schwarze Kölner down the block, but the decor here is cozier, with exposed wooden beams, hanging Edison bulbs, and an almost-alarming number of cuckoo clocks. The food is also better, featuring German specialties like spaetzle amped up with slab bacon and kale. Their signature flammkuchen are apparently a Black Forest regional favorite, and while they seem more or less just like a good old American flatbread, we won't argue with a cheese-y, toasty crust topped by truffled mushrooms and onions. The ample selection of beers are offered in regular or giant sizes (full liter mugs), as any good beer garden should.

Net Loss/Gain: With apologies to anyone who may have lost their neighborhood medical provider, Black Forest is a perfect winter weather hideout, and a welcome addition to the neighborhood.
4. Hoja Santa
250 Dekalb

What it Was: Abistro, a beloved French-Senegalese spot that thrived for years in a tiny BYOB spot near Myrtle Avenue, then faltered after making the move to larger digs on Dekalb.
What it Is: A Mexican restaurant that's forgone the traditional for a menu that's more aimed at mass appeal.

Our Take: Despite the festive decor and Mesoamerican moniker, if you're looking for an authentic Hispanic-food experience, this isn't it. We take any restaurant that charges $12 a taco to task, especially one that also serves kale salads, deviled eggs, spare ribs, hummus and clam chowder, none of which left us feeling very south of the border.

Net Loss/Gain: Abistro's exit from Fort Greene's food scene left a big hole in our hungry heart, and Hoja Santo isn't doing much to ease the ache. More authentic Mexican fare can be found at Pequena or El Toro.
5. El Toro Taqueria
89 Fort Greene Place

What it Was: Women's clothing boutique, Punk and Pearl.
What it Is: A counter, take-out and delivery taco spot with options both traditional (carne asada) and hipster (carne asada with kimchi).

Our Take: Simple, straight-forward and delicious. No frills to report on here, but if you're on the lookout for a solid take-out spot, El Toro fits the bill.

Net Loss/Gain: Fort Greene was definitely in need of more quick and tasty food options, so this one is good to see.
6. The Pink Tea Cup
120 Lafayette Avenue

What it Was: EN, an upscale Nigerian eatery that took years to open and then didn't last long.
What it Is: The latest home of a southern spot that drew crowds to the West Village for decades but has struggled in recent years, bouncing around various Manhattan locations before trying out a move across the river.

Our Take: Pink Teacup may have once been decades ahead of trend with their signature dish–fried chicken and waffles–but with that offering now showing up on every other Brooklyn menu, their just-fine version doesn't do much to stand out. Neither does the rest of their menu, ranging from baby back ribs to burgers, fish-n-grits, and uninspired cocktails.

Net Loss/Gain: Unclear. We're rooting for this traditional, family-owned restaurant with a friendly ambiance, but menu-wise they'll have to do more to make it in today's Fort Greene.
7. Humo Smokehouse
336 Myrtle Avenue

What it Was: Most recently, Middle Eastern fast food eatery Noor.

What it Is: A Tennessee-style barbecue joint that specializes in house-smoked pork, brisket and sausage as well as southern-style sides sourced from local organic farms through the Farm to Neighborhood program.

Our Take: If Francis Underwood, the fictitious master manipulator from House of Cards, was looking for a BBQ fix in Brooklyn, he'd have plenty of spots to choose from, but we have a feeling Humo is where he'd feel most at home. Whatever this small smokehouse puts in its custom dry rub will have you licking fingers, bones and even plates for the last bits of brisket, ribs or pork belly you can find (sold by the quarter-pound). Try its tangy vinegar potato salad and smoked black beans with chunks of pulled pork for the full experience, and know you'll be well-fed for as little as $15.

Net Loss/Gain: The net loss of Noor's closing is marginal compared to what the neighborhood stands to gain should Humo have staying power. Its neighborly competition, The Smoke Joint, could take a 'cue from this new smokehouse startup.
8. Habana To-Go
690 Fulton Street

What it Was: Not Ray's, the neighborhood's best slice pizza spot, which moved two doors down in a game of storefront musical chairs, taking the place of a hardware store, which in turn relocated to a vacant spot across the street.
What it Is: A year-round mini-version of Habana Outpost, the eco-friendly summertime party spot and legendary grilled corn slinger just across the street.

Our Take: Habana has always been more about the scene than the cuisine, but you won't hear us complaining about a chance to kick off frozen mojito season early this year.

Net Loss/Gain: Seems like a rare opportunity in which development worked out for all involved. How long before this corner is rechristened the Habana Historic District?