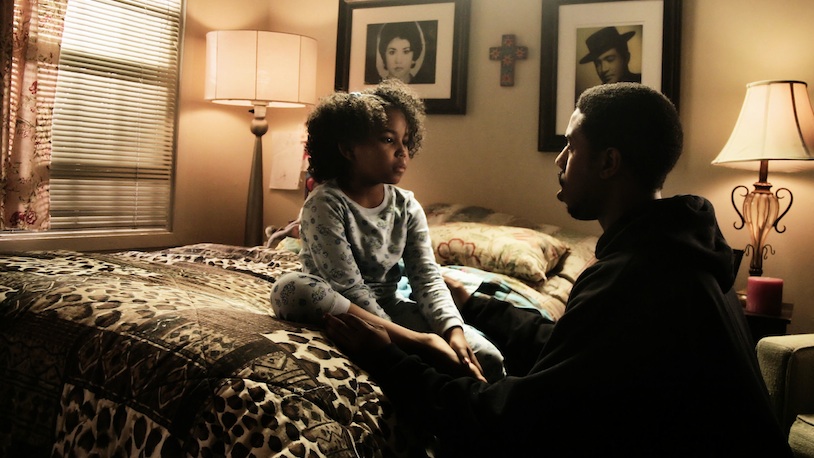 As Mark Harris pointed out in a recent piece for Grantland, this year's pool of Oscar-nominated films is about as deep as a puddle. Harris notes that only 12 films were nominated across the eight major categories, the fewest in 30 years, a fact all the more perplexing, considering that 2013 was touted as a great year for film.
Just because some gems of the silver screen didn't get an Oscar nod doesn't mean they're not gold-statue (or at least movie night) worthy. We've shortlisted four films from 2013 that the Academy missed, but you shouldn't.
Fruitvale Station

Writer-director Ryan Coogler's first feature film tells the true story of Oscar Grant III, played by Michael B. Jordan, who is as endearing in this film as he was as Wallace in The Wire We meet the 22-year-old Grant on what we know will be the last day of his life, before he was detained and shot in the back by a BART police officer on his way home in the early hours of New Year's Day in 2009. The film chronicles Grant's last hours, and is filled with quiet, routine moments that bear the oversized weight of what's to come. He tucks his daughter in to bed for what we know is the last time, and washes dishes with his mother while she convinces him to take the train from Oakland to San Francisco instead of driving. As people tend to be, Grant's an imperfect guy: he served two stints in prison for selling drugs and loses his job for perpetual tardiness. As played by Jordan, he looks as though he's constantly churning over life's obstacles—paying rent, getting his job back—in his mind. With so many restrained scenes in the first half of the film, the chaos and confusion on the BART platform is all the more jarring, and the outcome more devastating.

Short Term 12

If the scenery-chewing, for-your-consideration overacting in some of this year's Oscar-nominated films (ahem, August: Osage County) put you off your popcorn, Short Term 12, from director Destin Daniel Cretton, provides a subtle and poignant remedy. Effective for its brief and focused sketches of multiple characters, the film's gaze ultimately settles on Grace (played with quiet intensity by Alison Brie Brie Larson), a counselor at a foster care facility for teenagers, some who've endured unimaginable abuse that we first assume and eventually confirm that Grace is all too familiar with herself. With little action, most of the film's revelations come from the quiet dialogues between counselors and patients or Grace and her live-in boyfriend and fellow counselor, Mason (John Gallagher, Jr.). Short Term 12'2 strength stems from our growing affinities for the characters, our anger at those who've hurt them, and a hope that they'll one day be loved.

Let the Fire Burn

Made entirely from archival footage, Jason Osder's searing documentary (and his first full-length film), Let the Fire Burn chronicles the nearly 10-year-long conflict between the Philadelphia Police Department and the African-American radical group MOVE, a clash that culminated in 1985 when police dropped military-grade explosives onto MOVE's headquarters in a Philadelphia row house. The bomb started a fire that spread to more than 60 homes, killing 11 MOVE members, including five children. Osder constructed the film from live news coverage of the fire and filmed testimonies by MOVE members, city officials and police officers, but the most rattling footage is from the filmed deposition of Michael Ward, a 13-year-old survivor of the fire who lived with his mother in the MOVE house.
The Way, Way Back

We know shortly after the opening credits that 14-year-old Duncan (Liam James) isn't one of the cool kids. As he watches the highway unfold behind him from the third-row seat of an old station wagon, Duncan gets a grilling by his mother's boyfriend, Trent (Steve Carrell), while his mom, Pam (Toni Collette) sleeps in the passenger seat, and Trent's much cooler daughter sprawls across the back seat, listening to her iPod. Duncan wears sneakers on the beach, rides around on Trent's daughter's too-small pink bicycle, and seems so uncomfortable in his own skin that he'd rather disappear into the woodwork at Trent's beach house, where he's reluctantly spending the summer. But in this film, as in many coming-of-age films before it, Duncan will show Trent what he's made of. Thanks to some fatherly shepherding from Owen (a hilarious Sam Rockwell), a perennial employee of the local water park, Duncan stands a little taller in his low-tops by the time summer is over. The film, from writer-directors Nat Faxon and Jim Rash (who also play water park employees) evokes the same sense of nostalgia as The Descendants, their Oscar-winning screenplay with director Alexander Payne. Bonus: Alison Janney in a pitch-perfect turn as the tipsy neighbor with a heart of gold.