Court Street in Brooklyn is full of extreme contrasts. Trendy new stores and restaurants abut family-run establishments that have been in business for over half a century. The meshing of quintessential Brooklyn and the rapidly gentrifying city only adds to the appeal of Court Street, and has led to a unique gastronomic scene with a penchant for international flavors.
[sponsored_by action_blurb="Presented By" name="Douglas Elliman" url="http://www.elliman.com/new-york-city/brooklyn" logo="http://brooklynbased.com/wp-content/uploads/2014/02/DE_logo_1XStack_120x60_Blue+Gray.jpg" attribution_action_blurb="Created By" attribution_name="BlankSlate" attribution_url="http://blankslate.com/advertisers/"]The only way to truly understand Brooklyn is to walk its streets, see its homes, meet its people, and understand its ebb and flow. Never before, has looking for a home in Brooklyn been this exciting.
Stop by Elliman's Carroll Gardens office located at 325 Court St.[/sponsored_by]
Brooklyn Borough Hall 
Much of Court Street was an historic stronghold for Italian immigrants who arrived to work on the Red Hook docks in the early 1900s. Cobble Hill was settled by Italians from Naples and Sicily. In Carroll Gardens, Court Street between 3rd and 4th Place was also known as "The Citizens of Mola di Bari Way" for the 5,000 residents who emigrated from Mola in the "boot" of Italy.
Court Street itself—called George Street until 1835—was named for the courthouse that was planned for the newly formed city of Brooklyn. The courthouse ended up on Joralemon Street instead and was demolished less than a century later, in 1952. Nonetheless, Court Street passes by such important municipal buildings as Brooklyn Borough Hall, Kings County Supreme Court and the Municipal Building.
Brooklyn Heights: Borough Hall to Pacific Street
At the northern end of Court Street, municipal buildings surround Columbus Park, which hosts the Brooklyn Borough Hall Greenmarket on Tuesdays and Fridays throughout the year. You can lunch here on bistro-style chairs and tables provided by the Court-Livingston-Schemerhorn Business Improvement District and grab free Wi-Fi from a Downtown Brooklyn hotspot. Also check out the vintage subway entrances in and around the park.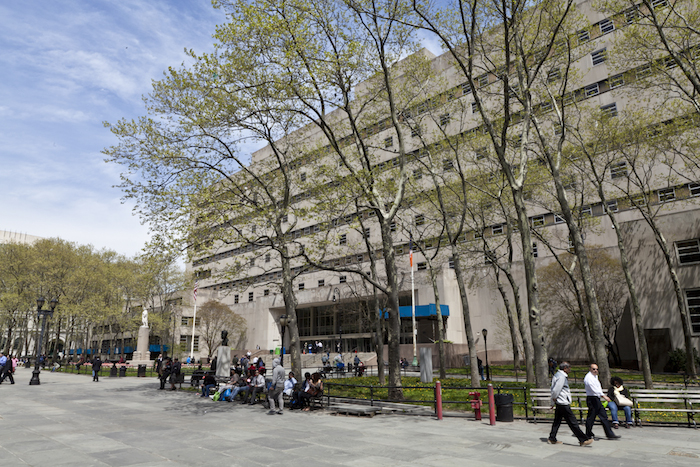 King's County Supreme Court and Surrogate Court
Municipal Building Brooklyn
Borough Hall Greenmarket
The landmarked Greek Revival-style Borough Hall — originally City Hall, before the consolidation of the five boroughs — was completed in 1848. It was badly damaged in an 1895 wastepaper fire and its cupola was completely rebuilt. Take a look upwards when you're in the area — it can be easy to miss the amazing architectural details atop the commercial buildings along Court Street.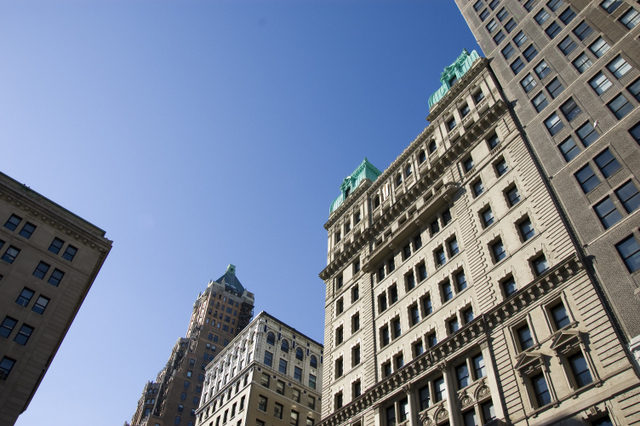 Between Joralemon Street and Atlantic Avenue are a combination of chain stores, neighborhood businesses, and residential buildings. The windowless ziggurat-style building is home to the UA Court Street Stadium 12 Theater and a still-thriving Barnes & Noble bookstore. It was designed by Hardy Holzman Pfeiffer Associates, the architects behind the BAM Majestic Theater and the restorations of Radio City Music Hall and Bryant Park.
At the intersection of Court Street and Atlantic Avenue is the former South Brooklyn Savings Institution, now a Trader Joe's with a beautiful interior and high ceilings. This "Florentine-style palazzo" was designed by McKenzie, Voorhees & Gmelin, with construction finished in 1923.
Brooklyn Wine Exchange next door focuses on small batch, artisanal wine and spirits, with an emphasis on local New York City and New York state purveyors.
The Brooklyn Wine Exchange
Yemen Cuisine and Sahadi's market are signs of the Middle Eastern community that have settled along Atlantic Avenue.