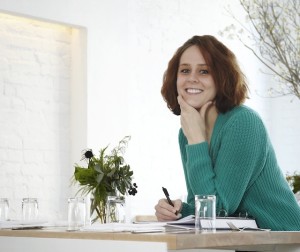 Dear Holly,
I run a ceramics studio here in Brooklyn with a very small staff. I have one assistant in the studio and someone to help me sell at the markets. The reason I'm writing is because I've noticed that over the past few months, my sales have declined.
I'm really not sure why that is happening. I make mostly tableware and though it is priced fairly high compared to most, the quality is really superior and so are the designs. I've noticed that I don't get many people stopping at my table when I'm at the market and when they do, most don't buy.
Do you have any advice on what I can do to improve my situation and increase my sales?

Thanks,
Ceramic Slow Down
Dear Ceramic,
I think you're likely not the only vendor at the markets who sells high-priced items and doesn't make as many sales as you could. Once we start creating items that are priced significantly higher than the norm, we're actually selling an experience more than an item. So if you're telling me that your tableware is priced fairly high, then you want to make sure that you're creating the right buying experience for it.
First I would look at how your table is set up. Is it clear what all of the items are and what they're used for? If I have to ask, I'm less likely to stay engaged and want to buy. So make sure your items are labeled properly and it's clear to the customer what purpose each piece serves.
Next I would consider what type of information you're sharing with the visitors at the markets. Remember, people who buy your stuff aren't just buying it because they need a mug or even because they need a gift. As Simon Sinek said, people buy "why" you do what you do, not "what" you do. That higher price point is indicative to the customer that they are investing in something more than just tableware. That being said, I recommend you have a small sign or a small pamphlet about your products readily available. The information you want to share with the customer is what materials you use in your products, how they're designed, and what your story is. This is all information that you can train your sales person to know and discuss with potential customers. But it's also beneficial if you can have this information available somewhere on your stand in case the sales person can't talk to every shopper. That information adds value to the product and helps people understand why it's so expensive.
Finally, you should train your sales person to be able to sell your products. Too often I see people in their booths at the markets tucked away in a corner while people browse their expensive goods. Now no one wants to be pushy, but there is something to be said about a sales person who is engaged and present versus someone who is removed. Remember, if you're selling expensive items, the customer is going to need some convincing, educating, or encouragement to buy into what you're offering. Being able to sell these items is a skill and investing in training someone properly is important.
Good luck and remember that the environment in which we sell our product and the experience we create around them is equally if not more important than the actual product itself.
Best,
Holly
Want valuable insights into how to grow your business? Email Holly to set up a time to talk at  hhoward@askhollyhow.com.com or to ask a question for the next Ask Holly How. This is the last week to sign up for her next business growth program, register  here.