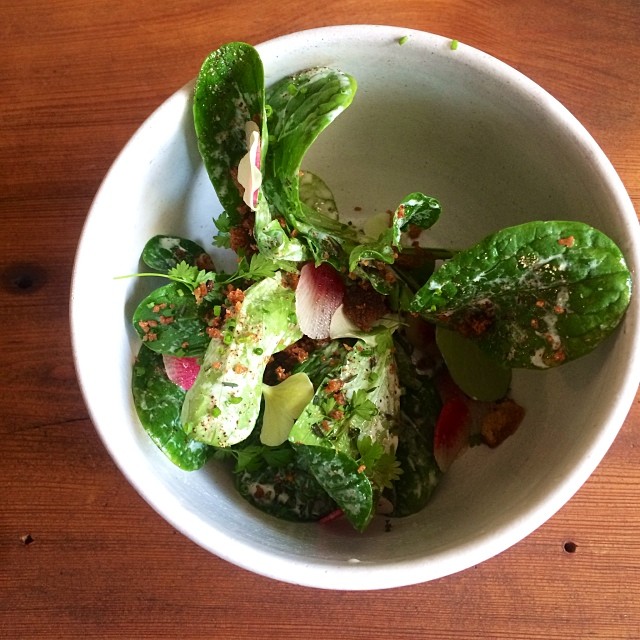 With the return of warm and sunny weather, day trips to Red Hook are back on your weekend menu, and there's a new culinary destination worth the trip on the B61. Grindhaus quietly opened back in December, following a delay of more than a year thanks to Hurricane Sandy. Owner Erin Norris, a longtime Red Hook resident, used to sell sausages at the bygone Red Hook Mercado, which explains the restaurant's sausage-centric name, although the long-in-the-making eatery has shifted focus away from wieners and toward a small, daily-changing menu that includes housemade pasta dishes, fresh-baked breads, interesting salads and creative local seafood options, like a surf clam crudo and striped bass head with coconut, mushroom and brown butter.
Grindhaus has attracted positive buzz based on the strength of some truly beautiful dinner dishes, and last week expanded with a weekend lunch menu.

The 20-seat spot (with another 20 coming in a soon-to-open backyard) is decidedly laid-back, with a pretension-free staff. Creaky wooden floors are accompanied by colorfully mismatched tables and chairs, quirky paintings and dishtowel napkins, while the menu of the day comes delivered on a portable chalkboard. Flowers shoot out of meat grinders clamped on to the end of each two-top, with another bouquet growing from the mouth of a giant taxidermy horse head that peers down on the small dining room.
The chefs at Grindhaus clearly believe that weekends were not made for eggs and pancakes alone, and their new Saturday-Sunday afternoon menus focus decidedly on the "unch" portion of brunch. There are just a few items listed on the chalkboard each day, which last weekend included a chicken confit bahn mi served on housemade baguette. They also do a beautiful breakfast pastry–there are always supremely buttery house-baked croissants and pain au chocolate on offer.
When I stopped in this Sunday I sampled a delightful warm cabbage salad, with sauteed green leaves served over a rich and tangy housemade Greek yogurt, sprinkled with fatty bits of smoked pork jowl and finished with a handful of juicy pomegranate seeds. It's a pretty dish to begin with, but gets more exciting when the ingredients are mixed together and the beauty deconstructs into a salty, sloppy mess of deliciousness.
In short, even in a neighborhood with more than a few great restaurants, Grindhaus should definitely be on your radar.
275 Van Brunt Street (between Pioneer Street and Visitation Place); 718-909-2881; grindhausnyc.com