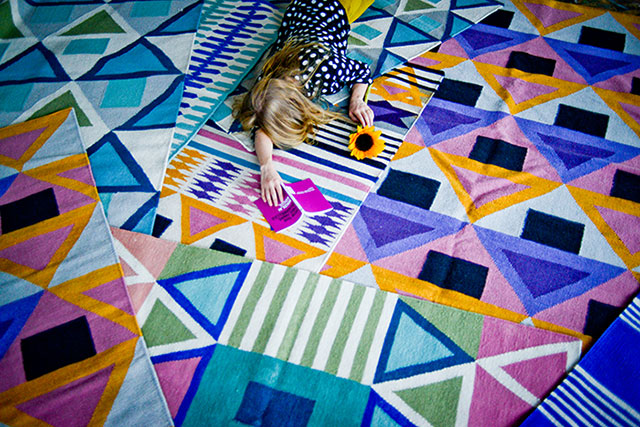 No one could have predicted that Aelfie Oudghiri's career path would take her from fashion production to medical school in Budapest and back the states to study religion at Columbia University before the Greenpoint resident would find her foothold as a rug designer–not Oudghiri, and definitely not her parents. It was, however, at a family dinner a few years ago, while she was enrolled at Columbia, that her mom and dad asked the question we've all pondered at some point: "What do you want to do with your life?"
"I really flippantly said, 'I'm going to be a rug dealer,'" she recalls. "It was after a couple glasses of wine."
Blame it on the alcohol, but Oudghiri's response was emphatic enough for her stepmother to reach out to Valerie Justin, a prominent antique and vintage rug collector and scholar of tribal textiles and rugs, who once had a store along Madison Avenue's rug district. Essentially, an apprenticeship with Justin was the rug-dealer equivalent of learning to play basketball from Michael Jordan.
It was while selling a stockpile of vintage rugs from places like Afghanistan, Turkey and India out of her Williamsburg apartment about two years ago that Oudghiri got the idea to start designing some of her own.
"I had all of these rugs, and I had all of these friends that wanted to buy my rugs, but couldn't quite afford them and couldn't quite imagine living with these really tribal, nomadic, crazy textiles, so that's when I started designing," she says.
I didn't know any of this when I came across Aelfie, Oudghiri's website last week. All I knew was that I wanted to blanket every inch of my floor space with her area rugs, which are a modern take on Indian dhurries–and that they were affordable enough, ranging in price from $217-$1,040, depending on size, that I might be able to do so. Designed in Bushwick and handwoven in India by men and women who work from home weaving the rugs on their own traditional equipment, Aelfie rugs are at once classic and contemporary thanks to her play on traditional patterns presented in cool color combinations.
"Some of the inspiration is abstracted from the rugs around me and the pastels that I see and tile work," Oudghiri says. "I've always had this pretty insane thing for color. I'm always trying to use colors that I couldn't find in rugs that I had."
Oudghiri is not knocking off or misappropriating ethnic textiles they way places like Urban Outfitters received flak for doing a few years ago. Nor is she offering up cookie-cutter floor coverings like most contemporary manufacturers.
"The designs are coming from a much different perspective than somewhere like West Elm," she says. "I'm not matching them to the curtain set. It's not some big package. They're all just individual."
Oudghiri continues to sell antique rugs from all over the world, but as her own designs find more of a following, she's is entertaining the idea of expanding, having found a shoe that finally fits.
"Maybe this is what I'm supposed to do with my life," she says. "For now anyway."