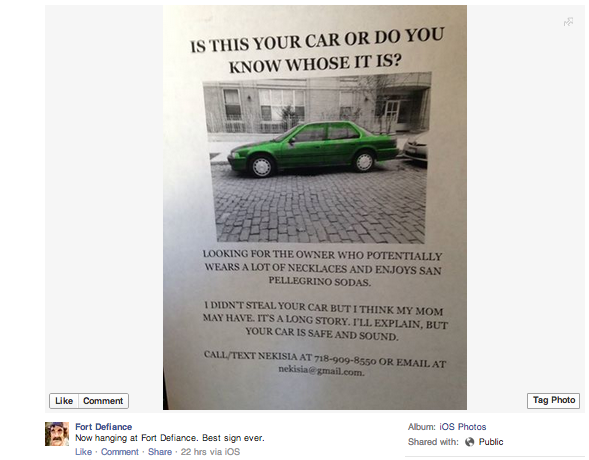 There are so many "Only in New York" aspects of this story that I don't even know where to begin, but here goes. Last night, a friend alerted me to this flyer posted at Fort Defiance and my curiosity about the backstory was immediately piqued. I emailed the address provided to set up a phone call with "Nekisia," the mystery woman behind it all. Here's what I found out.
Nekisia turns out to be Nekisia Davis, a Red Hook resident and the owner of Early Bird Foods, which makes some damn good granola that you can buy all over the place. She got a dog, a Pomeranian mix named Ruby, rescued from hoarders in Staten Island a few months back, and soon discovered, as all dog owners in this town do, that her furry new friend was putting a serious damper on her traveling abilities. Desperate for dog care during a planned trip to Miami last weekend, Nekisia asked her mom to take care of Ruby and, while she was at it, to move Nekisia's car and the cars of the two friends she was traveling with, in order to avoid running afoul of alternate side of the street parking.
Nekisia's Fiat was familiar, but Nekisia's mom was given detailed and specific instructions about where to find Betsy's silver CRV on Coffey and Deanna's green Honda parked on Dyckman. When the girls arrived home after a successful trip several days later, Deanna reported that her car was nowhere to be found. Nekisia's mom, who I can only imagine was beginning to wish she had never agreed to any of this, walked the girls to the green Honda she had moved to show them where it was.
"But that's not my car!" Deanna said.
"Well, that's the car I moved with your keys," was Nekisia's mom's baffled response.
Evidently, there was another green Honda—one with "a million necklaces" hanging on the rear view mirror and Pellegrino empties strewn about—also parked on Dyckman. It's now sitting, awaiting being ticketed today, in a totally different part of Red Hook. Nekisia got an email from someone claiming to be the car's owner a few days ago, but that person never followed up on Nekisia's response. In the meantime, Deanna– who is in the habit of wearing about 14 tangled necklaces at once, in Nekisia's mom's defense– has remembered that when she lived in L.A. years ago, she was able to unlock and drive another Honda minivan with her car's key.
So here's what we are left with: an unclaimed car, a guilt-wracked mother, the discovery of what is apparently Honda's master skeleton key, a dog-owner who will be checking out dogvacay.com stat, and an awesome flyer.