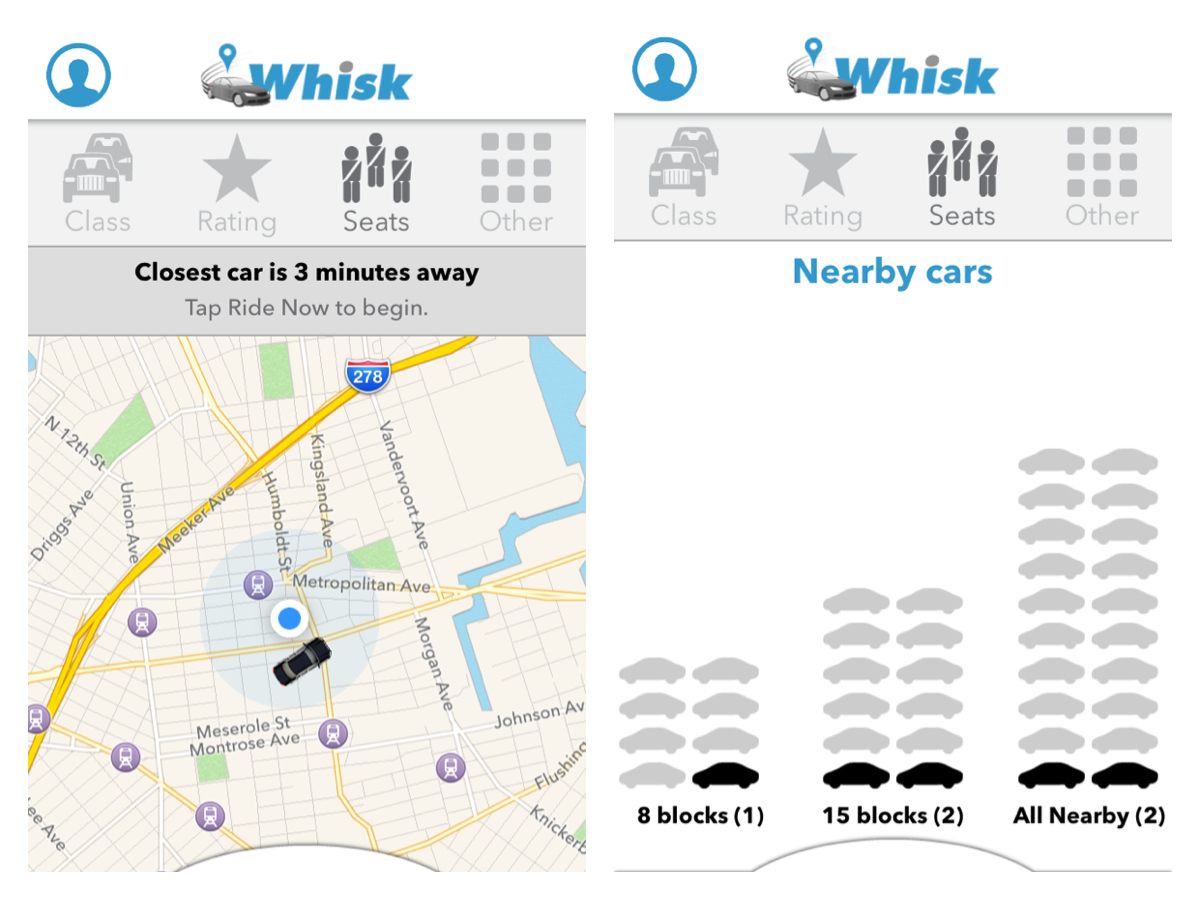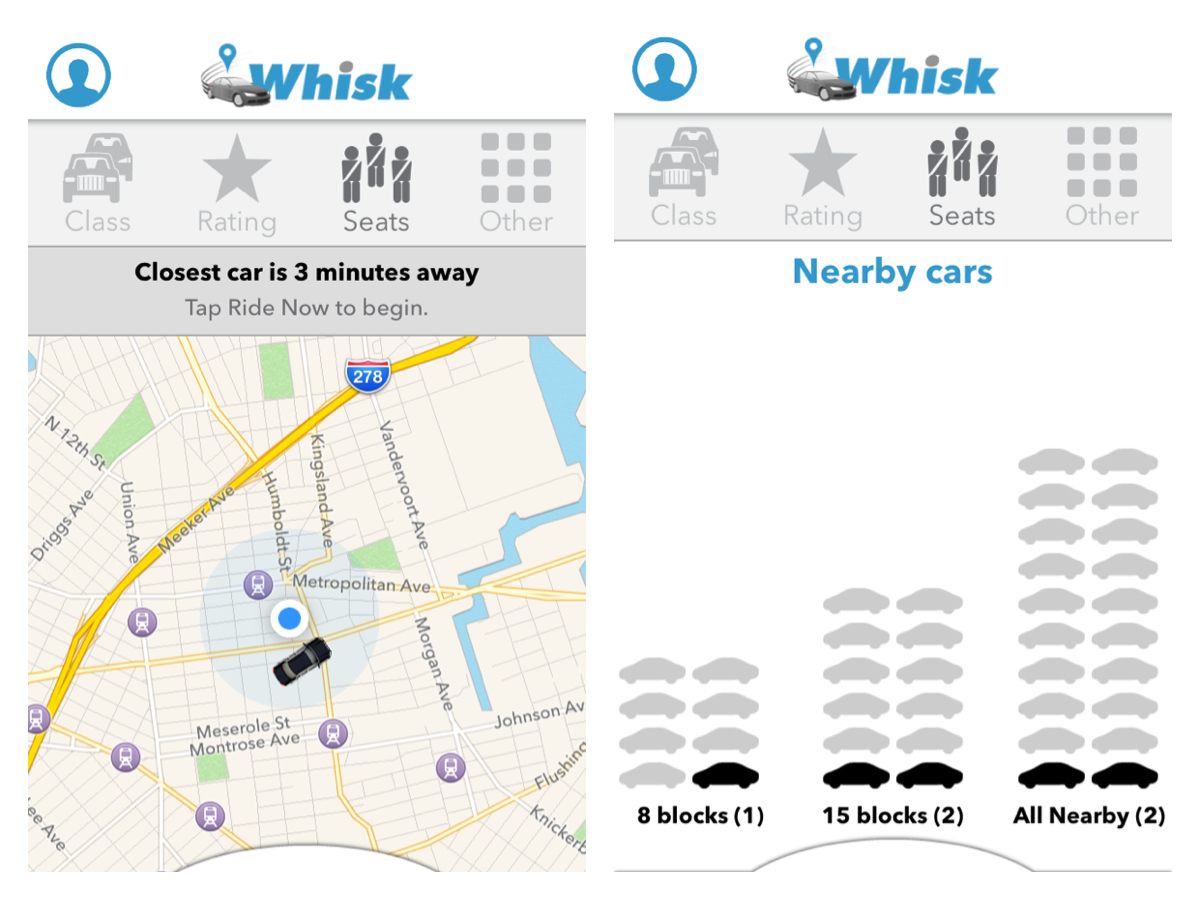 At this point you've probably either used a car service app like Uber, or ridden with someone who has. We love that they take the guesswork out of when your car will arrive–one of the biggest mysteries of calling a car service dispatch is why they say "seven minutes" when what they really mean is "we don't have any cars"–but the less than transparent pricing can be a real shock when you check your credit card at the end of the month.
Whisk, a new car service app that just started offering service in Williamsburg, with coverage in Manhattan and a plan in place to expand throughout Brooklyn and Queens over the next few months, wants to take the guesswork out of pricing, and make the entire experience better for riders and for drivers alike.
"When I take a cab, the cabbie will never see me again, there's no incentive to treat me well, I'm not a long-standing customer,"  says  Michael Ibrahim, Whisk co-founder and CEO. "Livery in New York is a weird system. They don't have the technology to monitor what happens to each ride so it turns into a bizarre barter and often no one feels good–sometimes the customer feels taken, sometimes the driver feels taken."

To create that long-standing customer relationship, Whisk offers ride passes. For a weekly flat fee, you get unlimited rides, either from one point of origin, say your home address, or between two specific points, like your home and office. The service is also available on an a la carte, individual ride basis, and prices start at $8 per ride, and are designed to be comparable to taxi fares. Moreover, Ibrahim says that a la carte customers who are in the top 20 percent of users and all weekly subscribers get special treatment. During peak demand, whether that's New Year's Eve or a huge rainstorm, their best customers get pick-up priority, and those ride requests go to the head of the queue.
Whisk let us try a complimentary week of the subscription last week, and we got Talitha Whidbee, a Williamsburg resident who commutes every day to the Upper West Side and back to take her daughter to school, to test it out for us. Compared to other car services, she found the drivers and cars to be nicer and cleaner, among other big advantages. "Most importantly, I had a record of exactly which car I was getting into including the driver's TLC license and their license plate," she said in an email. "I could send my child to school alone with a driver, or have her get a driver home from school alone, and I would have a record of her being dropped off and picked up."
Whidbee said that at $338 plus tips for the week (prices vary depending on location), the subscription was a luxury she wouldn't be likely to use on a regular basis, and that there were some hiccups. One morning there weren't any drivers close to their home near Graham Avenue, and they took the train to school instead. "Whisk should find a way to have you rate your favorite drivers and then when you know that you will need a car in 30 minutes you could send a message to a 'favorite' driver and it would make you feel much more like you had your own personal driver," she suggested.
Ibrahim noted that rolling Whisk out across the city will be a gradual process, and that the service will grow more robust over time. Rather than building their own stable of drivers, Whisk is working with existing livery companies, like Brooklyn Radio Dispatch in Williamsburg. In creating an online service with tracking numbers, ride records and standardized pricing, not only will riders like Whidbee feel more secure, car services can look at demand and better allocate drivers and rides, avoiding long return drives with no passenger, or "dead heads" from far flung locales, by being part of a citywide system of ride requests.
Ibrahim says that they have partnerships lined up with livery services throughout the city, ("Park Slope is not far out," he told us) though the exact order of rollout will depend on demand, and notes that simply downloading the app and signing up is a vote for more coverage to your neighborhood. Or to make specific coverage request or suggestions, email info@whisk.me.