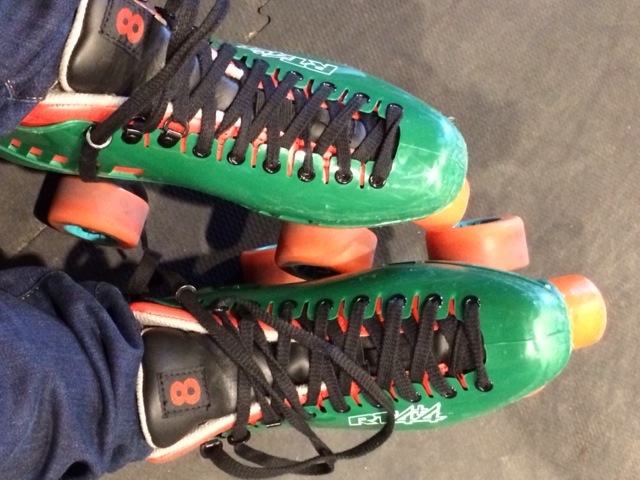 My boyfriend has a Spotify playlist entitled Roller-Rama that is all hot jams he remembers from the roller skating rink in the town he grew up in: "Candy Girl," "Supersonic," "Somebody's Watching Me." For my part, I don't think I can ever hear "Walk of Life" by Dire Straits without being instantly transported back to a middle school birthday party at Happy Wheels. That was probably the last period of my life when roller skating was a semi-regular occurrence for me, so I was relieved to discover when I arrived at the newly resurfaced LeFrak Center in Prospect Park this past weekend that the tunes haven't changed much in the last two decades. Or maybe the rink was targeting the 10am Easter Sunday crowd that I joined, parents about my age whose young children were hanging on to them and the walls for dear life as they experienced having their tiny feet strapped to wheels for what was probably the first time.
Whatever the reason, hearing Lenny Kravitz's "It Ain't Over 'Til It's Over" blaring through the Parkside Avenue corner of Prospect Park as I paid my $14.53 for admission and skate rental made me feel glad that I'd made time during a jam-packed holiday weekend to lace up some roller skates and take a few laps. It's been about a week since the $74 million LeFrak ice skating facility that opened in December has been welcoming skaters to its new, warm weather iteration: the first roller skating rink in Prospect Park. Although the winter configuration boasts two ice rinks, only the covered space has been designated for roller-skating. The exterior rink will soon reopen for summer as "a water feature," which looks like a giant fountain that people will be able to run through and play in when the unbearable summer heat bears down on us again.
My ice skating experience in December, which I chronicled earlier this year, had prepared me for long lines and torturously uncomfortable rental skates, but I was pleased to escape both of those buzzkills this time around. It took me all of five minutes to rent a $3 locker at one of the ATM-like kiosks and slip into a pair of sneaker-like skates before getting out on the near-empty rink. Admittedly, I wasn't there at prime-time witching hour, but the employees I spoke with said that the crowds have generally been much smaller so far than they were for the ice rinks, mainly because the ice skating was long-awaited and heavily covered by the press.
The addition within the next few weeks of Lakeside After Dark, a regular Friday night roller disco party with a DJ, seems like just thing to draw in the masses (or at least me, anyway). I have a sneaking suspicion that this borough houses some pretty boss old school roller skaters—maybe even some former "skate guards" like the ones at my beloved Happy Wheels who got to wear the special jackets and cruise around impressing the hell out of me all night. You guys know who you are, and now you finally have a place to show off again after all these years. For now, I'll just say that I'm not sorry I spent a few minutes on a gorgeous spring morning reliving my roller skating glory days to the soundtrack of "867-5309/Jenny." For hours, detailed pricing, and more information, check out lakesideprospectpark.com.