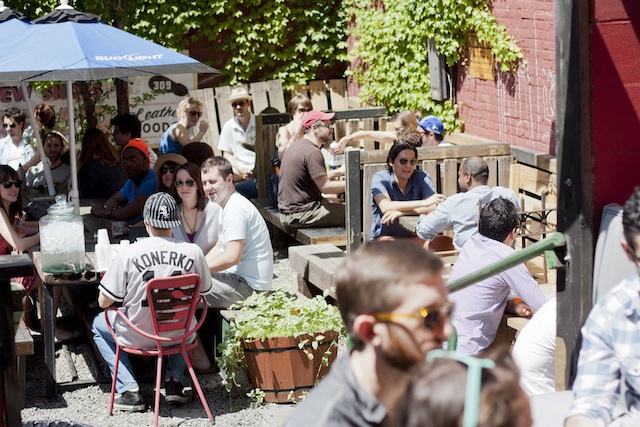 You know what the best thing about a dive bar is? Buying drinks for friends. When you're talking $12 cocktails, getting a round that will set you back $50 is enough to curb anyone's generosity, but when you can buy more beer than you can carry for $20? You spend the whole night either getting someone else's drink or having someone bring you a cold bottle. It's a good way to live.
Brooklyn Stoops (Bed-Stuy, 748 Myrtle Ave., 347-378-2505) What can be better than walking through a dive bar only to find a big outdoor space? Split into two sections, the backyard at Brooklyn Stoops offers a covered area and an exposed one both with ample seating. Perfect for rainy days, the covered area offers patrons tables and chairs as well as an outdoor bar–although it is not always in commission. Those who want to catch some rays or fresh open air can venture further into the garden and hang out among the stoop, a series of wooden steps arranged to lead up to painted doors. Feel just like a kid again, hanging out and spending time on your front stoop, only this time you have a beer instead of an ice cream. Inside the food menu is surprisingly extensive ranging from salads and mozzarella sticks to burgers and jerk chicken. Stoops also serves brunch for those interested in an alcohol soaked Saturday morning, serving up mimosas or Bloody Marys for $3.–Gabrielle Sierra
Brooklyn Ice House (Red Hook, 318 Van Brunt St. at Pioneer St.) When you first visit Brooklyn Ice House, you'd be forgiven for thinking it's your standard dimly-lit dive bar. But step into the backyard and prepare to have your whole worldview change. Brooklyn Ice House is a low-key, no-drama kind of spot–they've got a pretty wide range of beer that errs on the surprisingly cheap side (try the $2 PBR for weekend daydrinking during their happy hour) and the best pulled pork sandwiches I've ever had that come for just two for $5. They've also got lots of different board games (most of which still have most of their pieces) if you'd prefer your drinking to have a focused activity. All in all, a great little Red Hook hideaway.–Casey Acierno

The Alibi (Fort Greene, 242 Dekalb Ave, 718-783-8519)Fort Greene has more craft cocktails and twee farm-to-table spots than you can shake a rosemary sprig at, but thank god it sill has The Alibi. This quintessential old-school NYC bar has made zero concessions to trend-watchers, and that's a very good thing. The front room, with its pressed tin ceiling, popular pool table, fireplace, and regular crowd of barfiles is a perfectly dark and cozy winter hideout. But in summer you'll want to push past the graffiti-covered back room and slightly scary backrooms and head out to the back patio. The latticed wood deck here doesn't have much in the way of amenities, but it's one of the few outdoor spots left in the borough where you won't have to put your name down for a table, smokers still outnumber babies, and happy hour drinks can be had for $4. In an age of frills and fancy, there's almost not much to say about The Alibi: it's just a good, solid bar.–Brendan Spiegel
Gowanus Yacht Club (Carroll Gardens, 323 Smith St. at President) Among a certain set, the opening of the Gowanus Yacht Club for the season announces summer in a way that even Memorial Day can't. The OG of divey summer-only spots, the Gowanus Yacht Club is seasonal because it literally couldn't exist in the dead of a New York winter–the only part of the bar that's inside is the bathroom (which isn't much to write home about). So on those nights when the temperature's totally perfect and you want a congenially-busy, low-budget, generally good-hearted evening, slide into a picnic table, order whatever's cheap and good on tap (the Duff wheat beer is a solid choice, they also have a two-random-cans-for-$5 special), and keep in mind that the subway's just right outside, so stumbling there is totally encouraged.–Casey Acierno
Boulevard Tavern (Greenpoint/Williamsburg, 579 Meeker Ave. between Monitor and N. Henry) Boulevard Tavern lives under the BQE, housed in an 80-year-old tavern that was once home to J & D's, where apparently more than one owner died in the bar. It's also one of Greenpoint's best-kept secrets. It used to offer an all-you-can-eat BBQ for $5, but they just got a new kitchen, which means some fancier grub like a cheese plate and panini, but still plenty of cheap eats like $3 tater tots. Scarf them with your burgers and hot dogs at a picnic table in the backyard, while sipping on one of the 12 different beers on tap–or maybe you'd prefer the $6 Bud and Jack combo? The $4 Boulevard Brew isn't bad either, actually it's really good!–Jay Honstetter

We've got more outdoor drink recommendations in our full guide to outdoor bars. Then plan some new happy hours using our outdoor drinks map.