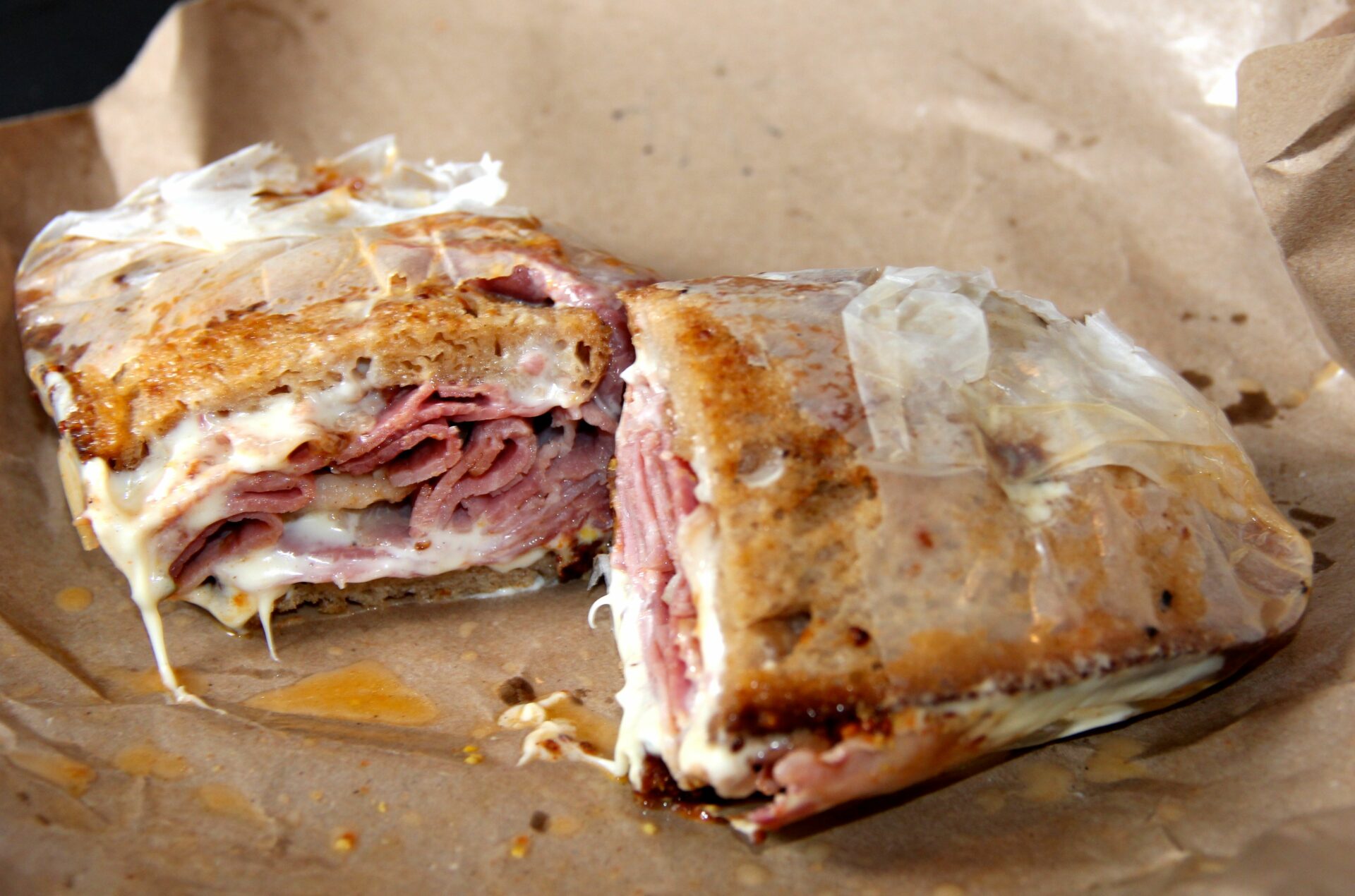 It's been a long wait, but I'm happy to report that the most anticipated sandwich shop of 2014 has finally opened its doors. The nose-to-tail butchers behind The Meat Hook in Williamsburg have branched out with a sliver of a sandwich spot on Lorimer Street (next to the Gimme Coffee near Powers), and judging by the lines this weekend, the rest of Brooklyn is just as excited as we've been.
I was pleased to see that the Meat Hook guys, who have earned quite a rep for their prime cuts of meat, are focusing on one thing and one thing only here: meals between bread. No small plates, no bacon-y Brussels sprouts, no artisan desserts. And in an age of everything-must-be-crazy, they actually keep some things relatively simple here. Their Italian combo, served on a seeded semolina roll, is a surprisingly subtle contrast to the overstuffed monstrosities you'll find at old-school Italian butchers in the neighborhood. Instead, it has just a few thin slices of pepperoni, soppressata and an olive-studded mortadella, topped by mozzarella, pickled cherry peppers, red onions and a slaw-like dressing. It's about as reserved as an Italian sandwich can get, letting the spicy flavors of the meat shine through rather than piling them sky-high.
Of course, this is still Brooklyn, so don't worry—they get plenty creative on other options. The house sausage is a re-interpreted version of a gyro, with a delicious lamb sausage served on a hot dog bun and topped by pickled tomatoes, yogurt, toasted garlic, sautéed slices of white yam, and fresh mint. The crispy-fried sausage offers a satisfying bite, and about 100 times more flavors than anything you'll find at Nathan's.
But the standout is the vastly undersold "ham and cheese." The savory meat here deserves a better title than "ham," as it's a salty, just-fatty-enough slice of pork that offers a dynamic flavor somewhere in between pastrami and thick-cut bacon. Topped with melted mozz and tangy mustard on slices of sourdough, it's really more of a gourmet grilled cheese than a simple ham sandwich.
The only option I sampled that seems a bit uninspired is a veggie sandwich that's heavy on the lettuce, mayo and American cheese. While it does provide a healthy crunch via fried garlic and sour pickles, it seems woefully short on any serious veggies. It strikes me as a veggie sandwich made by…well, someone who owns a shop called "The Meat Hook." So I guess that's fair.
I definitely plan on returning to sample the hot fried chicken and roast beef, which were already sold out when I arrived, as well as the roast pork and escarole, a delicious-looking sandwich that Eater calls wildly inventive. There are also bottles and cans of beer to be had, and while Meat Hook Sandwich is focused on mastering lunch for now, they plan to soon expand to breakfast, dinner and delivery (beer included).
Meat Hook Sandwich, 495 Lorimer Street, 718.302.5665