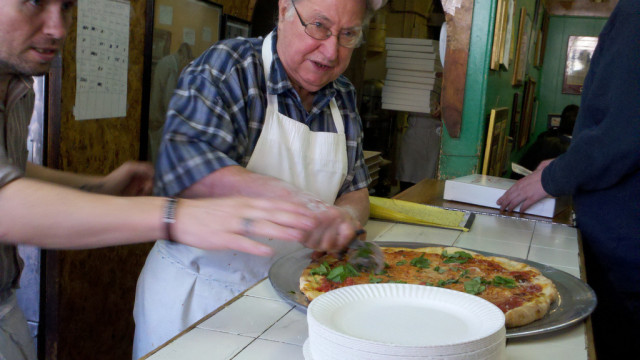 Domenico DeMarco of Di Fara's is known for taking his time. | apasciuto via Flickr
[sponsored_by name="Gotham Brokerage Co., Inc" url="http://gothambrokerage.com/" logo="http://brooklynbased.com/wp-content/uploads/2014/01/Gotham-Logo-Final1.png" byline="Let Gotham show you how getting NYC home insurance is fast, friendly, affordable, and easy." attribution_name="BlankSlate" attribution_url="http://www.blankslate.com/"]
There are a few things New Yorkers will happily wait for–a Shake Shack burger, a Di Fara pizza, and now, a Meat Hook Italian hero. Apartment insurance is not generally considered in the same breath, but what if you knew you could get it in as little as 20 minutes?
That's the amount of time it typically takes Gotham Brokerage to line up apartment insurance for their clients.
Gotham Brokerage is a New York-based, family-owned company, and they know NYC apartment owner and renter needs better than anybody else. This means they can quickly determine the right kind of plan and coverage. If you've been putting off getting your apartment insured because thought you didn't have the time, now you know: it will take less time than your lunch, and cost far less than you'll spend on take out all year.