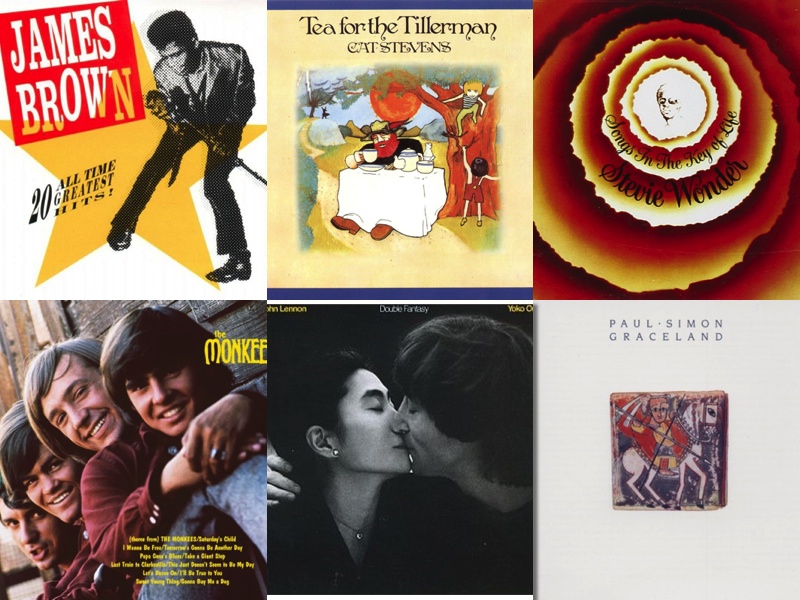 In honor of Father's Day on Sunday we reached out to Jere Hester, journalist, musician, life-long Brooklyn resident, dad and of author of Raising a Beatle Baby: How John, Paul, George and Ringo Helped Us Come Together as a Family, a memoir that lives at the intersection of music and parenthood, to put together a dad-themed playlist. Some of the picks are more obviously Father's Day-related than others, but all the songs have at least one thing in common: they were all were written by dads.
1. "Father and Son" — Cat Stevens: I grew up listening to this 1970 song, a conversation between the title figures, who are in conflict. But I didn't experience the deceivingly mellow tune's emotional wallop until April when I saw Stevens (who now goes by Yusuf Islam) perform the number at the Barclays Center during the Rock and Roll Hall of Fame induction ceremonies. It's hard to believe Stevens was 22 when he released this song, filled with wise lyrics like, "Take your time, think a lot, think of everything you've got/For you will still be here tomorrow, but your dreams may not."
2. "Graceland" – Paul Simon: On the surface, the title number to Simon's greatest solo work is about a trip to Elvis' home with his son. I can relate to that: My wife, Theresa Wozunk, and I have taken our daughter, Ella, on music-themed pilgrimages–mostly following the Beatles' footsteps in Liverpool, London and Hamburg. But we've also paid homage to the musical ghosts of Nashville and Memphis, where yes, we visited Graceland (along with Stax and Sun records). On a deeper level, the 1986 song–written as Simon and then-wife Carrie Fisher were divorcing–is about seeking solace and redemption in the gaudy, makeshift palace where Elvis hid and died. "Maybe I've a reason to believe," Simon sings, "we all will be received in Graceland."
3. "Papa's Got a Brand New Bag" — James Brown: Days after James Brown died on Christmas 2006, Theresa, Ella and I made another pilgrimage–via the A train–to the Apollo Theater where the Godfather of Soul was lying in state. After waiting about six hours in a line that wound through a freezing Harlem, we got as far as the marquee before the Apollo closed for a private memorial service. This 1965 classic blared from fellow mourner's boom box as we were turned away. Who could be sad? It's a funky and funny song–and Papa's the star: "He ain't no drag–Papa's got a brand new bag."
4. "Papa Don't Take No Mess" — James Brown: The title of this epic 1974 groove (the full version runs close to 14 minutes) says it all. "Papa didn't cuss," Brown sings. "He didn't raise a whole lotta fuss/But when we did wrong/Papa beat the hell out of us."
5. "Daughter" — Peter Blegvad: Blegvad's by turns sweet, wry and poignant take on the father-daughter relationship packs in-retrospect resonance for any dad who wonders where the years went: "That's my daughter in the water/Every time she fell I caught her/Every time she fell." Blegvad's 1995 original is great–and so is the better-known version Loudon Wainwright III recorded for the movie "Knocked Up" a dozen years later.
6. "Isn't She Lovely" — Stevie Wonder: If I'm allowing myself one obvious song on this playlist, there's no shame in including Wonder's euphoric 1976 pop classic about his daughter's birth. It was a particular thrill being in Madison Square Garden with Ella a few years back and seeing Wonder perform "Isn't She Lovely" with his daughter, Aisha, now nearing 40. (Bonus sappy-but-great-clichéd-obligatory Father's Day track: Harry Chapin's "Cat's in the Cradle").
7. "Daddy's Song" — Harry Nilsson: The bouncy tune belies lyrics that skip from sweet to bitter as the great underrated songwriter and singer tells the story of losing the man who was "my mother's biggest fan" once upon a time: "Years ago, I knew a boy/He was his daddy's pride and joy/But when the daddy went away/It was such a rainy day/That he brought out all his toys." Davy Jones lent the song an oddly haunting English Music Hall treatment in the Monkees' surreal, image-shattering 1968 movie "Head" (written by Bob Rafelson and Jack Nicholson).
8. "Papa Gene's Blues" — The Monkees: Speaking of the Monkees… So this 1966 song has nothing to do with fatherhood other than the "Papa" in the title. But I recently rediscovered this twangy gem from the pre-fab-four's first album. It's the first Monkees song written by a member of the band and offered an early indication that Mike Nesmith had a lot going on under that knit cap.
9. "Mother" —  John Lennon: Okay, mom takes the title, but the song is about mom and dad–and the agony of parental abandonment. Lennon works out his childhood trauma–and just perhaps the Beatles' then-recent breakup in 1970–by screaming his way through the pain: "Mama don't go/Daddy come home."
10. "Beautiful Boy" — John Lennon: Fast-forward 10 years later as Lennon gently embraces fatherhood and life at 40, not knowing what the future would soon bring. Lennon's sweet ode to his son Sean, floating atop a swirling steel drum, contains if not his best line, then certainly his wisest: "Life is what happens to you while you're busy making other plans."