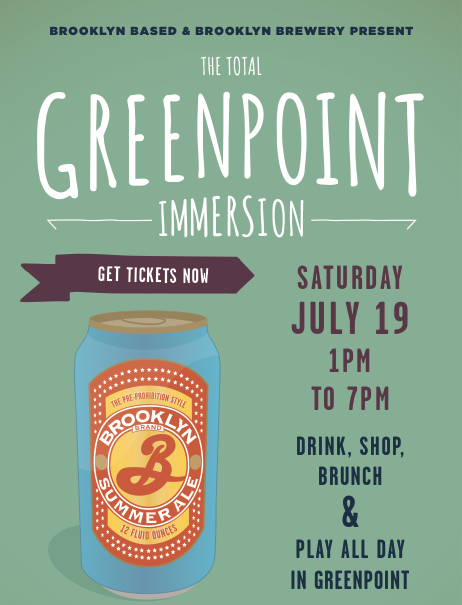 Four years ago we started a summer tradition with Brooklyn Brewery of daylong pub crawls exploring a neighborhood's coolest bars, shops, and places to eat. We kicked it off on Franklin Street and we can't wait to head back to the place where we launched this series on Saturday, July 19 for The Total Greenpoint Immersion.
What you'll experience on this Immersion, for a mere $20, is kind of insane. A Brooklyn beer awaits you at each of these four awesome bars: Beloved, The Diamond, Black Rabbit, and t.b.d., along with lunch at either t.b.d or Jimmy's so you can stay on your feet, because you'll have a lot more places to visit. When you arrive we'll hand you an envelope stuffed with Monopoly-like bills to spend at more than a dozen spots, and some of these deals last a full year so you can come back and explore Greenpoint another day. You'll save money when you pick up a summer read at Word, perk up your summer wardrobe at In God We Trust and Old Hollywood, treat yourself to the well-made goods at The One Well, get your caffeine fix at Champion Coffee, and more. (See the list of deals to date, below.)
We've got a limited number of tickets, and we sold out in advance of our last Immersion in the South Slope (Were you on it? Maybe you're in one of our pics.). So round up your friends, get a ticket, and spend a gorgeous day drinking in Greenpoint.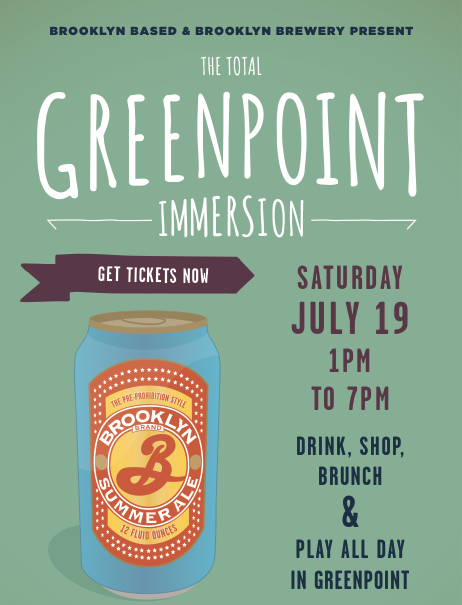 Total Greenpoint Immersion Deals to Date (RSVP on Facebook to stay posted on new deals)
Champion Coffee, Free coffee beverage with no strings attached. Valid through July 19, 2015.
In God We Trust, Buy one non-sale IGWT item, get one IGWT item of equal or lesser value 50% off. Valid through July 19, 2015.
Old Hollywood, 20% off clothing. Valid through 2014.
Dalaga (online), 20% off the entire site using the promo code (to be given day of Immersion). Valid through July 19, 2015.
Alter (Men and Women's shops), Buy one pair sunglasses, get one free. Sunglasses valued at $20 or less are included in this deal. Valid day of Immersion, July 19, 2014 only.
The One Well, 15% off with purchase of $25 or more. Valid through January 19, 2015.
Word Bookstore, 25% off any one item. Valid at Greenpoint location only through December 30, 2014.
Flying Squirrel, 20% off any new merchandise (not resale items). Valid through December 31, 2014.
Pentatonic Guitars, 15% off any guitar or amp repair, first time customers only, valid through July 19, 2015
Kill Devil Hill, Free gift with purchase while supplies last & free monogram embroidery on any KDH-made soft good, day of Immersion (July 19, 2014) only.
Duke's Liquor Box,Free gift with purchase of any bottle while supplies last, plus in store tasting day of Immersion (July 19, 2014) only
Ovenly, One free chocolate chip cookie with purchase of any beverage. Valid through October 19, 2014.
Wolves Within: 20% of all full priced clothing and shoes, and an extra 10% off any sale item. Valid until August 31st.
Lake Street Bar: $3 Brooklyn Lager & Brooklyn Summer Ale drafts, day of Immersion (July 19, 2014) only.
Anella: $3 cans of Brooklyn East India Pale Ale
Jimmy's: $3 tallboys of Brooklyn Summer Ale
Eastern District: 20% off everything in store, day of Immersion (July 19, 2014) only.