As far as Brooklyn neighborhoods go, Brooklyn Heights is tiny, a wedge bordered by Cadman Plaza and its busy series of parks, walkways, and municipal buildings to the east, the Brooklyn Bridge to the north, Atlantic Avenue to the south, and the East River to the west. It's just about 15 blocks tall and five blocks wide. The role it plays in Brooklyn's history, and in the popular imagination, looms much larger. Its lovely, tree-lined streets and spectacular homes have been the setting for television series and movies as varied as The Patty Duke Show, The Cosby Show, and Moonstruck.
[sponsored_by action_blurb="Presented By" name="Douglas Elliman" url="http://www.brownstoner.com/elliman/" logo="http://brooklynbased.com/wp-content/uploads/2014/02/DE_logo_1XStack_120x60_Blue+Gray.jpg" attribution_action_blurb="Created By" attribution_name="BlankSlate" attribution_url="http://blankslate.com/advertisers/"]The only way to truly understand Brooklyn is to walk its streets, see its homes, meet its people, and understand its ebb and flow. Never before has looking for a home in Brooklyn been this exciting.
Stop by Elliman's Brooklyn Heights office located at 156 Montague St.[/sponsored_by]
Over the years Brooklyn Heights has been home to more than its fair share of artists and writers, including Salvador Dali, Richard Wright, H.P. Lovecraft, and Truman Capote. Bob Dylan paid tribute to the neighborhood's then-bohemian character when he wrote "Tangled Up in Blue" in 1975, singing, "I lived with them on Montague Street / in a basement down the stairs. / There was music in the cafés at night / And revolution in the air."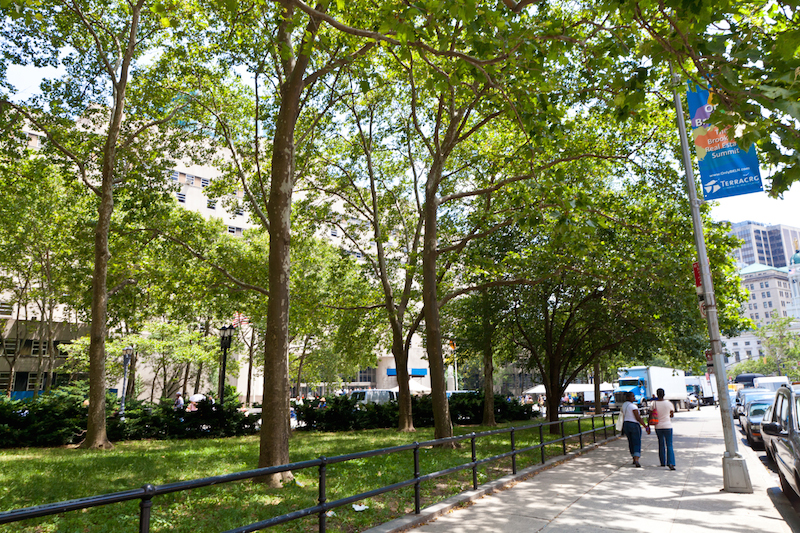 Columbus Park
It's not hard to see why Brooklyn Heights has been so inspiring to location scouts, painters, and lyricists. With more than 600 pre-Civil War homes and a gorgeous array of churches, townhomes, and buildings in a variety of architectural styles, Brooklyn Heights isn't just one of the most beautiful neighborhoods in Brooklyn — it definitely ranks as one of the loveliest urban enclaves in the world. And it's no accident — in 1965, with the passage of the Landmarks Preservation Law, Brooklyn Heights became the first designated historic district in New York City, saving it from the sweeping development of the era.
Pierrepont Pl/Montague St sign and Middagh St house via Wikipedia
As befits such a small neighborhood, there's really only one main drag filled with stores and restaurants — bustling Montague Street. (And no, there is not a Capulet Lane nearby.) Montague is lined with mom-and-pop stores, New York chains like Ricky's, spots to grab a bite, and, of course, fab architecture. It traverses the heart of the Heights, from the Kings County Supreme Court at Columbus Park to the famous Brooklyn Heights Promenade overlooking New York Harbor, Brooklyn Bridge Park, and Manhattan.
Columbus Park to Hicks Street
Brooklyn Borough Hall
Montague Street starts at Columbus Park, a tree-lined swath that is home to the Kings County Supreme Court and Brooklyn Borough Hall, the office of the Brooklyn Borough President's. This area is a hotbed of municipal offices and law firms — also where Brooklynites report to jury duty. The Social Security office where you get replacement cards is nearby, as is the Brooklyn Business Library, the New York City Department of Education offices, and the Buildings Department.
Montague between Columbus Park and Clinton Street is like a mini-financial district with its multiple banks. There are at least five, with a few smaller stores mixed in, like a Chipotle improbably housed in a a gorgeous art deco building.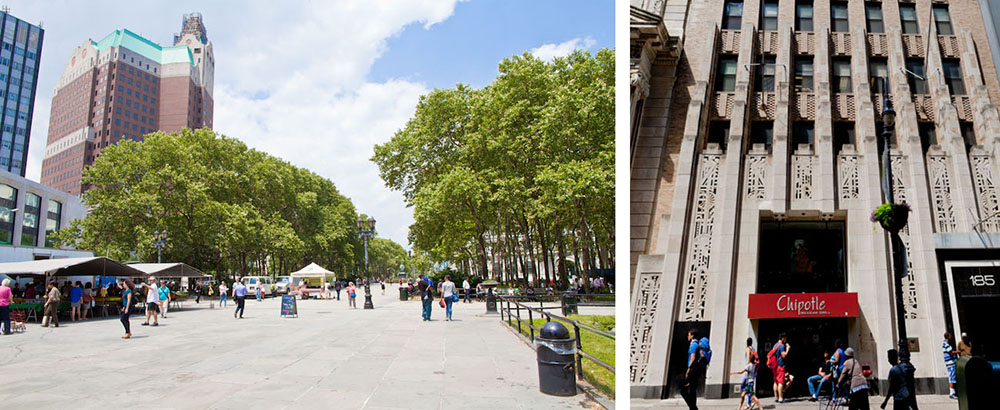 A busy Columbus Park and Chipotle
St. Ann's Church
Things get a little more interesting between Clinton and Henry. St. Ann's Church lends a towering grace to the block, and there's plenty of shopping at national chains like Banana Republic, MAC Cosmetics, and Ann Taylor Loft along with local favorites such as City Chemist. This family-owned neighborhood pharmacy is known for its excellent selection of beauty products, including cult favorite skincare line Mario Badescu.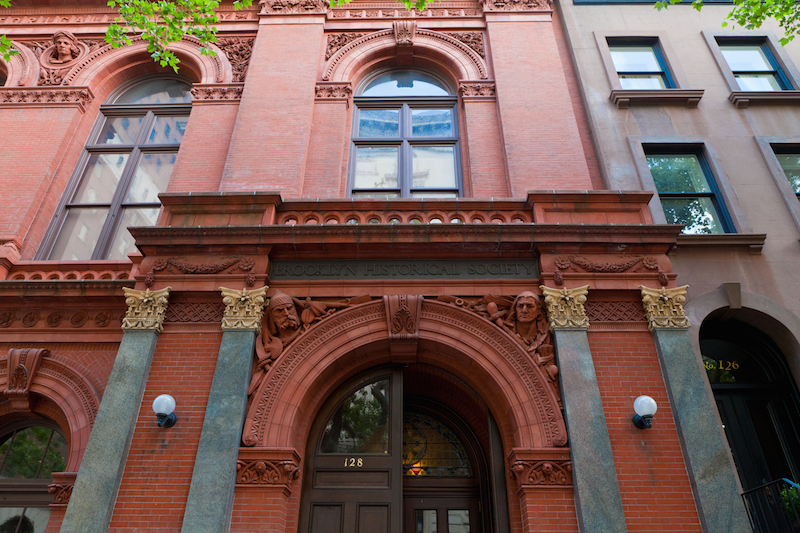 Brooklyn Historical Society
There's a Five Guys for burgers on this block, and a few Asian restaurants, from sushi to bahn mí. Just off Montague are such Brooklyn Heights treasures as the Brooklyn Historical Society, on Clinton Street, and the ornate, cast bronze doors on the Our Lady of Lebanon Maronite Catholic Cathedral on Henry, between Montague and Remsen.
There is plenty to see on these brownstone- and tree-lined streets, especially in spring and summer, when the yards and window boxes are blooming with flowers.
Back on Montague, just after Henry Street, is Housing Works Thrift Shops, one of New York's most beloved non-profits. Founded to help support housing for people living with HIV and AIDS, Housing Works has several thrift stores and a bookshop in the city. The Brooklyn Heights store is a great place to buy dishes and housewares, gently used clothing and treasures of all kinds.
This block is also home to a smattering of New York's biggest local chains–Ricky's, Connecticut Muffin, Crumbs, Le Pain Quotidien, and Key Foods all line the street.
Hicks to the Promenade
Heights Cafe

On the corner of Hicks and Montague is Heights Cafe, a classic bistro with everything from steaks and burgers to Niçoise salad and mac and cheese. Along Hicks, toward Remsen, J McLaughlin has been keeping the Heights sharp, with their crisp, Lilly Pulitzer-light looks, for nearly half a century.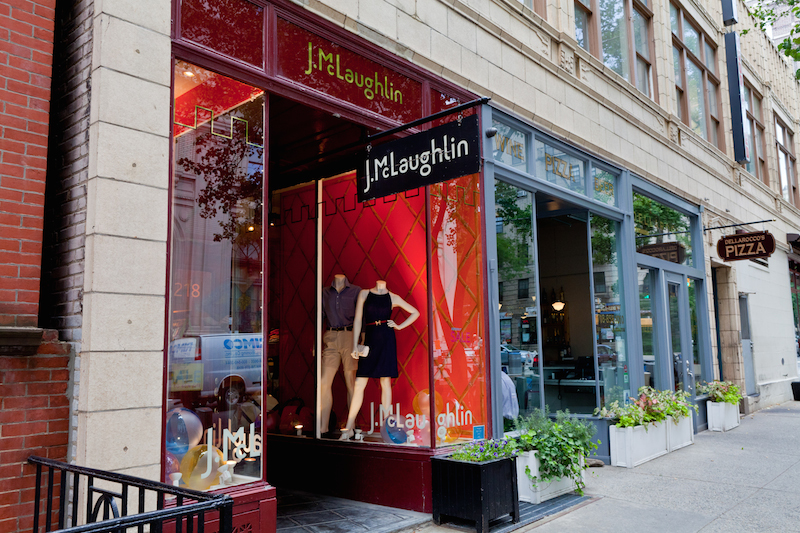 J. McLaughlin
Continuing down Montague toward the river are a few of the taller buildings in the neighborhood mixed in with the usual three- and four-story residences. Remsen, the street to the south of Montague, is an idyllic brownstone-lined block that ends at the southern end of the promenade.
A tree-lined Brooklyn Heights side street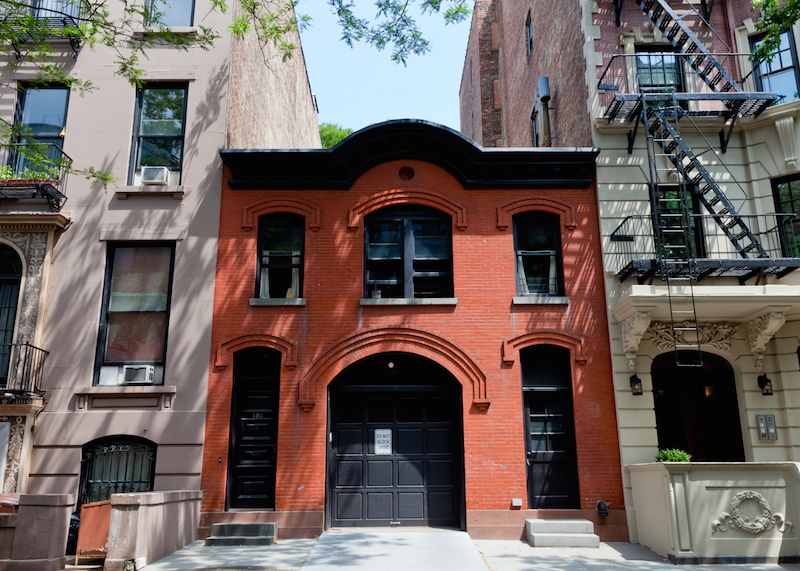 Carriage house along Columbia Heights
The view from the promenade is undeniably spectacular, with views of Manhattan, the Brooklyn and Manhattan Bridges, Governor's Island, the Statue of Liberty, New Jersey and the rapidly expanding Brooklyn Bridge Park below.
Manhattan skyline
The busy Brooklyn-Queens Expressway (or BQE) passes directly underneath the promenade. Robert Moses, the architect of New York's massive developments and building projects throughout the weighty midsection of the last century, planned on routing the BQE directly through Brooklyn Heights. The neighborhood rallied and demanded that the plan be altered, and today we have a highway that is tucked into the side of a bluff, with the Promenade on top.
Brooklyn Heights Promenade
The Promenade's stunning setting has made it a popular destination for visitors and residents for decades. Truman Capote made it a habit to stroll away from his writing desk to 70 Willow Street, the yellow Greek revival he called home for a time. A few blocks away, at the corner of Cranberry and Willow, is the building that has become known as the Moonstruck house, for its appearance in that Oscar-nominated film. It was the home of Edwards Rullman, an architect who, along with his opera singer wife, led the charge to convince the city to declare Brooklyn Heights New York's first historical district in 1965.
From the Promenade, you can head to Brooklyn Heights Wine Bar at Cranberry and Henry for drinks, or loop down to Brooklyn Bridge Park on the way to dinner in DUMBO. Or, if you must go, the nearby 2/3 and A/C trains stations await.
For more local Brooklyn flavor, check out our guides to Atlantic Avenue, Court Street, Smith Street, Bedford Avenue, 5th Avenue, 7th Avenue, and Flatbush Avenue — check out all the Elliman Brooklyn Guides here.