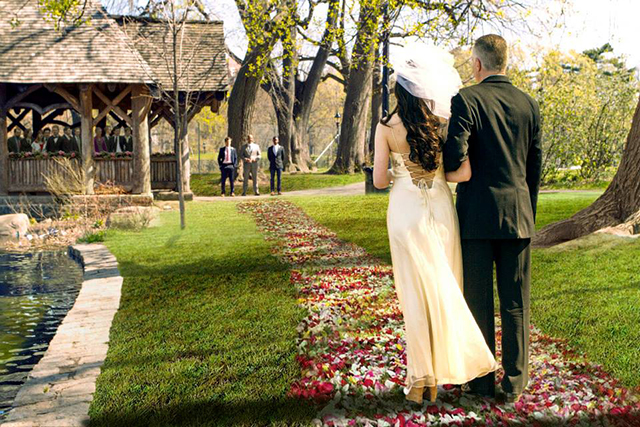 The Public Theatre's free Shakespeare performances in Central Park are some of summer's most celebrated shows, and while we definitely think seeing John Lithgow as King Lear for free is a once in a lifetime experience, we balk at standing in line at 6am to do so. Fortunately, there are two other chances to see new productions of the Bard's work outdoors for free this summer, neither of which require 12 tips for making the wait for tickets more bearable.
Tomorrow, Brooklyn Bridge Park continues its Shakespeare at Sunset series with a staging of The Taming of the Shrew. If your familiarity with the Shakespearean comedy begins and ends with having watched 10 Things I Hate About You, we implore you to head to the park's Granite Prospect on Pier 1 to watch the Dumbo-based Random Access Theatre Company's rendition. The romantic comedy, written over 400 years ago, focuses on a young man from Verona trying to melt the frigid heart of his female paramour. While The Shrew is often criticized for its misogynistic undertones—starting with its title—Random Access is known for reimagining classic plays to incorporate and engage with modern issues. We're curious to see what the company's artistic director Jennifer Sandella will do with this one. Her outdoor staging runs through Sunday, with shows every night at 7pm.
Love is definitely in the air this summer—at least when it comes to outdoor theater. If you missed Much Ado About Nothing in Central Park back in June, there's another opportunity to see one of Shakespeare's most popular plays this summer. Smith Street Stage will present the classic comedy about the havoc gossip can wreak on matters of the heart at Carroll Park starting July 23. Working with his surroundings, director Ben Horner sets his version of Much Ado in the middle of the city in summer when it's so hot that inhabitants have little else to do but talk about one another. A three-piece rock band will provide a live soundtrack to this Shakespearean staging, which has 15 performances planned between next Wednesday and Aug. 10. Performances start at 8pm.
If iambic pentameter just isn't your thing, but you'd still like to take in some free outdoor theater this summer, head to The Old Stone House in Washington Park for the final stagings of Piper Theatre's Bloody Bloody Andrew Jackson this Friday and Saturday at 8pm. As you've probably guessed this play is all about our seventh president. Besides being the face of the U.S. $20 bill, Jackson was a controversial figure whose presidency makes the perfect fodder for a comedic rock musical about the founding of the Democratic Party. The Tony-Award-winning play is historical to the extent that it highlights Jackson's personal life, like his relationship with his wife Rachel, as well as poignant moments in the formation of this country, primarily the Indian Removal Act, from which the title draws its bloody, bloody attributives. We wouldn't recommend replacing an actual American history lesson with a performance of this play, though, as it does deviate significantly from the record books—we're pretty sure Jackson was never the leader of an emo band, even if we was one of the nation's first populist idols.