If you take a narrow, through Labor Day view of summer, there are only seven weekends left to kick up our heels in the sun. If you expand your summer mind and embrace the gorgeous weather, cooler evenings and general glory of early fall, well then, the season goes on for an extra month at least. Governor's Island is open through September 28. Tennis courts in parks around the city are open until the Sunday before Thanksgiving. The Rockaways are much less crowded in September, and most everything stays open for at least a few weeks post Labor Day. Summer is a state of mind, and here are nine awesome adventures to have before it ends.

Go sailing on New York Harbor There are a number of different sailboats and other vessels that dock off of lower Manhattan for charter tours, many of which also offer ticketed trips for the public, starting at around $40 per person. It might sound steep, but seeing the city from sea level is spectacular and you'll get so much closer to the Statue of Liberty than on the Staten Island Ferry. There are a variety of options ranging from the very intimate, and more expensive, like the wonderfully named Narwhal Charters, which provides snacks for a very small group at $125 per person for a 4-hour tour, to Manhattan by Sail, which has 1.5-hour daytime sails starting at $39. We recommend a Friday evening trip on Yacht Ventura, a historic sailboat specializing in private charters. The $50 tour lasts 3-4 hours and they'll let you bring snacks, beer and wine (no hard stuff) along for the ride–it's definitely a party boat.

Eat at the Mission Chinese pop-up at Frankies 457 Here's the deal: Mission Chinese shut down last October and has since been seeking a new space. To make some scratch and get back in the kitchen, they have a pop-up running at Frankies 457 on select evenings through August. It's first come, first served from 5pm to 10:30 each night, $40 prixe fixe. Word on the street has it that the amount of food is pretty staggering, so it's well worth the price of admission. Oh, and you can RSVP and pay in advance so you don't have to wait in line or show up for the early bird special. The remaining dates are here, along with RSVP instructions. There's also a limited takeout menu, orders must be placed at Frankies, no phone, no Seamless.



Go deep sea fishing On any given summer day there are close to a dozen fishing boats docked on Sheepshead Bay, along Emmons Avenue, all offering day or night trips to catch stripers, porgys, seabass, bluefish and more. The times vary from boat to boat, but they generally leave around 7am, returning around 3pm, with a second trip leaving around 7pm, returning somewhere between midnight and 2am. You can bring coolers of beer and wine on board, no hard stuff, and fishing novices will find plenty of help from the crew, from casting techniques, to the finer points of jigging, to baiting your hook. You can rent poles and tackle on board, and the crew will clean and filet your catch on the way back to shore (make sure to tip generously). I cannot emphasize enough what an excellent birthday party or large group activity this makes–and if  you don't want to mess with the Q train early in the morning or late in the evening, charter Alexis Van Lines to ferry your party to and from Sheepshead Bay. Tickets run about $50 per person, and there are plenty of boats to choose from. The Marilyn Jean IV has an easy-to-navigate website, and their evening tours return a tad earlier than some of the others. I had a blast catching bluefish on the Brooklyn VI last summer, and the Sea Queen VII offers half-day excursions from 7am to noon and 1pm to 5pm. And don't forget the Dramamine–a few members of our party were practically immobilized by seasickness.

Ride a bicycle built for two Ok, admittedly I've never ridden a tandem bike, but there's something about them that I find so delightfully charming. Maybe it's that the impracticality of two people, one bike that transforms the whole enterprise from mere transportation or exercise into something that's sheerly recreational. While there's no sense in owning a tandem and having to store it in a New York City apartment, you can rent one for the day. Rolling Orange Bikes rents tandems, designed either for two adults or for an adult and two kids, for $75 a day. Brooklyn Bridge Sightseeing rents them for $30 for an hour, $50 for 3 hours. Ride Brooklyn, located conveniently close to Prospect Park, has tandems for $80 a day.

Camp out at Floyd Bennet Field Floyd Bennet Field was once New York's first airport. Now it's part of Gateway National Park on Jamaica Bay, and in addition to all manner of boating, fishing, hiking, horseback riding, golf and bike trails, the park offers urban camping. From $20 a night you can reserve a campsite with a picnic table, a grill and a fire ring. Up to six people can use each site, and there's room for one large or two small tents. There are plenty of reservations still left for later in July and August, and they have sites that are RV accessible, should you happen to own a recreational vehicle.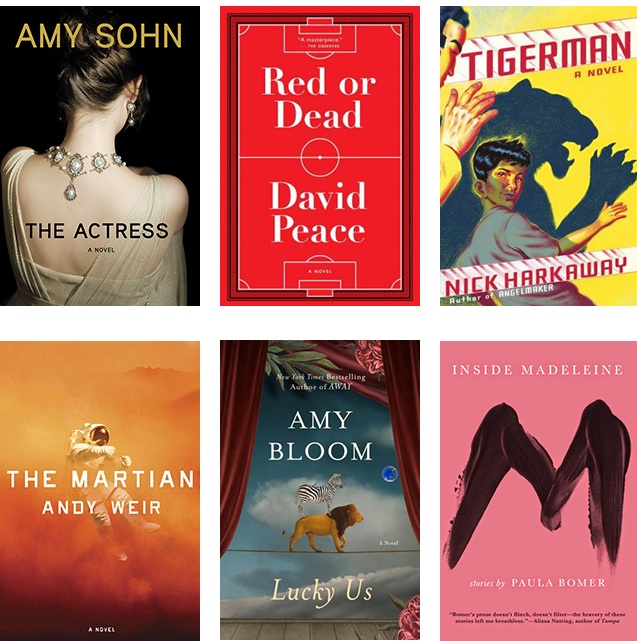 Lose yourself in a book Whether you're curled up on the couch, sprawled on a beach towel or reclining in an Adirondack chair, there are so many recently published good reads to get your eyes on this summer, many of which were written by Brooklyn residents or expatriates. We've got 12 book picks for you, ranging from fluffy fiction to memoir to serious short stories.
Enjoy culture, al fresco If you haven't yet seen an outdoor movie, concert or play, it's time to gather a group and make a plan. Whether we're talking Roseanne Cash at Lincoln Center Out of Doors, Heathers at McCarren Park, or Bloody Bloody Andrew Jackson at the Old Stone House, there's plenty of cultural pleasure to choose from, all for free. This is why people live in New York.
Go for a day trip Yes, you can take a trip to somewhere entirely different without a car and without spending a million bucks on a hotel. Whether it's hiking in Peekskill, followed by craft beers at a microbrewery, a quick trip to Greenport for some North Fork rosé and sea air, or an artsy trip upstate to Beacon, you can reach escape velocity from the city for a day. Or, stay in the city but visit a new neighborhood–both Bay Ridge and Ditmas Park have good eats and plenty to stroll around and check out.
Pack a picnic and explore a new park Sure, you've been to Prospect Park, Central Park and Brooklyn Bridge Park. But what about Forrest Park in Queens? There are miles of of hiking trails and bridle paths for horseback riding spanning its more than 500 acres. Or, check out Marine Park, Brooklyn's largest, with tons of boating and birding opportunities.
If these aren't enough for you, here are 13 more suggestions for summer hijinks.